Monday, June 14, 2010
Progress Notes
Jim Skiles, one of our very well known Miller County fiddle players passed away last week (photo 01).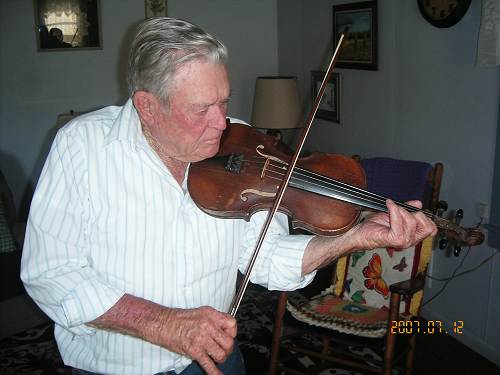 01 Jimmy Skiles
I first learned he was ill when I visited his home a week ago and learned from his wife, Nellie, that he had just undergone emergency surgery. I had featured him before in Progress Notes and last referred to him a couple of weeks ago in a story about the Lake of the Ozarks Square Dance Team.
Here is his obituary:
Junior "Jim" Burdett Skiles, 91, of Eldon, Missouri passed away Friday morning June 4, 2010 at Capital Region Medical Center in Jefferson City, Missouri. On October 9, 1918 he was born in Eldon, Missouri to the late Henry Sylvester and Cora Ethel (Jones) Skiles. On March 31, 1954 he was married in Harrison, Arkansas to Nellie (Abbott) Skiles who survives of the home.
Others that survive, Sons, Ted B. Skiles of Luo-Dong, Taiwan; James W. Skiles of Jefferson City, Missouri; Kenneth W. Skiles of Tuscumbia, Missouri; Matt L. Skiles of Lake Ozark, Missouri.
Daughters, Janice L. Wilman of Orofina, Idaho; Roxie J. Wittig of Simi Valley, California; Sheila K. Altheide of Lancaster, Missouri.
Twenty-six Grandchildren; Thirty-nine Great Grandchildren & Nine Great Great Grandchildren
Aunt, Ruby Jackson of Columbia, Missouri
Several Nieces, Nephews & Cousins
Jim was an Elder at Mt. Pleasant Christian Church for fifty years and a member for fifty-five years. He was a veteran of the World War II serving in the Navy. He was a member of the VFW Post #2442 of Eldon, Missouri. Jim farmed on the Osage River bottoms from 1969 – 1982. He was an original fiddle player for the Valley Ranch boys, and played with Lee Mace for many years, and later with Gateway Bluegrass. He loved playing baseball with his children. He was a loving husband, father, and grandfather.
Visitation will be held on Monday June 7, 2010 from 1:00PM – 2:30 PM at the Mt. Pleasant Christian Church of Eldon, Missouri with the Funeral Service beginning at 2:30 PM with Rev. Gene Edwards and Rev. John Stone officiating. Interment will follow at the Allen Cemetery in Olean, Missouri.
Memorials are suggested to the Mt. Pleasant Christian Church.
My wife Judy and I as well as her mother Elva attended Jim's funeral last week at the Mount Pleasant Christian Church. The church was overflowed with friends and relatives of Jim who came to honor him and his life, especially regarding his long tenure as an elder at the church as well as his service for his country in the Navy during WWII.
In addition to the comments I wrote about him as noted before in the link above, I had featured Jim on a previous Progress Notes which included interesting biographical information.
I will copy here what I wrote:
"Jimmy Skiles was born and raised on the upper Saline Creek near Aurora Springs. Life was tough in the days of Jimmy's youth just to have enough food on the table. Jimmy says that his father would become angry if he brought home a squirrel with a body rather than head shot because of the wasted meat. However, such marksmanship helped earn Jimmy a preferred rating when he was drafted into service in WWII. As a boy, Jimmy learned to play tunes on an old beaten up fiddle that his father would whistle while working. Sensing that Jimmy had real aptitude, Henry (Jimmy's father photo 02) and Jimmy went to visit Lyman Enloe, the famous fiddler of northern Miller County, who sold them a better fiddle for three dollars.

02 Henry Skiles
On arriving back home Henry told Jimmy's mother that he would have to be at the bank in Eldon early the next morning to get a loan to cover the three dollars as their bank account had been dry for some time. Over the next few years Jimmy became known and in demand for being able to maintain the beat and rhythm necessary for Ozark style jig dancing. Jimmy says that the secret lies in looking for the best dancer on the floor and watching his feet; apparently this method provided the eye/hand coordination as the optimum way of matching the music to the rhythm of the dancers. Jimmy's musical skill led to his being asked to join the Lake of the Ozarks Square Dance Team (photo 03) as the fiddler.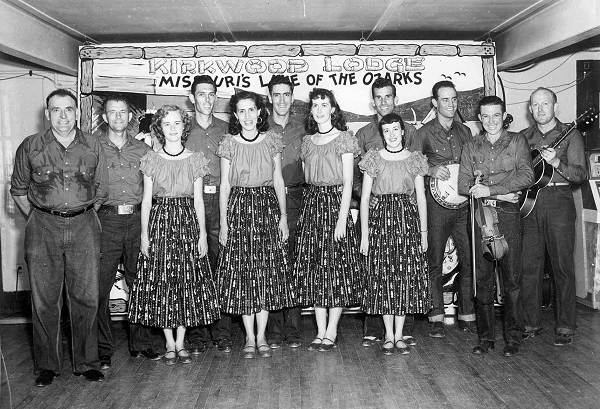 03 Lake of Ozarks Square Dance Team - Jimmy 2nd from Right
This group became famous after winning the Ted Mack Amateur Hour and went on to Nashville and New Orleans as well as other venues for several years giving multiple performances. Famous showman and musician of the area, Lee Mace, was also a member of the dance team. In fact, Lee's love of square and jig dancing and his preference for dancing wherever Jimmy Skiles was playing the fiddle is one of the reasons Jimmy later was asked to join the Lake of the Ozarks Square Dance team. Later Jimmy was with other popular local groups including the Ranch Valley Boys (photo 04) which appeared regularly on KWOS.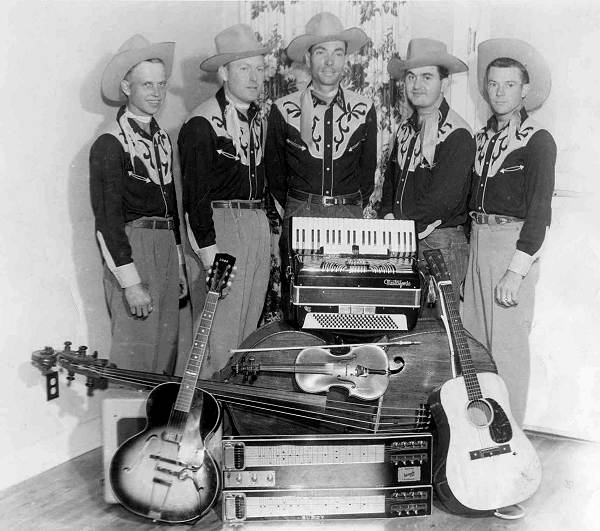 04 Ranch Valley Boys - Jimmy on Right
In addition to Jimmy this group included Ed Shepherd, who was the original owner of the still very popular "Cree Mee" of Eldon; Gene Spencer, one of the areas most talented guitarists; Merle Jackson, a very talented vocalist; and Buzzy Bedwell, popular announcer of KRMS on the Steel Guitar. Before retiring, Jimmy played fiddle for the popular local group, Gateway Blue Grass Band which included local Eldon residents Bob Wieneman, his wife Sue and son Joey, and Walter Dye, a wonderfully talented vocalist. Jimmy's family has long time roots in Miller County. One interesting photo he showed me was of his grandfather, George Skiles standing in front of a business place somewhere in Eldon (photo 05) in which an old horse drawn wagon is present as well as a steam operated vehicle. Jimmy said that local banker Don Vernon's grandfather, Frank Vernon, is also in the photo.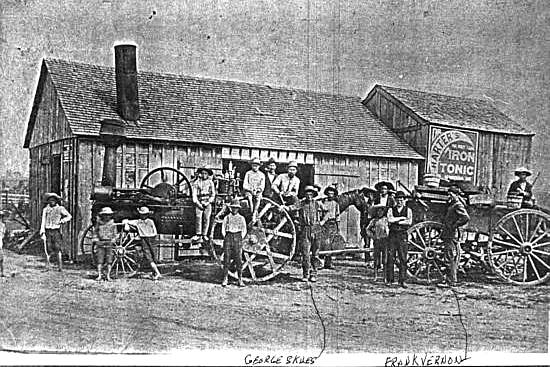 05 George Skiles
Don was the Citizen's Bank of Eldon officer who, last week as a representative of the bank, donated five thousand dollars to our Miller County Historical Society Building Fund, one of the largest donations we have received."
Learning of his father's illness, one of Jim's sons, Ted Skiles, traveled all the way from Taiwan to see his father, and did arrive before his passing last week. More than forty years ago Ted and his wife, Beverly (Brown), established an orphanage in Taiwan named "The Home of God's Love." Here is a family photo of them and their children taken early on after they had established their ministry in Taiwan (photo 06).
Ted took some time last week to visit us at the museum before his father had passed away giving us opportunity to discuss memories of his early life in Miller County. One of those memories had to do with his early school experience at the Vernon School. Here is a photo of Ted beside the monitor where I had pulled up a photo of the old Vernon School (photo 07).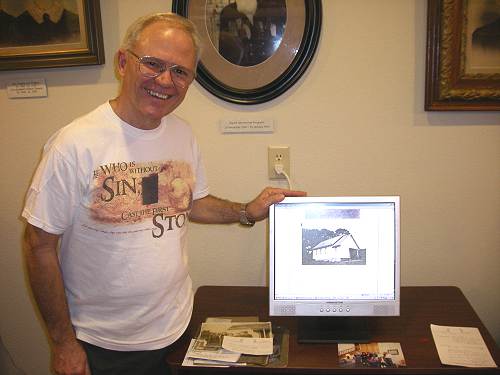 07 Ted Skiles
You can access this yourself by going to our one room school page and clicking on "Vernon School".
Our museum hosts for the week when Ted visited were Gary and Donna Carrender (photo 08).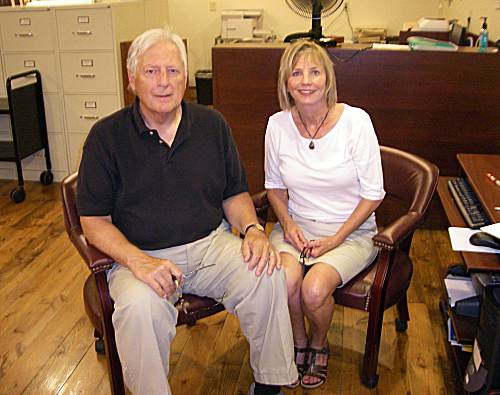 08 Gary and Donna Shockley Carrender
Ted and Gary had much to talk about regarding their Vernon family heritage. The original Vernon to come to Miller County was Jeremiah Vernon. Jeremiah was Ted's great great great great grandfather and Gary's great great great grandfather.
Gary had some Vernon family photos which he shared with me. I also obtained other Vernon family photos from the collection of Joe Towns, a Vernon family descendent.
Here are photos of Ted's Vernon descendency beginning with Wilburn Vernon, Ted's great great great grandfather, who was a son of Jeremiah, the first Vernon to enter Miller County (photo 09).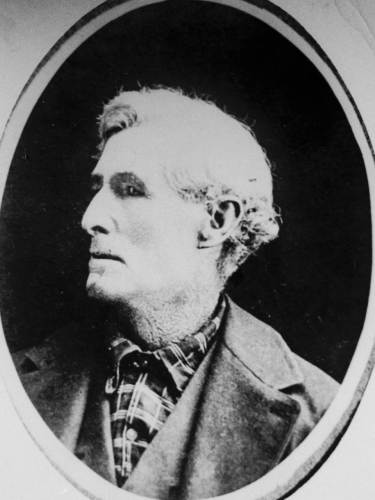 09 Wilburn Vernon
Jeremiah was Ted's great great great great grandfather but no photo of him exists as far as I could determine. James Harvey Vernon, son of Wilburn, was Ted's great great grandfather (photo 10).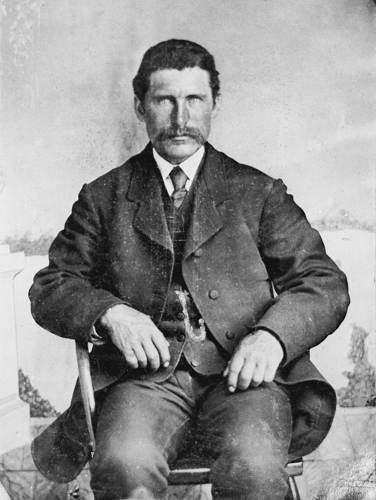 10 James Harvey Vernon - 30 Years Old
Fannie Vernon, daughter of James Harvey was Ted's great grandmother (photo 11).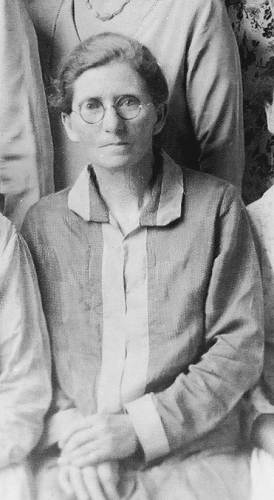 11 Fannie Vernon Skiles
She married George Skiles (the only photo I have of George is as a member of the group of men in photo 05 above). George and Fanny's son, Henry Skiles, was the father of Jim and was Ted's grandfather (photo 02 above). Here is an interesting photo of four generations of the Vernon family through Fanny to her daughter, Alpha, who married an Apperson (photo 12):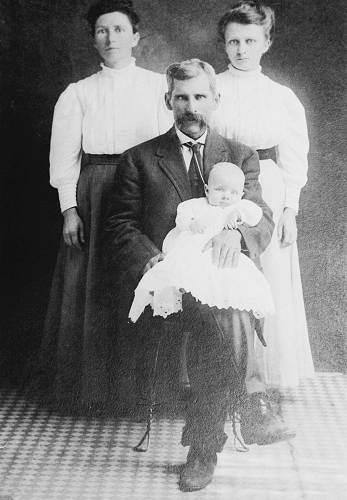 12 Fannie Vernon Skiles, Alpha Skiles Apperson, James Harvey Vernon and Louie Apperson
Gary's Vernon descendency is through his great grandfather, John Vernon, son of Wilburn and grandson of Jeremiah Vernon. Here is a photo of the John Vernon family (photo 13):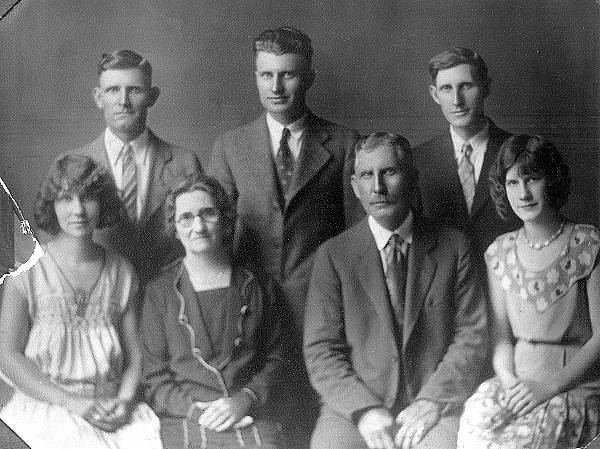 13 John Vernon Family
The names of John's family were listed for me by Gary in this photo (photo 14).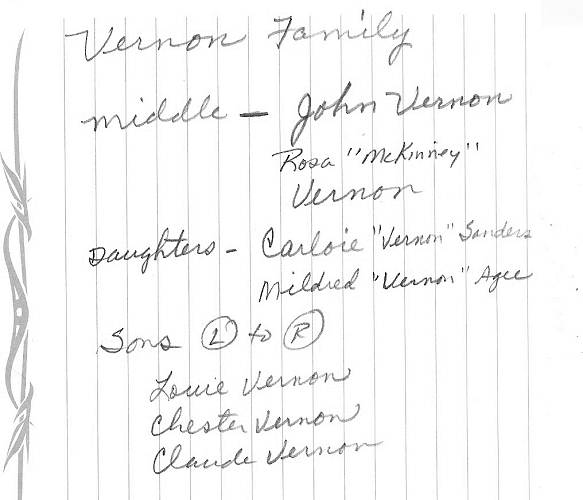 14 John Vernon Family Photo Caption
John's son, Louis Vernon, was Gary's grandfather. Here is a photo of the Louis Vernon family including Gary's mother, Lucille Vernon Carrender (photo 15).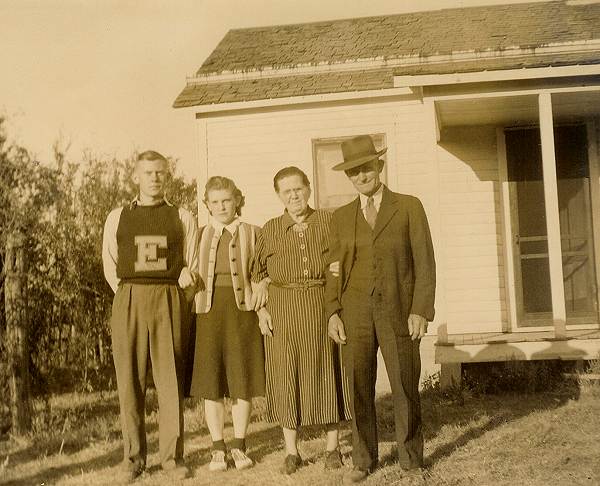 15 Louie Vernon Family
And here are their names (photo 16):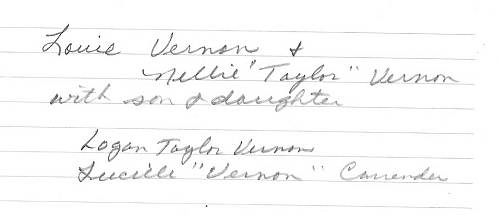 16 Louie Vernon Family Photo Caption
By the way, in the photo above of the John Vernon family, one of the sons pictured, Chester Vernon, is the father of Wallace Vernon, long time Eldon newspaper publisher of what now adds up to six different local newspapers in the area (photos 17 and 18).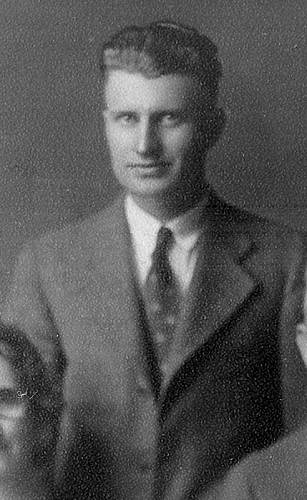 17 Chester Vernon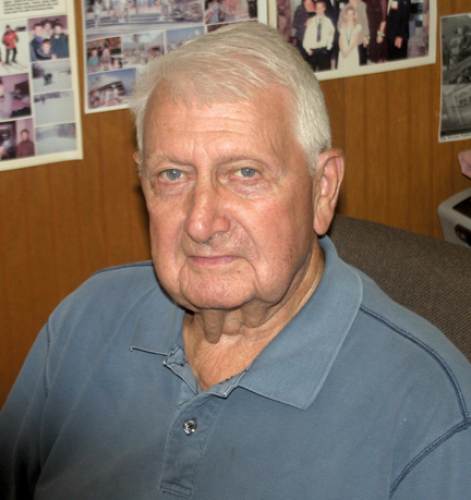 18 Wallace Vernon
The Vernon family truly included some of the first settlers of Miller County. One of the early histories of the family was written by William J. Vernon, son of Wilburn Vernon and grandson of the first Vernon to arrive here, Jeremiah Vernon. You can read William's short essay here (photo 19):
Another son of Wilburn Vernon, James Harvey Vernon, is the most well known of all the early Vernon family. He wrote a very long history of the family which you can read here (photo 20):
Note: This is a large file (34 MB) which may pause temporarily before complete download is finished.
The narrative written by James Harvey Vernon is sixty pages long, but it is one of the earliest first person narratives of the history of Saline Township you will run across.
Here is a photo of the Vernon homestead including James Harvey Vernon (photo 21):
And another more recent photo here photo 22):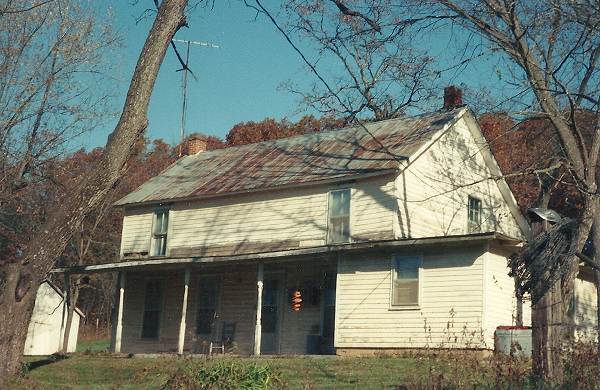 22 Vernon Homestead
A short synopsis of the Vernon family has been written by Peggy Hake copied here:
JAMES HARVEY VERNON
James Harvey Vernon was born in Miller County on June 13, 1853. He was a son of Wilburn Vernon (1827-1904) and Sarah S. Henderson (1828), early settlers in Saline Township. They married in Miller County on 20 May 1847, the marriage performed by Hugh Gartin, a justice of the peace.
The children of Wilburn and Sarah Vernon were:
1. Mary E. Vernon b. c/1848 m. Benjamin F. Allen 1865
2. William J. Vernon b. c/1850 m. Theodosia E. Jordan 1884
3. James Harvey Vernon b. c/1853 m. 1-Sarah D. Jones 1871 2-Rachel S. Cox 1885
4. Isaac T. Vernon b. c/1856 m. Martha J. White 1882
5. Martha A. Vernon b. c/1858 m. John M. Evans 1873
6. Nancy E. Vernon b. c/1860 m. no record found
7. George W. Vernon b. c/1864 m. Martha A. White 1882
8. John A. Vernon b. c/1866 m. Rosa McKinney 1886
9. Frank Marion Vernon b. c/1869 m. Sarah Kelsay 1891
James Harvey Vernon, third child of Wilburn and Sarah, married Sarah D. Jones on 6 September 1871, the marriage conducted by Ludwell Bacon, minister. They became parents of at least 5 children (perhaps more) before her death on 10 Dec 1881. James then married his second wife, Rachel Salina Cox on June 14, 1885. They became parents of several more children. According to his obituary he was father of 19 children! Five of the nineteen preceded him in death.
I was not able to get a complete list of all 19 children but did find the following:
1. Eliza A. Vernon b. 1873 m. Levi Cunningham 1891
2. Fannie B. Vernon b. 1875 m. George B. Skiles 1891
3. William A. Vernon b. 1876 m. Mary A. Stark 1898
4. Nancy L. Vernon b. 1878 m. Robert Forrest White 1897
5. James Walter Vernon 1880-1887
6. Myrtle Vernon 1888-1889
7. & 8. infant son & dau. born & died 1898
9. Virgie N. Vernon 1889-1890
10. Cecil Vernon
11. Gertie Vernon
12. Amy Vernon
(I could not find record of the other 7 children)
Rachel Cox Vernon died 20 April 1932 and James Harvey (whom many called "Uncle Harvey") continued to live on the same homestead where he had spent most of his life and reared his large family. On May 2, 1941, Uncle Harvey Vernon died of a stroke at the age of 88 years. He was survived by 14 children, 55 grandchildren, 75 great grandchildren, and 3 great, great grandchildren.......can you imagine he left behind a legacy to 149 descendants!! He was also survived by a brother, Frank Vernon and a sister, Elizabeth Vernon Merriott.
His funeral services were held at the Aurora Springs Baptist Church where he had been a member for many years, conducted by Rev. N. E. Williams. Following the funeral, he was buried at Allen Cemetery where both his wives were also buried (Sarah Jones-Vernon in 1881 and Rachel Cox-Vernon in 1932.
---
If you read all the various links to narratives to which I referred above for extra information you will have noticed that the Vernon family had a lot of children born to them. One reason for this was that they settled here very early on when times were difficult due to the isolation and lack of help except for what members of the immediate family could offer. Add to that the increased incidence of morbidity and death not only among children but adults as well and one can understand that large families were needed for basic survival. The families tended to settle in the same areas for mutual cooperation regarding harvests as well as help during times of illness. One area in which the Vernons settled was in Township 41 R 15 sections 1, 2, 11 and 12 east of and between Eldon and Aurora Springs. Here are photos of T41 R15 and a close up of sections 1, 2, 11, and 12 (photos 23 and 24).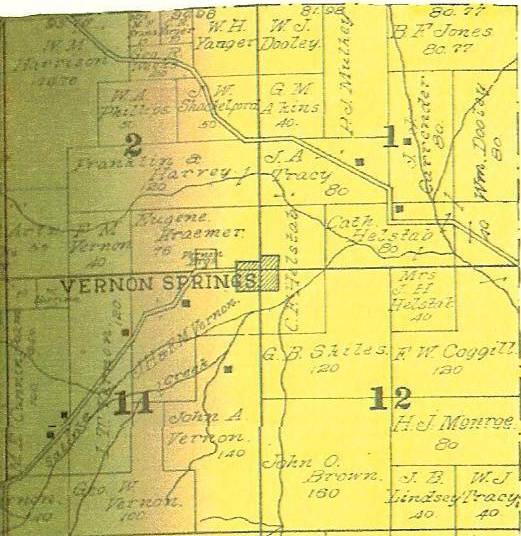 24 T41N R15W - Sections 1, 2, 11 and 12
Notice in photo 24 that Jim Skiles' grandfather, George Skiles, owned a farm next to the Vernon families farms.
Also notice that right in the middle of the Vernon property is located the Vernon Springs. Because the spring was large Wilburn Vernon attempted to make a resort out of it as had been done with Aurora Springs. The following couple of paragraphs was taken from our website:
"Aurora Springs area became a renowned health and pleasure resort during the 1880s owning to the presence of Lithia water that was abundant from wells in the area. There were attempts to duplicate that success at four other locations in the county, but they apparently never got beyond the planning stage.
One was south of Eldon near the site of the former Vernon School. The plat of "Vernon Springs" was filed June 13, 1881 in the recorder's office at Tuscumbia by Wilburn Vernon and Sarah Vernon, his wife, and Isaac T. Vernon as proprietors of the Town of Vernon at the Corner of Sections 1, 2, 11 and 12, Township 41, Range 15.
Nine blocks were laid out with lots 33 and 99 feet in size, streets 66 feet wide and alleys 20 feet in width. Streets near the spring were known as Main and Front with other streets bearing the names Mt. Vernon, Maple, Willow and Elm."
---
While the reason for Ted coming home all the way from Taiwan was sad regarding his father Jim's illness and death, I believe his visit to our museum and the recollections it stimulated about his family and heritage may have been a temporary but helpful diversion for him. I had known Ted for many years as the church I and Judy attend, Ninth Street Christian Church of Eldon, was the original sponsoring agent for his mission in Taiwan. After more than forty years in Taiwan the orphanage has grown and presently receives support from many sources.
---
Back in the early days of Miller County's history it was not uncommon that entire families would just "up and leave" rather precipitously to go west where tales of better land, jobs and even gold could be found. Peggy Hake has written about this phenomenon in an article published in the Miller county Autogram Sentinel January 3, 1991 entitled "Frontier Drew Scores of Miller Countians." But sometimes things didn't work out and a few came back east again to areas close to where their families originally had settled. Variations of this migratory pattern exist. One example was brought to mind a year or so ago when I was traveling around south Miller County with Lewis Wall of Iberia (photo 25).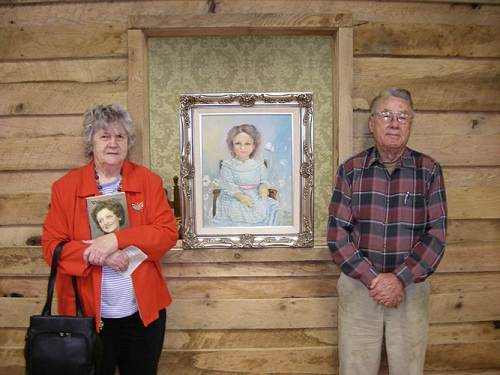 25 Helen and Lewis Wall
We stopped at the Curry Church and wandered through the cemetery there (photos 26 and 27).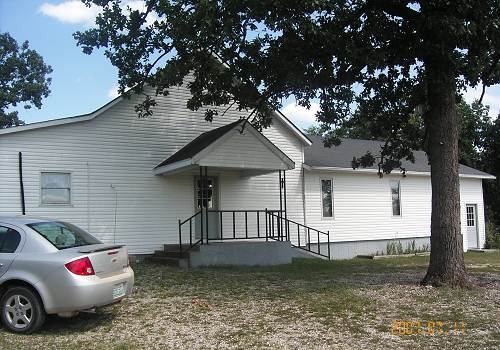 26 Curry Church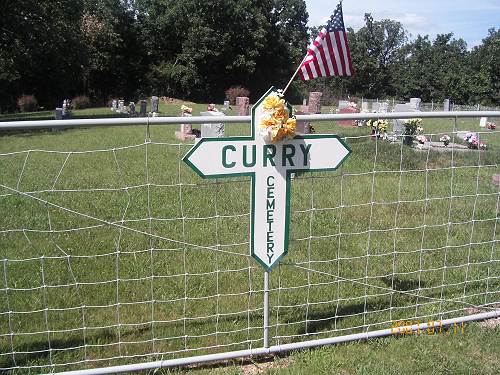 27 Curry Cemetery
I saw an old tombstone with the engraving "Clemmie Wilson, Wife of I.T. Wilson." It was located on the west side of the graveyard somewhat isolated by itself; no other Wilsons' were buried near there or in other parts of the cemetery (photo 28).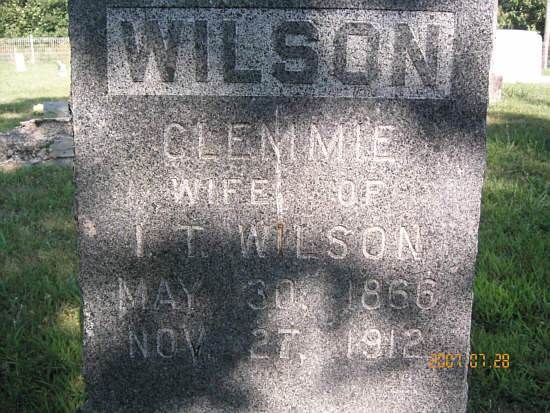 28 Clemmie Wilson Tombstone
I asked Lewis if he knew who this person was but he had no idea; no Wilsons' lived in that area that he remembered having grown up near there. He said he remembered noticing the tombstone on past visits to the cemetery but knew nothing about the person buried there.
I told Lewis that I happened to know about Clemmie Wilson through a rather circuitous number of circumstances having to do with Al Cates (photo 29), who is the husband of my wife's sister, Sue Steen Cates (photo 30).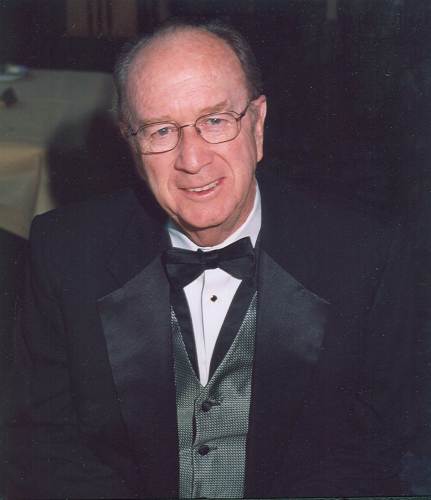 29 Al Cates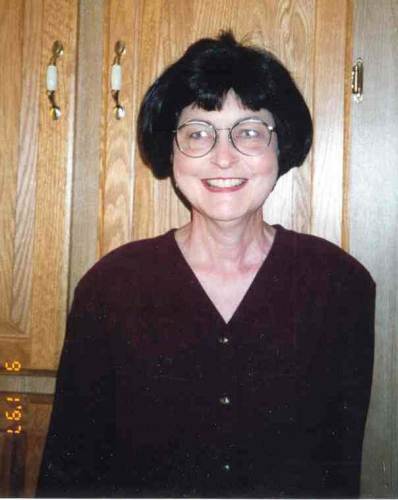 30 Sue Steen Cates
The Wilson family originally came from Oregon at the turn of the last century to live on a farm at the Camden/Miller County line. The story of their stay here was written by Sue and was published in the Miller County Historical Society book, "Osage River Country." I will copy it here:
Osage River Country
p. 47
From Indian Territory to Oregon to Hawkeye
Sue Steen Cates
Donna Wilson was the same age as the year. She was born in 1900 to Issac Thomas Wilson (known as I.T.) (photo 31) and Clemmie Perkins Wilson (photo 32) in Yankton, Oregon.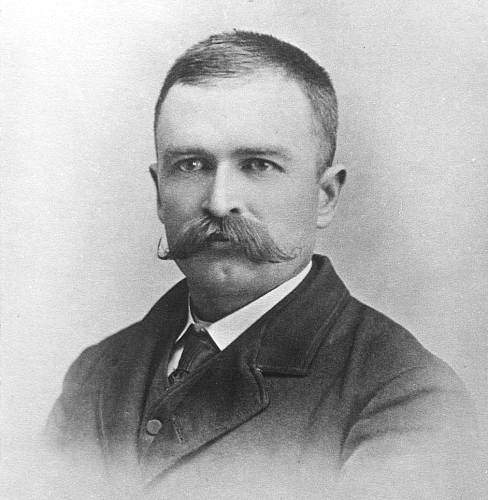 31 Isaac Thomas Wilson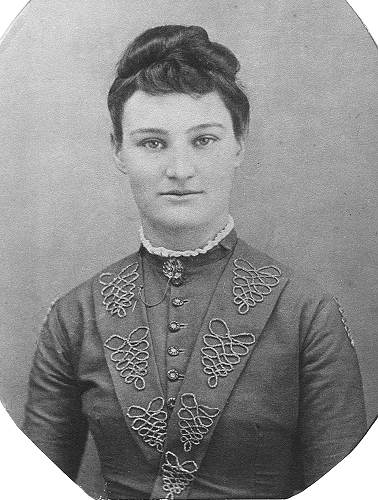 32 Clemmie Perkins Wilson
Her parents had gone to Oregon from Indian Territory (Oklahoma) by covered wagon in the late 1890's. Clemmie was sickly; her doctor suggested they get out of that damp climate. I.T. got a copy of the KC Star and read that there was land for sale in Crocker, Missouri. So in 1906 that family of five…Donna (photo 33) had two brothers, Buell and Arthur…loaded all of their belongings on a rail car and came back across the country.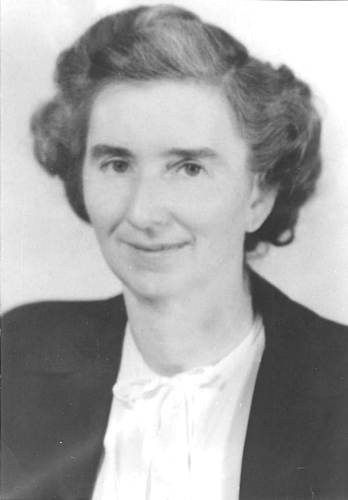 33 Donna Wilson Johnson
I.T. rented a house in Crocker, the family spending the winter of 1906/07 there. During this time I.T. located and bought a 160 acre farm west of Hawkeye in the edge of Camden County. The land had originally been homesteaded but was "let go for taxes." I.T. built a house on this farm and his family moved in the spring of 1907. He bought a matched team of roan mares and a new Springfield wagon. I.T. farmed the land in much the same manner as all the rural families in the area. The post office and the general store were two miles away in Hawkeye. On Sundays, the family rode in their new "Springfield Green" wagon to Faith Methodist Church. I.T. taught Sunday School there. Donna and her two brothers went to school at "Skin Heel" which I've been told was actually the Steen School.
Clemmie's health continued to deteriorate. In 1912 she died. I.T. buried her in the cemetery behind the church where they had worshipped together.
Donna was now twelve years old without a mother. To help pay for clothes and school expenses, she caught rabbits in the winter, which she sold in town for a nickel each, and raised turkeys during the summers. In order to go to high school, she went to Linn creek where she worked for a family to pay for her room and board.
Donna went from Linn creek to Springfield to Business College in 1917. She then went to work as a telegrapher for the railroad.
Back on the farm, I.T. sold his farm in early 1919, went to Canada to be with one son, who died a few days after I.T. arrived. The other son had gone west never to be heard from again.
Donna's work took her to Kansas City, then on to Colorado where she lived in several mining towns. She married in Durango and had her first son in the upstairs of the depot where they lived in Wagon Wheel Gap in 1935. Her life finally took her to Arkansas where she raised her four children, virtually by herself.
I was living in Jefferson City, Missouri in 1983 and engaged to be married to Allan Cates. He was not from Missouri but his job had brought him there. His mother was visiting him. Her name was Donna Wilson Johnson; she was 83 years old and had just left her home in Arkansas for the last time and was on her way to New Jersey to live with her older son.
Just in the course of conversation, Mother Johnson mentioned living at Hawkeye as a little girl and that her mother was buried there, having died when Donna was twelve years old. She had left Hawkeye when she was fifteen and had never been back.
I looked at Al and his mother, not believing what I was hearing! I told them Hawkeye was not very far away…that I'd always heard my dad (Holmes Steen) speak of Hawkeye.
I called Mom (Elva Boyd Steen); we picked her up and off we went. The closer we got, the more excited Mother Johnson became. It had been about 68 years since she had been there! She began remembering…who lived where…and how she walked to the store…and to school…and where the post office and the general store had been.
We began searching for the church and cemetery (I believe now it is Curry Church, in the old Faith community). With Al's mother directing us from Hawkeye…the way she remembered it…we found it. It was the same building. She remembered having church picnics on quilts spread out under the trees there as a little girl. Her father, I.T. Wilson, had been Sunday School Superintendent.
As we opened the gate to the cemetery, I felt shaky inside. I looked at Mother Johnson and could see no change in her expression. She was a little woman, real stooped in body and sharp as she could be in mind. She set off at a fast pace looking at headstones; the rest of us doing the same. I had almost given up when there it was…a big beautiful stone that said "Clemmie Wilson." Mom and I stepped back and Al took hold of his mother's hand and walked with her to the grave. As long as I live, I will never forget the feeling I had at that moment…unable to comprehend what Mother Johnson must be feeling…visiting her mother's grave for the first time since she was a little girl.
Al and I shake our heads at the chain of events that brought us to find his grandmother's grave. Each time Al is in Miller County now, he visits the grave, sometimes taking flowers. His daughter and granddaughter have also been there.
Mother Johnson made that one important visit to Hawkeye…her childhood home…never to return. She died in 1991.
---
I.T. Wilson and his family did not live in the Faith area long; as noted above in Sue's narrative Donna had moved to Linn Creek in 1917 and from there to Colorado. Her father I.T. had moved in 1919 to Canada to live with a son there. Probably few people in the area would be expected to remember them you would think. However, a few years ago Sue's aunt Eula Popplewell Steen, wife of Sue's Uncle Waldo Steen, reported that she remembered the presence of the Wilson family in the Miller/Camden county area years ago (photo 34).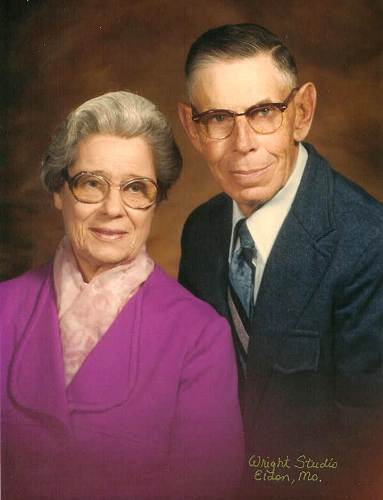 34 Waldo and Eula Steen
Here is what Sue wrote about her Aunt Eula's memory:
"Eula (Poppewell) Steen (wife of Waldo Steen), who was raised on a farm in the area between Brumley and Hawkeye, told us that she remembered seeing Isaac frequently as he rode by her home on his horse on trips to Brumley to buy supplies. He wouldn't get off his horse but "turned and hooked his knee over the saddle horn while his horse rested as she brought him a cold drink of water from the well."
Sue also remembered that her Aunt Eula remarked:
"Although the Wilsons' lived over the line in Camden County, they got their mail at Hawkeye, in Pulaski County, and went to Curry Church in Miller County. That's why Clemmie was buried in Curry Cemetery."
I'm sure quite a number of short little stories could be told about families who over the years transiently have lived in the Miller County area and then moved elsewhere barely to be remembered by later generations of Miller County natives. But in the case of the I.T. Wilson family a number of unlikely coincidences brought Al Cates from Arkansas to Missouri where he met Sue Steen of Miller County who in casual conversation with Al's mother on a short visit here brings us today this story which otherwise would never have been told.
A fascinating account of the Faith community can be read on our website.
This map locates Hawkeye (red star) in the northwest corner of Pulaski County (photo 35).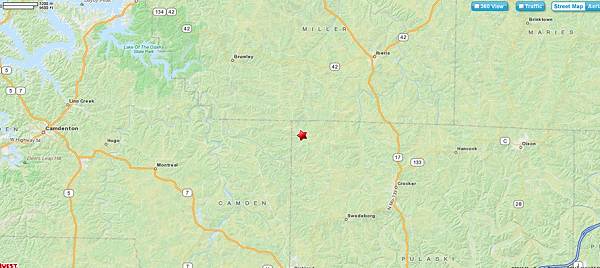 35 Hawkeye on Map
Copied below is a short history of the Curry Church as told by Peggy Hake:
SHORT HISTORY OF THE CURRY CHURCH
by Peggy Smith Hake
In 1896, William J. and Sarah A. Clark of Miller County sold two acres of land to the Trustees of the Methodist Episcopal Church. The trustees named were J. M. Wall, Silas H. Curry, Frank Wall, Benjamin Meredith, and J. A. Meredith.
This Methodist church was listed as the Methodist Episcopal Church, south of the Decaterville Circuit. The location was in southern Richwoods Township in the Northeast quarter of the Northeast quarter of Section 7, Township 38, Range 13 of Miller County.
The old church still stands today in the same location; it has been remodeled used at different times by various congregations. There is a graveyard to the side of the building with many old gravestones standing and has always been well-kept. Over the years it has been called Curry Church and was situated near the old settlement and post office in southern Miller County called Faith.
---
Did you ever wonder where the names for the south county Big Tavern Creek and Little Tavern Creek originated? I always did, thinking that there must have been a nearby establishment for travelers to stay, or as in more recent days, a drinking establishment. But actually, according to historian Frank Weber, the name may have a different and unexpected origin. Here is what Frank wrote in his M.A. thesis at the University of Missouri in 1938 titled "Place Names of Six South Central Counties of Missouri:"
"A large tributary of the Osage River originally known as Cavern Creek was so named by some early Frenchmen for the large cave at the mouth of the creek. Schultz says it is marked "R. a la caverne" on a French map dated 1802 in the Library of Congress. It is sometimes known as Tavern Creek. Apparently Tavern is a popular etymology for the French "Caverne." Two other tavern Creeks were found, each with a cave at its mouth. Both are tributaries of the Missouri River, one in Callaway County and the other in St. Charles County. In each case the cave at the mouth of the creek was known in early days as the Tavern because travelers on the Missouri River refer to one or the other of these "Taverns." Some of these early travelers were Flegg, Pike, Brandbury, Maximilian, Floyd, Lewis and Clark,etc. Coues, in a footnote in his edition of Pike's journal, refers to a cave or "tavern" where the early Osage boatmen used to put up (p. 372).
However, Frank Weber did add the following which was a later explanation for the name Tavern used for these creeks:
Another version is that the best hunting in the early days was along this creek. There was always plenty of game. The hunters called it Tavern Creek because food and good water were as easy to get as in a tavern."
Source Weber, Frank "Place Names of Six South Central Counties of Missouri" M.A. thesis., University of Missouri Columbia, 1938.
Here is an old photo of the cave known as Bat Cave located at the mouth of the Tavern Creek where it empties into the Osage River (photo 36):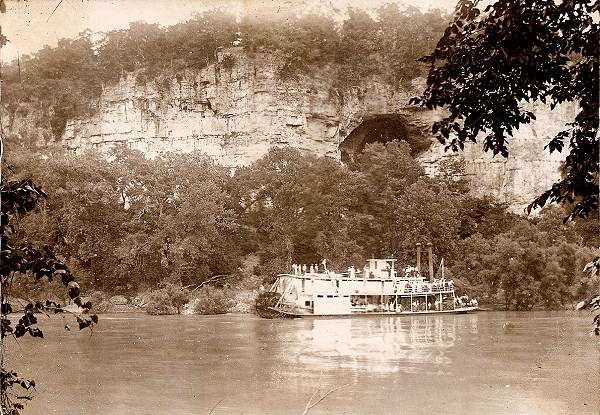 36 J.R.Wells and Bat Cave in Bluff
If you are driving along the river road just under the cave, the foliage is so thick during the summer it is hard to see the cave (photo 37).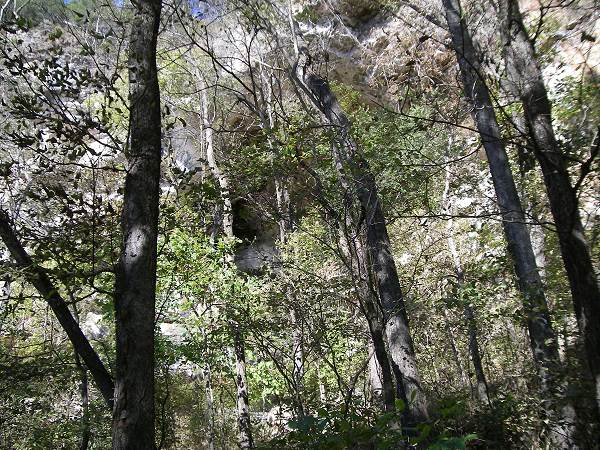 37 Bat Cave Mouth
Another photo features the mouth of the Big Tavern as it enters the Osage River taken from upstream on the creek looking toward the river (photo 38).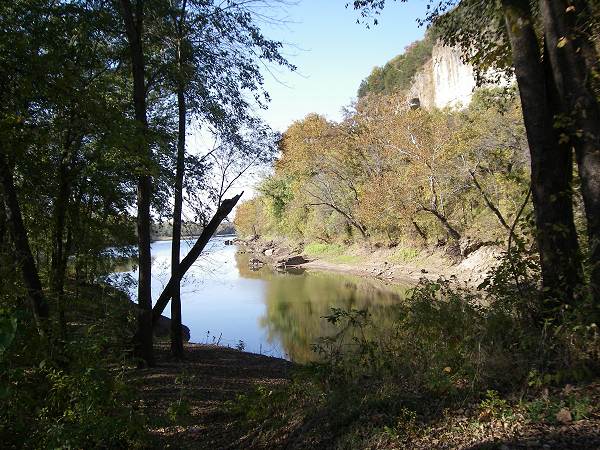 38 Tavern Osage Confluence
And farther upstream where the Big Tavern passes under the bridge on A highway, the stream is seen to be exceptionally clear and bordered by clean gravel bars (photo 39).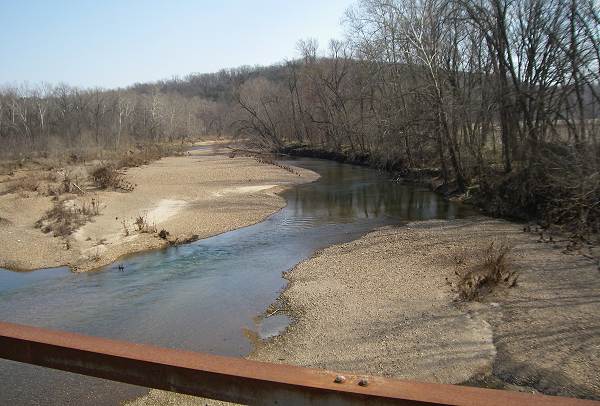 39 Big Tavern looking upstream from A Highway Bridge
You can read more of Frank Weber's essays about interesting places in south central Missouri at this website.
That's all for this week.

Joe Pryor
Previous article links are in a dropdown menu at the top of all of the pages.