Monday, July 28, 2014
Progress Notes
Hello! Welcome to my Progress Notes Page.
Currently, I am taking a sabbatical from writing the Progress Notes but you can refer to previous ones, more than three hundred of them, at the archives above.
Occasionally, on no particular schedule, I plan to upload to my site an edition of Progress Notes and when I do I will announce it at this link on the home page which you just accessed to read this message.
My latest Progress Notes was uploaded Monday, October 7, 2013.
Most recently, my wife Judy and I were honored by the Miller County Fair Board to be the Grand Marshalls of the annual parade as part of the opening ceremonies of the fair in Eldon July 22, 2014. We were chauffeured by Jack Brumley, native of Tuscumbia, in his 1931 Model A Ford (Jack is standing behind car on right). We are certainly grateful to the Fair Board as well as Jack for this very significant honor!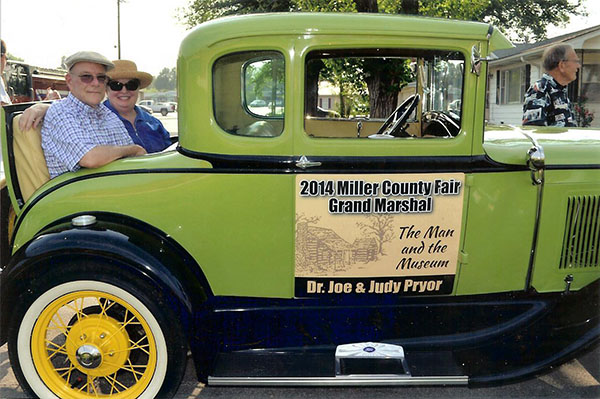 1931 Model A Ford owned and driven by Jack Brumley standing on right
Judy and I were honored recently in an article published by the Eldon newspaper "The Advertiser" written by editor Tim Flora (July 30, 2014), regarding our work with the Miller County Museum. Click on the pages below to view a larger readable version:

Joe Pryor
Previous article links are in a dropdown menu at the top of all of the pages.