IBERIA'S OLD JAIL HOUSE
By Peggy Smith Hake
In 1908, David and Henrietta Farnham deeded a quarter-acre of land in Iberia to the trustees of the Iberia town board and an old jail was constructed on the site. It is still standing today on the same site and will soon be 100 years old. It is built of concrete and measures 12 by 14 feet…It was Iberia's first jail and was constructed circa 1910 by Harrison Smith and his sons. William Harrison Smith was my great-grandfather and his sons, Frank (my grandfather) and Felix (Pea), were well known stonemasons in the Big Richwoods of southern Miller County. They constructed many house foundations, fireplaces and other stone structures in the Iberia area over the late years of the 19th century and the early 20th century.
Rumor was that the old jail would be named after the first man imprisoned there, but the man and the crime seems to have passed unnoticed. It is simply called the Iberia jailhouse. When it was in use it contained a cot, a chamber pot, and a coal-burning King stove, which was maintained by the city marshal. Those I remember serving as town marshal included Barney Hutsler, John "Fount" Ahart, and Norwood Clark over the years.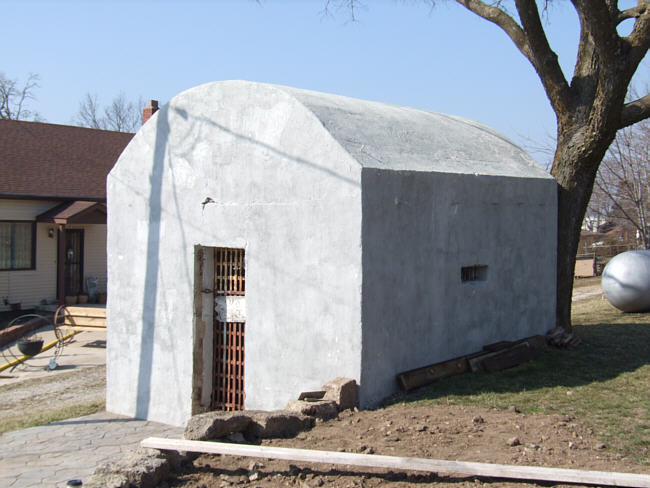 Iberia's Old Jail
I remember when I was a girl growing up in Iberia I passed by the old jail house many times as I walked up the hill to Iberia from our home in the area called "New Town." I have heard many stories told of fights and brawls that occurred on Saturday nights and the many folks who had to spend the night 'sobering up' before they were released the next day. I would imagine the nights were not limited to only Saturday, but probably other nights as well!
A few years ago someone decided to improve the looks of the old building and painted the outside with white paint…it still looks like an old jail house to me with its door still barred and a couple of small windows which filtered in some sunlight! I am sure that if the walls could talk, they could tell some interesting stories that happened inside the one-room cell block over the many years it has existed. The old building will remain as a historic landmark, situated near the Church of the Nazarene, on Main Street in the western section of the original town of Iberia on the old road that has been inventoried over the years as the Big Piney-Tuscumbia Road.