Bridges of Miller County
MILLER COUNTY BRIDGES BUILT IN 1800'S
By Donna Carrender
First Bridge
The first bridge built with public money in Miller County was erected on the State Road, between the river and the bluff, opposite Tuscumbia, on February 7, 1842. William A. Shelton, overseer of road district No. 8 in Equality Township, informed the County Court of a branch in need of a bridge, and that the building of said bridge would be worth more than fifty dollars. Immediately the Court appointed Noah Hudson, John Davidson, and John Brumley to examine the place opposite the John Francis' farm and report their findings to the next term of Court. Noah Hudson was awarded the contract and erected the bridge. On November 9, 1842, Sheriff Thomas W. Whitaker informed the County Court of the bridge's completion. Immediately, the County Court paid Noah Hudson a sum of $197.00 for the erection of the bridge. (County Court Record Book A, page 127, Ibid., pages 131, 147, 148)
Bridge over Shut-In Branch
In the summer of 1852, one hundred sixty-seven citizens petitioned the Miller County Court to erect a bridge across the Shut-In branch.
In November the County Court appointed David P. Taylor, James Winfrey, Sr., and Robert E. Simpson, Commissioners, to meet in Tuscumbia on the second Monday in December "and examine the road leading from Tuscumbia up the river towards Erie and report as to the utility of said road, and the necessity of erecting a bridge across the Shut-In branch, and the probable costs, should a bridge be necessary."
On the third Monday in December the Commissioners informed the Court a bridge should be built, and on December 21st, the Court ordered a bridge be erected across the Shut-In branch. The court appropriated a sum of $150.00 for building the bridge. The construction was to begin on the first Monday in February and completed by the first Monday in August, 1853." Later the Court order was amended to change the design of the bridge. On November 14, 1853, Daniel Cummings reported the bridge finished. This was the first bridge across Shut-In branch, situated under the hill, near the Big Spring, in Tuscumbia. (County Court Record Book B, page 88)
---
MILLER COUNTY BRIDGES BUILT BETWEEN 1900-1932
Abbott Road Bridge
Abbott Road Bridge is a wooden bridge over the Rock Island Railroad on Abbott Road northwest of Eugene. It is now open to one-lane traffic.
Boeckmann Bridge
The Boeckmann Bridge, is a 240-foot long, 14-foot wide timber suspension bridge built by Joseph Dice in 1926. It is located near a public access to a favorite swimming spot on Big Tavern Creek, off Highway 52 southeast of St. Elizabeth.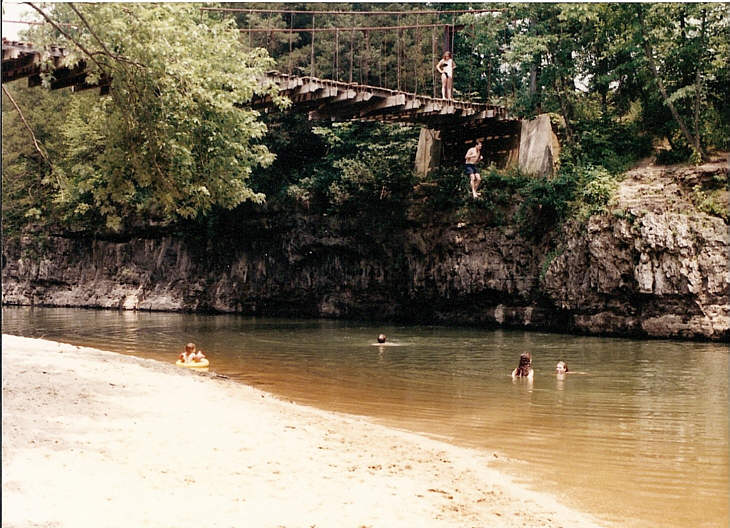 It was rehabilitated in 1976 and replaced by a concrete bridge 2002-2003. It is the only structure in Miller County which has been placed on the National Register of Historic Places. It was placed on this prestigious register in March 1979 after having been submitted by the Lake of the Ozarks Council of Local Governments. The old bridge was named for Joseph Boeckmann who donated the right-of-way for the bridge's construction in 1926.
Brumley Bridge
The bridge is a timber suspension bridge located near St. Anthony. The south towers of the 304-foot long, 12 foot wide bridge washed out years ago and new concrete towers were built to replace them.
Buechter Bridge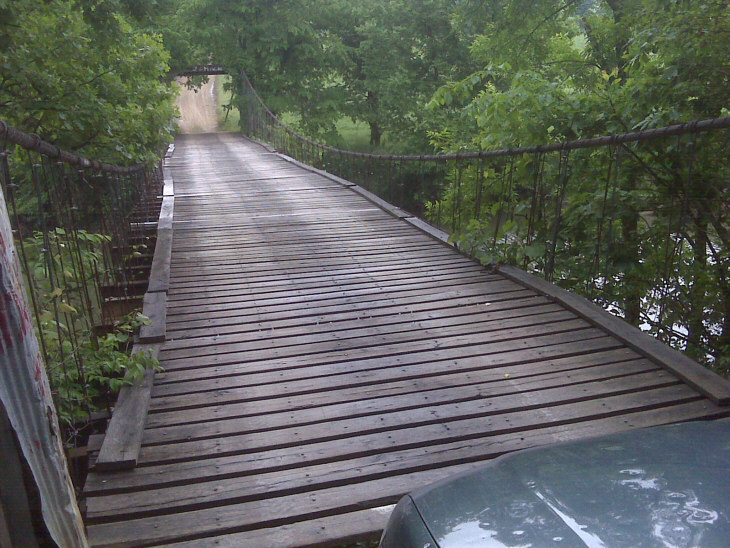 Swinging bridge built in 1920 by Joseph Dice spans Tavern Creek on Buechter Bridge Road southwest of St. Anthony. It is approximately 128 feet long and twelve feet wide. The bridge is in poor condition, but open to traffic with a two-ton weight limit.
Henley Bridge
The Henley Bridge is a through truss bridge over the Osage River on the Rock Island railroad. The rail line is currently out of service.
Hoecker Bridge
The bridge is located near where the Tavern Creek empties into the Osage River off Highway E in northern Miller County. This truss type bridge measures 240 feet by twelve feet and was constructed in 1915. Because of its location, the Hoecker Bridge has always been favored by fishermen. The structure was rehabilitated in 1984, and replaced by a modern bridge in 1997.
Kemna Bridge
The bridge is also located over Tavern Creek on Kemna Bridge Road east of St. Elizabeth. It has undergone some renovations and is open to traffic with a 15 ton weight limit. It was built in 1924 by Joseph Dice, and rehabilitated in 1978. New steel piers have been raised, two extra cables were strung, and the floor was covered with aluminum decking. This "swinging bridge," located near St. Elizabeth, is 189 feet long and twelve feet wide.
Kliethermes Bridge
A swinging bridge built in 1920 by Joseph Dice over Tavern Creek on Kliethermes Bridge Road northwest of St. Anthony. The bridge is closed to all traffic.
Miller County Road 00-2 Bridge
A concrete arch bridge on County Road OO-2 built in 1930 and is open to traffic.
Miller County Road P2-A Bridge
A pony truss bridge over South Moreau Creek built in 1914. It is open to traffic.
Saline Creek Mo 17 Bridge
A through truss bridge over Saline Creek on MO 17 northeast of Tuscumbia built in 1925. The bridge is open to two-lane traffic.
Singer Bridge
A through truss bridge over Tavern Creek on Singer Bridge Road just off MO 52 near St. Elizabeth built in 1910. It is open to one-lane traffic on a gravel road.
Tavern Creek Route A Bridge
The bridge has been lost and no longer standing, but west abutment is still visible. The bridge is located on Route A northwest of St. Anthony and was replaced by a newer bridge in 1958. Many think the original bridge may have been a swinging bridge.
The Swinging Bridges of Brumley
Just west of Brumley, in the Lake of the Ozarks State Park on Lake Road 42-18, lies the "swinging bridges". These two historic suspension bridges, which are close together, are located at the Mill Creek-Grand Glaize confluence. The larger of the two bridges, is the 400 foot Auglaize Bridge and spans Grand Glaize Creek, while the smaller Mill Creek steel suspension 100-foot bridge spans Mill Creek. The bridges are at right angles to one another and 1,000 feet apart by roadway.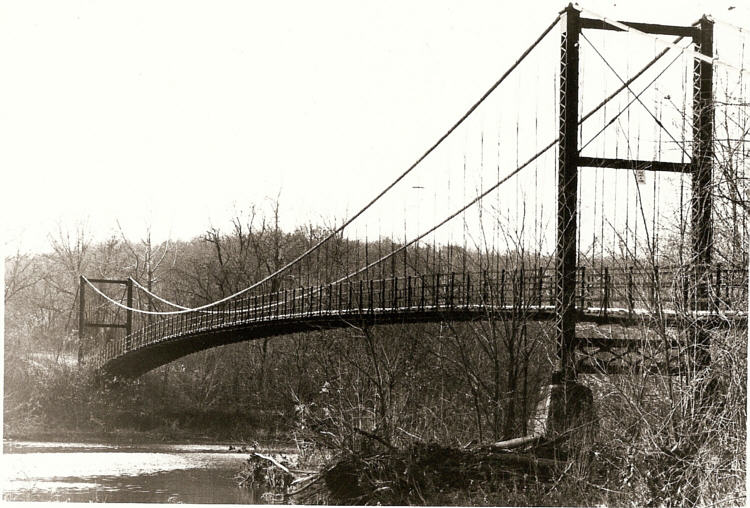 The Auglaize Bridge
Both of these bridges were designed and built back in 1931 by Joseph A. Dice, the legendary swinging bridge builder of Warsaw, Missouri.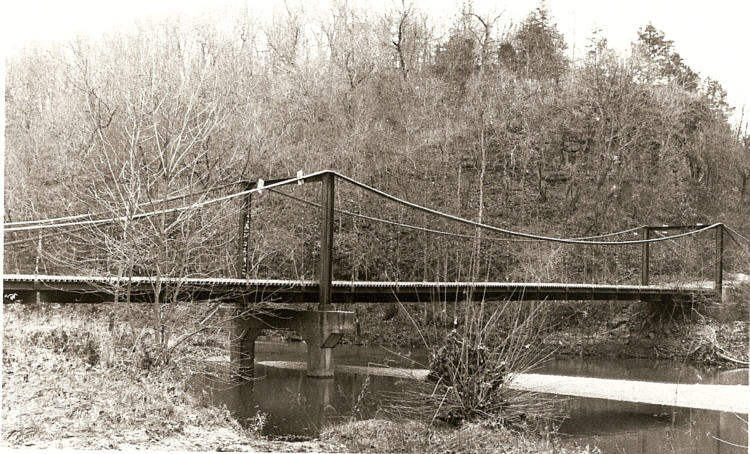 Mill Creek Bridge
Mill Creek Bridge is a steel cable suspension bridge with a total length of 135 feet and a span length of 96 feet. The roadway is 11.1 feet wide. Numerous modifications have been made tot he bridge by the Missouri Highway and Transportation Department to reinforce and upgrade its structure since it was originally built. The original cost was $3,000. Dice used 20,000 pounds of steel, 40 miles of wire and 3,000 feet of lumber in the original construction.
The bridges were built when the Lake of the Ozarks was formed and flooded the tiny creeks. It took eleven men only four months to complete the project, with the only "heavy equipment" being a stump puller and a team of mules to set the large towers. The other work was done with what Ralph Robinett, one of the crew, calls "mean strength". The bridges are now opened to "local traffic only".
Tuscumbia Bridge
A through and deck truss bridge over the Osage River on MO 17 at Tuscumbia built in 1932. The bridge is open to two lane traffic but is in poor condition.
Bridge Dedication - Tuscumbia's New Bridge
Tuscumbia Swinging Bridge
A lost swinging bridge over the Osage River at Tuscumbia on what is now MO 17 and no longer exists. The swinging bridge was built by Joseph Dice in 1905 and replaced by the current bridge in 1932.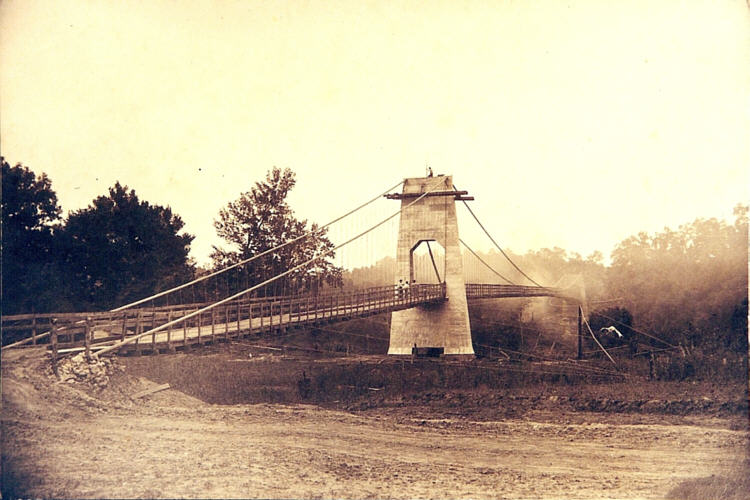 The old swinging bridge across the Osage River at Tuscumbia.
---
JOSEPH DICE, BRIDGE BUILDER (1866-1947)
By Peggy Smith Hake
Joseph/Joe Dice of Warsaw, MO, began his bridge-building career as a young apprentice to Dr. D. M. Eddy in 1895 on the Stockton Bridge. His later success led to his constructing as many as 40 swinging bridges in central Missouri, including some in Miller, Maries, Benton, and Cooper Counties.
All his bridges were 14 ft. wide as today's traffic could not be imagined at the time he first built these bridges. Starting with a ball of twine to judge the curve and distance, men in boats or horses to pull the wires across, men and mules to mix cement and haul river gravel and timbers from local farms, his genius has long gone unrecognized.....We are told Mr. Dice could tell by the 'feel' of the wire if the tension was right. As many as 950 strands of wire were required to carry the weight of the cables. When the highway department required blueprints for construction, Mr. Dice retired as a bridge builder!!
In Miller County the bridges he built were:
Auglaise and Mill Creek bridges near Brumley
Kliethermes/Brumley Bridge and Buechter bridges near St. Anthony
Boeckman and Kemna bridges near St. Elizabeth.
The two bridges he did not construct in Miller County were the Singer Bridge and the Hoecker Bridge, both located in Osage township near St. Elizabeth.
In Maries County he constructed an old bridge about 2 miles from Vienna. It is 180 ft. wide and is used for pedestrian traffic only.
In Benton County he constructed the old bridge at Warsaw which spans the Osage River. It is 500 ft. long and is used only for pedestrian traffic. The new Highway 7 Bridge is located nearby.
In Cooper County he built Klenklen Bridge, located about 11 miles southwest of Pilot Grove.
Kliethermes Bridge is still standing but not accessible to traffic. It is in a poor shape and not safe to cross. The county court/commission closed it off a couple of years ago. It is very unique but very dangerous. There is not much traffic on these country roads where the bridges are located. Most of them span the Big Tavern creek which meanders across Miller County. The bridges that are still in use include Buechter Bridge (south of St. Anthony), Kemna Bridge (southeast of St. Elizabeth), Mill Creek Bridge and Auglaize Bridge (near Brumley in Glaize Township).
The bridges that are no longer used include Boeckman (replaced with new bridge), Singer Bridge, and Hoecker Bridge (replaced with a new bridge)............
Peggy Hake
---
The Miller County Autogram-Sentinel, Thursday, March 13, 2008
Kliethermes Bridge was torn down early Wednesday morning, March 12, by county workers with help from Wood's Towing. Commissioners were awaiting permission to demolish the old Kliethermes Bridge on Friday, March 7, First District Commissioner John Klindt said. They received permission and Wednesday morning county road department workers and others quickly dropped the roadway portion of the structure. Using heavy equipment and a wrecker from Woods Wrecker to hold onto the bridge's driving surface, workers cut the cables and the main portion of the bridge dropped into the water. They then used the equipment to drag the wooden floor, stringers and cables out of the water.
The old wooden-floored suspension bridge across Tavern Creek in the St. Anthony area has been closed to traffic for more than a year. A new concrete bridge is in the design phase.
Buechter Bridge in the St. Anthony area, Kemna Bridge in the St. Elizabeth area and the bridges across Mill Creek and Auglaize Creek near Lake of the Ozarks State Park at Brumley are the only remaining swinging bridges in the county. Singer Bridge is a wooden-floored bridge but not a suspension bridge.
Funds from a state program will be used to replace the bridge with a concrete structure and Klindt said work by county road employees to demolish the bridge will be an in-kind match that will count toward the county's share of the cost.
Time was a problem. Tavern Creek is home to the Niangua darter, a small fish on the endangered species list. Work cannot be done in the creek itself from March 15 to June 15, the darter's spawning season, he said. That means the demolition had to be done by this week if possible, Klindt said.
Klindt said the original bridge was constructed in the 1920's or 1930's, like all of the county's suspension bridges but that in 1946 a flood destroyed it. It was replaced using concrete and steel pillars and supports at the ends rather than the original concrete and wooden ones, he said.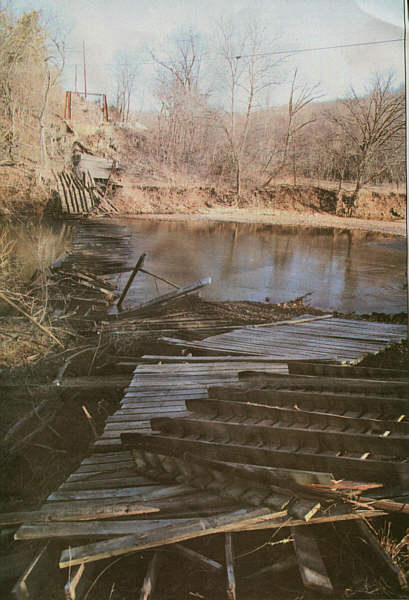 ---
Information about the Miller County Bridges was obtained through the following resources:
Judge Jenkins' History of Miller County Volume 1 pp 121 -122, and pp. 338-339.
History and Geography of Lake of the Ozarks Vol 1 , H.D. Weaver, pp141-142
50th Anniversary Bagnell Dam 1931 to 1981 Lake of the Ozarks pp.
An article donated to MCHS with no information other than the title 'Miller County' page 32 written by Roger Dillon
An article by Peggy Smith Hake entitled Boekmann Bridge and the Boeckmann Family

http://www.bridgehunter.com/
Thanks to James Baughn