Churches of Miller County
The Roman Catholic Church
Before 1870 there were very few Catholic families in Miller County. In that year several Catholic families of German descent came from Osage County. Since the nearest Catholic Church was at St. Thomas, a small frame building was erected in 1870 at Old St. Elizabeth, which was on the south side of the Osage River. This church was intended for all Catholic families in the county and included the territory now occupied by three parishes-Mary's Home, St. Elizabeth, and St. Anthony. At first the church was attached as a mission to Koeltztown and, later, to ST. Thomas, Cole County, Missouri. During the following years a number of pastors were in charge: 1872, Father Joseph M. Buergler; 1873-1875, Albert Mayer; 1875-1877, Francis F. Kueper; 1877, B. Hillner; 1878, Father Helwing; 1879, Peter Bremerich.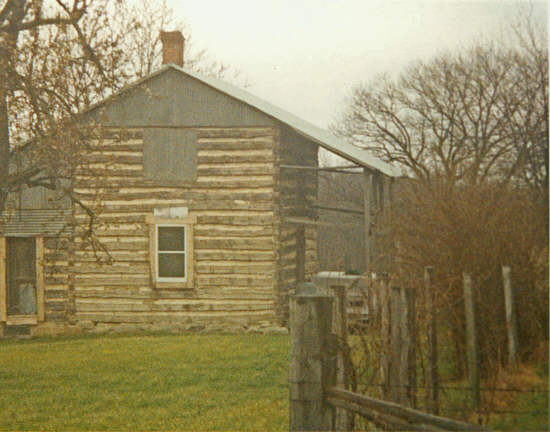 First Catholic Church
It is said this old log house was once part of the county's first Catholic church which was built about 1870 at Old St. Elizabeth, located on the Osage River about 3 miles north of present-day St. Elizabeth. This log house is located on the Victor Kemna farm east of St. Elizabeth.
In 1880 Miller County became a part of the Diocese of Kansas City, which was erected that year. About this time two parishes were formed in the county, with the Osage River as a boundary line. On the north side a church was built at Mary's Home, about three and one-half miles north of the river; on the south side a church was built about three miles south of Old St. Elizabeth, and was called the parish of St. Lawrence. It is located in the town of St. Elizabeth. The first church here was a frame building. During the first decade of the existence of the parish, a school, parsonage, and priest's house were erected. Father M.C. Seeberger was the first pastor of St. Lawrence, and he also had charge of Mary's Home. He was succeeded in 1886 by Father Charles Meyer. Those who had charge in the following years were Reverends Ferdinand Walser, 1886-1891; Norbert Groth, 1891-1893; Charles Joseph Puetz, 1893-1900. Father Frederick Bruch took charge in 1900. At his suggestion it was decided to try to erect an adequate brick church, since the frame building had become too small for the increased congregation. The new structure was completed in April, 1907. It is of Gothic architecture, is 119 feet long and 50 feet wide, and was erected at a cost in cash of $17,500, but much of the work was donated. The church has always had its own school, conducted by a lay teacher; since 1907 the old church building has been used for a school. Reverend Father Bruch, who had worked with great zeal and earnestness for the welfare of his congregation, died in 1928. During his illness Father Kemme had been appointed pastor; he was succeeded by Father H. J. Mayer, who is still in charge.
The first Catholic Church at Mary's Home was built in 1883. For about two years services had been held in the private dwellings of William Berendzen and Herman Tellman. The church building was dedicated to St. Mary on August 5, 1883, by Bishop Hogan. The cost in cash for building the structure, which was 30 feet by 40 feet, was $2000. Two of the greatest benefactors at this time were J. B. Hake and Herman Tellman, Sr. For a while St. Marys was attended from St. Elizabeth. The following pastors have been in charge of St. Marys: Father Buergler, Albert Mayer, Frances Kuepper, B. Hillner, Peter Bremerich, Cosmas Seeberger, Charles Meyer, Lambert Nipper, Norbert Groth, Charles Puetz, Frederick Bruch, Jacob Kagerbauer, Joseph Kremer, Francis J. Kavelage, P.J. Weber, and J. H. Breit. On New Year's Day, 1907, the church building was destroyed by fire. Services were held temporarily in the shool. In less than a year a stone structure 45 feet by 90 feet, replaced the old building. The cost was about $12,000. The church was not dedicated, however, until 1911, when Bishop Thomas F. Lillis performed the dedicatory ceremony. The parish house was soon remodeled at a cost of $500.
St. Mary's school, a two-story frame building, was built some years after the parish was established. With the exception of three years it has been in charge of lay teachers. A new brick rectory was built in 1925.
The St. Anthony congregation was organized in August, 1906. A frame building, 50 feet long and 34 feet wide, covered on the outside with galvanized sheeting, was constructed at an estimated cost of $2000. The principal contributors to the erection of the church were Messrs. Conrad Evers, John Otto, Frank Schulte, and Henry Blomberg. The church was dedicated June 13, 1907. At first it was attended from ST. Elizabeth. However, in 1910 a rectory was begun. This building is of frame. Father Bruch and Reverend C. Strassburger had held services at St. Anthony before the building of the rectory. Resident pastors have been Reverends Francis A. Gulath, Joseph Kremer, and I.H. Lehmen. In 1921 the church building was enlarged at a cost of about $3000. It is now about 80 feet by 34 feet. In 1928-1929 the priest's house was remodeled at a cost of about $2700.
-A History of Miller County, Missouri By Gerard Schultz, 1933
---
SACRED HEART CHURCH
Eldon, Missouri
By Msgr. John Dreisoerner, 1974
Eldon is in the northwest section of Miller County and the early Catholics received the Sacraments from priests who came from the west. Father Peter Rosch was one of the first priests to offer Mass in the western part of Miller County. The building of the Missouri Pacific Bagnell Branch Railroad Line in the early 1880s resulted in the establishment of the City of Eldon, Mo. On March 15, 1882 the original plot of Eldon was filed with the clerk of the Circuit Court at Tuscumbia by George Weeks. The original plot was from 9th Street on the north to 15th Street and from Walnut to Mill Streets (names of present streets). The original planners missed in their guess of where the new train depot would be built. It was built near Maple Street and 2nd St. The town then developed in this area.
With the coming of railroads came Catholic railroad men. The archives list a 1st Holy Communion Nov. 28, 1898. Mass was offered in a house in Etterville. In 1903, when Mr. Joseph M. Heafey was about 17 years old, his father moved from Iowa and bought 600 acres and another Catholic family arrived. The records list Father Theo Reitz in 1906. September 19, 1907 Bishop Lillis confirmed Eldon Catholics in St. Thomas Church, Versailles. Father Rudolf Stolz was here in 1908 and Father Joseph Kremer in 1909.
Mass was said in Mr. Maccarath's rented home on west 2nd Street across from the present Junior High (the house has been torn down.) The Mass was then offered in the two story Walter Roash house just south of the Baptist Educational Building on Aurora Street. Then they were invited to use the Presbyterian Church-also spoken of as the Congregational Church, 1st and Aurora. Then mass was offered in the old City Hall.
In 1910 Father Thomas F. Prendergast came from Cole Camp, Mo., and rented a house on North Maple Street. June 14, 1910 a Warranty Deed was filed in Tuscumbia, Mo., Deed Book 29, page 157 reads: Deeded to Right Rev. John J. Hogan, Bishop of Kansas City, in trust for the purpose of a church for the use and benefit of the Roman Catholics of Eldon, Mo., and vicinity. Grantors: B.T. Harvey and Antoinette Weber Harvey.
A new church was built on 100 North Mill Street and North Street. I have been told that this land was a gift and also I have heard another story: that $200 was paid for the land. Mrs. Earl Mosby, her father was Charles H. Barkalow, went to the cornerstone laying of the new church and she supplied a photograph and account of the event. She says that Bert McLaughlin and Walter Roash were altar boys. Mr. Robert Harvey made a speech at the cornerstone laying.
Father Prendergast lived 6 or 8 months in the rented house on North Maple. He was over 6 feet tall and a very big man. When the church was built he moved back to Cole Camp and came to Eldon on the train once a month for Mass. The first baptism in the new church was May 8, 1911 when Frederick Patke was baptized. Father Prendergast stayed as pastor until November 1917. He died in Kansas City November 1942.
The records list Father J.J. Conway-a small man-as pastor in March 1919. In 1922 the pastor was Father George P. Willems. The next priest, in 1925, was Father Wallace who was a big man with red hair and freckles. In 1929 Father F.J. Dillon became pastor. With his coming the Bagnell Dam was started and built in 3 years. Many new Catholics came among the workers.
Father Dillon was a tall man with a regal bearing. He drove an old car over gravel roads from Cole Camp each Sunday. Mass was at 8:30 a.m. one Sunday and 10:30 the next Sunday. When a 5th Sunday of the month occurred he had Mass at Old St. Patrick's, Gravois Mills. He had a fine voice but was not much of a preacher. He was not liked because he had to talk money every Sunday. Times were hard and frequently the collection would not pay for the gasoline. The church was heated with an old flat-top stove that smoked like mad. He finally acquired a round oil stove-Mr. Conners and Mr. Cunningham who were dam workers paid for the stove.
The laws of fasting before Holy Communion from all food and drink from midnight before added to his discomfort and there were no plumbing facilities. One Sunday the server dropped the thermos bottle of Mass wine and Father had to strain the wine through a cloth so as to have Mass.
Father John J. Hans came in 1933. He was a short stocky man, born in northern New York, the son of an undertaker. He had a hard job adjusting to the "few Catholics" conditions of rural Missouri. In Eldon he took up the collection every Sunday with all his vestments on. He too drove from Cole Camp-usually a big car previously used by his brother in the New York State Funeral Home. In his time a coal furnace was put into the church. The old church had a church bell but it was seldom rung. The church had the main altar and two side altars. Mrs. Anna McClennon who had a large flower garden decorated the altars. New arrivals were Clem Iven in 1931, the Phil Wieneman Family came in 1932, the Chenoweth family came in 1932 and October 1938 the Ed Schmitz family. Father Hans died October 26, 1965 as pastor of Immaculate Conception, Shackleford, Mo.
The first resident pastor of Sacred Heart Church was Father William J. Conrad. He was born in Kansas City, Mo., of English descent. He is remembered as a dynamic man, always a gentleman, with a sense of humor and a quick laugh. He came to Eldon in September 1939 and moved into a house on Maple Street; today it would be next door to the Griswold-Kays Funeral Home. On November 12, 1939 he moved into Mussers Cottage #8 (this is El Rancho now) on Highway 54 south. He lived until a rectory was built.
November 19-26, Father Kevin Cunningham preached a Mission. In a little over three years time this wonderful priest was able to build a rectory and purchase land and build Our Lady of the Lake Chapel. The plans for the rectory are marked "Carroll & Dean Architects, Kansas City, Mo., 7/12/40". These same plans were used with an increase of a few feet in width, for the construction of a rectory at St. Elizabeth, Mo. Father Conrad left many records: financial, a diary and record of donated labor on the priest-house. It is interesting to note that he listed the prevailing wage scale for donated labor and it ran from 30 cents an hour to $1.75. He even kidded Ed Schmitz by listing him at 10 cents an hour.
Father Conrad was moved to Kansas City, MO. May 30, 1943, where he was pastor of one of the large parishes. He died May 1959 and is buried there.
---
ST. ANTHONY OF PADUA CHURCH HISTORY:
and the Story of the Village of St. Anthony.
by Peggy Smith Hake
(printed in THE NEW IBERIAN newspaper 23 June 1982)
Parishioners of St. Anthony of Padua Catholic Church celebrated their Diamond Jubilee Anniversary on June 13, 1982 with an open-air mass; carry-in dinner; and a street dance which continued on into the evening hours.
The history of this church and her people is an interesting one and to fully cover the story of the Catholic folk of Miller County, I will take you back to the early 19th century to the first Catholic settler, who may have been a Frenchman named Bevois. In 1812, with his slaves, he cleared land near the Little Gravois creek at the mouth of the Osage River. He built several log cabins on the cleared land and he prospered from his profession of hunting for pelts of animals in our region. On a trip downriver to St. Louis in the spring of 1814, he disappeared and was never heard from again.
The first Roman Catholic land owners to patent land in the county were Thomas and Nicholas Browse in 1837. Their land was located near the Osage River north of present-day St. Elizabeth. The next year, two brothers, Owen and Calvin Riggs, patented land in the same general area. The Catholic inhabitants of Miller County today owe much to Awhen Rices (Owen Riggs) of Tyler County, Virginia who was responsible for the establishment of the first Catholic Church in the county. It was built of logs and was constructed at Old St. Elizabeth, located on the east side of the Osage River. He built his church about 1870. Early family names of German descent who helped to erect the county's first Catholic church included Heckemeyer, Buechter, Boedecker, Borgmeyer, Doerhoff, Schell, Whalen, Liebbert, Koester, and Kemna. Among the first families to have marriages performed in Old St. Elizabeth were: Lueckenhoff, Riggs, Haake/Hake, Boeckmann, Schulte, Brandt, Lepper, Wilbers, Schepers, Beeble, Buechter, and Heckemeyer.
Awhen Rices, later known as Owen Riggs, an Irishman, acquired many acres of land before his death in 1875. It was estimated he owned 6000 acres and it took nine years to settle his estate.
The German immigrants began to populate the areas around present-day Marys Home, St. Elizabeth, and St. Anthony in the 1870s and 80s, following the Civil War era. The first Catholic Church built at Old St. Elizabeth was the home church of the Catholic population during those years. Some of these pioneer families had to travel a great distance to attend Sunday masses.
Many of these early settlers came from the Rhine Valley of Germany and the country of Prussia (part of today's Germany). They first settled in and near the town of Westphalia on the Maries River in neighboring Osage County. They were evidently very much like other ancestors of all nationalities.....they continued to venture westward toward new lands! Westphalia country is just simply gorgeous, but they were curious to see what lay beyond the next hill to the west. They came by large numbers and settled the fertile valleys of the Osage River in northeast Miller County.
When the population increased, it was decided that folks on the west side of the river needed their own church, so with the assistance of Father Cosmos Seeberger, a spunky, handicapped Jesuit priest, the Marys Home area built a church, St. Marys of the Snows. Old St. Elizabeth church was moved inland approximately 3 miles from the river to its present located at St. Elizabeth (originally platted as Charlestown) in 1881 and a third parish was organized after the turn of the 20th century at St. Anthony in 1906.
The story of St. Anthony began in 1858 when a man named Asa Burlingame patented the land where St. Anthony, the village, sits today. Francis L. Burlingame, also patented in the area in the same year. In 1884, Asa and his wife, Elizabeth, sold their acreage to Andrew and Mary Pendleton (197 acres). They kept it for five years and, for some reason, sold all the land back to Asa Burlingame. Once again Asa sold the land 12 years later, in 1896, to James and Mary Bilyeu.
In l898, the land once again passed back into the Burlingame family. It was tossed back and forth like a football for quite a number of years! Finally, in 1899, it was sold to D. C. and Lewis Crane and they, in turn, decided to plat out a new town in 1906. Their new town had six blocks with eight lots each. The school and church were designated to sit on land in the middle of the town and each were a block square. The streets were named Oak, Main, High, Crane, and Church (the old town plat was used in 1981 when new street signs were added to the small village). The St. Anthony cemetery, directly north of town, was also platted at the same time by the Crane family and it contained one acre. In September 1906, the Crane's donated the cemetery block and Blocks 3 and 4 in their new town to Bishop John Joseph Hogan, Bishop of the Kansas City Diocese, for the construction of a Catholic Church and school.
The St. Anthony congregation was formed in August 1906. On October 16, 1906, a cornerstone was laid and later a frame building was constructed measuring 50 ft. long and 34 ft. wide, covered on the outside wall with galvanized sheeting and was built at the cost of $2,000. Principle contributors to the new church were from the families of Evers, Otto, Schulte, and Blomberg. The church's dedication wash held on June 13, 1907 and celebrated by Bishop Lillis of Kansas City. The bell for the new church was donated by the Conrad Ewers family.
In 1910, a rectory was built, a frame structure. Early priests who served this parish included Father Frederick Bruch (who also served at St. Elizabeth) and Father C. Strassburger, who held services before the rectory was built and traveled the circuit between St. Elizabeth and St. Anthony. Other pastors over the years included the Reverends F. C. Gulath, James Kremer, Ignatius Lehman, Charles Bauer, Thomas Kane, John Hans, John DeAngelis, Salvatore Fagiola, Leo Cruikshank, John Walsh, Joseph O'Rourke, Jerome Jaworski, John Degnan, Patrick Dolan, John Byrne, and Joseph Lorenz, the present pastor (in 1982).
In 1921, the church's building was enlarged at a cost of almost $3,000 and it measured 80 ft. by 34 ft. after renovation. In 1928-29, the priest's house was remodeled at a cost of $2,700.
In 1955, a beautiful new brick church was built and it was dedicated on September 4, 1955 by Bishop Joseph Marling, Auxiliary Bishop of Kansas City. A new rectory, also brick, was built in 1965 and, in 1966, the parish hall was renovated and remodeled to the present size.
According to church records, the first child baptized by Father Bruch was John Anthony Otto, son of Stephen and Anna (Boeckmann) Otto. The first marriage performed was for John Schepers and Mary Otto on 13 October 1908. It is possible there were earlier baptisms and marriages perfomed in this parish, but these are the earliest records in the church's old books. If there were earlier records, they would probably be found in St. Lawrence's (St. Elizabeth) church books. Today (in 1982), there are approximately 350 parishioners representing 100 households in St. Anthony parish.
St. Anthony of Padua, the patron saint of this church, was an ardent follower of St. Francis of Assisi. He was born in Lisbon, Portugal in 1195 AD and became a Franciscan Friar; the Order founded by overflowing crowds who desired to hear his message. He spoke of the poverty of the people and, much like St. Francis, he forsook all his earthly possessions. St. Anthony of Padua (he received this name because of the many years he spent in Padua, Italy), died at an early age of 35 years on June 13, 1231. He did not suffer a martyr's death experienced by other preachers in this time era, but his work was zealous and strenuous for this gospel he believed so devoutly.
Much like St. Anthony of Padua, the people of this parish area are an active and vital force in their community. The village is small and unincorporated, but they pull together for the welfare of all.
NOTE: It is now 2003 and I have lived in the St. Anthony community now for almost 23 years and it is a wonderful place to call home. I was welcomed with friendly enthusiasm when I first moved here and it has continued on for the years I have lived in the vicinity. Father Joseph Lorenz, the priest of the parish when I came here, was so helpful to me when I was asked to write an article for The New Iberian newspaper in 1982. Father Lorenz gave me access to old church records and was there to answer my many questions about St. Anthony church. What a delightful person he was to know and such an inspirational man of God. I understand St. Anthony parish rectory, which has been renovated to be used as an office for the two parishes (St. Anthony and St. Elizabeth) will be given the name Lorenz Hall, in honor of Father Lorenz........What a great choice!
Peggy Smith Hake
Summer, 2003
---
ST LAWRENCE CATHOLIC CHURCH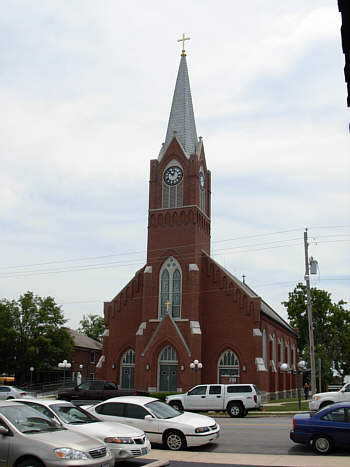 St. Lawrence Catholic Church
St. Lawrence Catholic Church in ST. Elizabeth stands as a monument to the cohesiveness of the St. Elizabeth community. Built in the early part of this century, work on the church was done largely by members of the parish congregation so that their growing families might have an adequate place for worship. The parish history is closely tied to the history of ST. Elizabeth.
St. Elizabeth is located in the area where the first white man settled in Miller County. In 1807 William West built his family a log cabin on the Big Tavern Creek, near where Hwy. 52 crosses it today. West came to the county after the Zebulon M. Pike expedition ascended the Osage in 1806, according to Gerard Schultz who wrote "The History of Miller County."
William West had left Miller County by 1811 but Thomas West, son of J.L. and P. West died as an infant in the spring of 1841. His tombstone is still on the gravesite near the original West settlement.
The first Roman Catholic settlers known in the area were Thomas and Nicholas Browse who took a patent or homestead, on land north of the present town of ST. Elizabeth in 1837. Owne and Calvin Rigs followed the next year and took land in the same vicinity.
Having no parish or priest, the Miller County Catholics apparently did not practice their faith. A history of the parish written by Leonard J. Doerhoff in observance of the parish centennial in 1971 notes missionaries from a colony of German Catholics at Westphalia may have come into the area to serve Miller County Catholics.
The original town of St. Elizabeth was established after the Civil War on the Osage River. Owen Riggs failed the plat of the town on April 6, 1869. The town layout showed nine blocks with 16 lots on each block.
With Riggs behind the plan, a church was built in 1870. The frame building, built with a log framework, was built by area men. That structure was later moved into present-day St. Elizabeth and was used as a school.
By 1875 William Wetlock had opened a store in St. Elizabeth and a post office was established in1877.
The original church built at old St. Elizabeth was intended to serve all Catholics of Miller County. The territory served by the parish included Mary's Home and St. Anthony in addition to St. Elizabeth.
The first year of its existence the church was a mission of Koeltztown. The next year a priest was sent to the St. Elizabeth Church but after 1873 and until 1881 the church was a mission of the St. Thomas parish.
In late 1880, after the Kansas City Diocese was formed with Miller County a part of the eastern boundary, parishioners asked the church be more centrally located. The Osage River, running through the area, presented a problem for people living north of it when they attended church. It was decided to abandon the old church and to use the river as a boundary for separate parishes. A new church was to be built at St. Elizabeth and another at Mary's Home.
Apparently some discussion arose over which parish should have the bell in the old church. Cast by J.G. Stuckstede & Bro., in St. Louis, in 1872, the bell now hangs in St. Lawrence Church. Doerhoff notes it is not known how the argument was settled.
Doerhoff says in his history that about this time Riggs was in financial trouble. A Westphalia merchant, Charlie Holtschneider had backed Riggs and he took possession of nearly 6,000 acres of land held by Riggs. It included the area now occupied by ST. Elizabeth. Holtschneider donated the lot where the present church and rectory are.
Many people still refer to ST. Elizabeth as "Charleytown." The name originates from that given to the town in honor of Holtschneider, Charlestown.
Charlestown was incorporated as a village May 24, 1948. It was not until June 5, 1961, that the town became officially St. Elizabeth when the change was approved by the Missouri Secretary of State.
The first St. Lawrence Church was a frame building. By 1900 the structure was becoming too small for the growing parish. On Feb. 5, 1903, the congregation broke ground for a new brick church.
"That same year, 400,000 bricks were made on the church grounds. The clay for the brick was taken from church property at the time, the present school grounds. The pit from which the clay was dug was in the left field portion of the present school ball diamond. The clay was molded into oblong blocks and baked in a brick-kiln with Henry Sandbothe of Koeltztown in charge. Each family donated one load of cordwood for the brick kiln," Doerhoff reports in his history. Lime for mortar and a lime kiln was gotten from the Holtmeyer Brothers farm.
In 1904 architects plans were drawn up. Excavation for the basement began in 1905 with the congregation doing the work. Limestone blocks were laid up to form the foundation. The 3 by 3 by 6 blocks were quarried a distance from town and male members of the congregation were given the task of transporting them to the construction site. Each man was expected to deliver a block on his appointed day. The foundation was allowed to settle for a year before construction was begun atop it.
Cornerstone for the church was laid in 1905, according to Doerhoff. In 1906 a contract for construction of the superstructure was let. In April 1907 the building was completed. Much of the labor had been donated for the building of the Gothic design church.
Since the first Mass held in it, the church has served as a place for weddings and anniversary celebrations, baptisms and funerals. St. Elizabeth, with its Catholic religion radiates around the church. The school is next door, the bank of St. Elizabeth across the street from it, the post office across another. The parish cemetery is nearby.
- Reprinted from the 1975 Bicentennial edition of the Miller County Autogram Sentinel
---
OUR LADY OF THE LAKE CATHOLIC CHURCH
By Carole Pilkington and Helen Mangold (1981)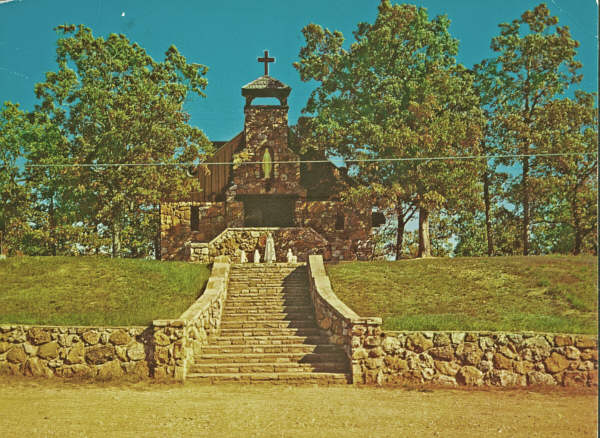 Our Lady of the Lake (Original Stone Chapel)
Our Lady of the Lake Catholic Church has long been a landmark in the Lake area, but not always. The Chapel, the quaint stone church that served the area for many years, was begun in 1940 under the direction of Fr. William J. Conrad. He kept a complete diary on the construction of the church, indicating many delays and funding problems. During the interim, masses were held in the Osage Beach School. Local businessmen took an interest in the project, Catholics and non-Catholics, and helped raise money. Finally on November 13, 1941, construction actually began. The first Mass was conducted in the Chapel on May 4, 1942, with 160 in attendance. Celebrant was Fr. Conrad the servers were Derrill McClennen, James Hollbrook and Robert Chenoweth.
In May 1943, Fr. Conrad was transferred to Kansas City. The little Chapel did not have a regular pastor, with the priest from Eldon's Sacred Heart Church serving the "Mission".
As the Lake grew, so did the crowds at the Chapel. By the summer of 1962 it is recorded that there were nine Masses each Sunday. Eventually it reached the point that there were 12 Masses each Sunday, six upstairs and six down. There was definitely a need for a larger church.
The new church and rectory for Our Lady of the Lake were built during 1965 and 1966. Fr. Henry A. Hoffman, a retired priest from St. Louis, primarily supervised the construction. The first resident priest was Fr. Charles Pfeiffer who was here in 1965. Father Bob Chenoweth served the Parish from 1965 to 1968. Msgr. John Kenny was our second assigned pastor and was here from 1968 to 1972.
Father Jerome F. Bestgen was our pastor from 1972 to 1978. During his assignment here the parish hall was constructed and was named in his honor. Fr. John Byrne assisted Fr. Bestgen during his pastorate here. Fr. Byrne was appointed administrator to our parish after Father Bestgen was transferred.
The present (1981) Pastor is Fr. Calvin Bonn, who was assigned here on July 16, 1978. Under Fr. Bonn there is an active Ladies' Sodality, Men's Club, Parish Council and youth group has been organized.
From a small Chapel to a large church which can seat 1100, the Lady of the Lake serves the Lake area with summertime attendance now reaching about 4000, with three Masses on Sunday and two on Saturday evening.
The Chapel is still a landmark, although now it sits empty, making no other contribution to the community. Many hope it will again, one day, be a thriving part of the Lake community. And, our Lady of the Lake Parish is very much a part of the Lake Community, serving the needs of the tourists and permanent parishioners alike.
In 1980 there were 434 permanent parishioners. The original stone Chapel shown above, has since been demolished.