BANKING IN MILLER COUNTY
---
BANK OF BRUMLEY
By Mabel C. Hawkins
The Bank of Brumley opened for business October 16, 1906. There were 18 original stockholders. The first Board of Directors were J.M. Hawkins, E.C. Thompson, James Thompson, W.R. Carnes and Jams C. Warren. The first officers were J.M. Hawkins, President; E.C. Thompson, Cashier; and J.C. Warren, Secretary. In January 1908 E.C. Thompson became President and served in that capacity until his death in 1941. J.M. Hawkins became Cashier and served until his death in 1934.
Lena C. Hawkins (later Mrs. W.E. Thornsberry) was assistant cashier from 1910 to 1914. Nellie Hawkins (later Mrs. Lloyd Pugh) was selected to serve as assistant cashier in 1914. She served until 1920 when C.R. (Ted) Hawkins was selected. He served as assistant cashier until his father's death in 1934 when he became cashier. In 1956 he became President and served in that position until his death in 1959.
Mabel C. Hawkins was selected to serve as assistant cashier in 1934 and became cashier in 1956. Others who served as President were Lee Thornsberry, Clyde S. Thompson, Elmer Thompson, W.E. Thornsberry and C.B. Bass. Members of the Board prior to the sale of the stock were C.R. Hawkins, Mabel C. Hawkins, Kent Crane, Ralph Long and Earl A. Plemmons.
The Bank of Brumley, although small by today's standards, was a sound institution and served the needs of the community well. Of special interest to the officers was helping young farmers get a start and especially in helping young students continue their educations. The Bank always paid dividends to the stockholders. It survived the "Banking Hooiday" crisis in 1934 as well as two bank robberies.
Upon the death of C.R. Hawkins in 1959, the stock was sold to the group who were in the process of securing a charter and FDIC insurance to start a bank at Lake Ozark. On July 1, 1960 the bank was moved to temporary quarters in Lake Ozark and the name changed to Bank of Lake of the Ozarks.
Mrs. Hawkins remained cashier until her retirement in 1967. Ralph long Continued on the Board of Directors.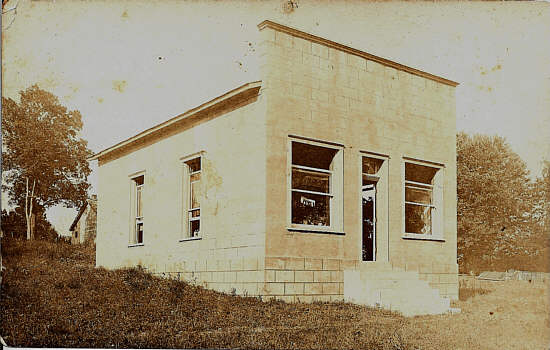 This postcard features the Bank of Brumley shortly after it was completed.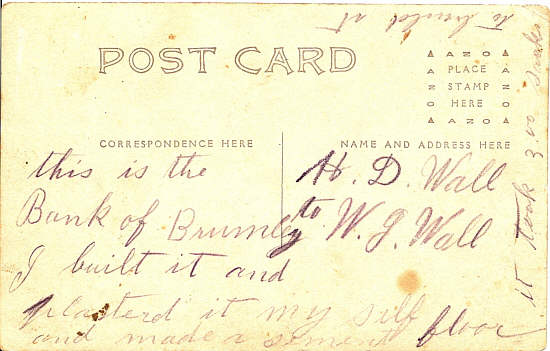 Brumley Bank
The card was given by Henry David Wall to his eldest brother, William John Wall. The message reads, "this is the Bank of Brumley. I built it and plastered it myself and made a sement floor. It took 300 sacks to build it."
---
BANK OF ELDON
From "Eldon, a Look Back"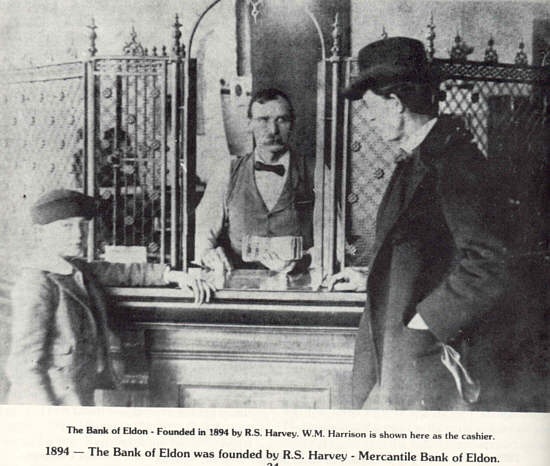 Bank of Eldon
By 1894, Eldon was becoming a genuine town with doctors, churches, stores, everything except a bank. There were banks in Tuscumbia and Olean but that wasn't the same. People kept their life savings in some really strange places. Some families sewed their money in the feather mattresses they slept on. Others kept their money in jars in the cupboard or in a box behind a brick in the hearth. One elderly woman kept her money in her ice box of all places! She kept her money safe and cold there for many years. The coincidence of the whole thing was that Bob Harvey had the ice store and he is the man who founded the first bank in Eldon.
The R.S. Harvey Bank of Eldon was started on September 2, 1894. The bank building was located on the corner of First and Maple Streets where C.B. Whitney's Health Mart drug store is now. Mr. Harvey's name is on the stone at the top of the building. J.B. Allen was the first depositor of the bank which had $15,000 capital stock.
W.M. Harrison, originally from Tuscumbia was the cashier. Dr. Temple put his office on the top floor of the banking building and opened a drug store. He also had a telephone switchboard in his office and store.
---
THE FARMERS AND TRADERS BANK OF IBERIA
by Peggy Smith Hake
Iberia's first bank was the Bank of Iberia, which organized on 20 October 1899 and remains in existence today. The second bank was called The Farmers and Traders Bank, which organized and incorporated May 28, 1907. It stood in the Original Town of Iberia on a lot measuring 72 feet by 163 feet on Lot 1 in Block 2. The corporation's official document was filed for record at the Miller County courthouse in the Recorder's office on 6 June 1907. It began with a capital stock amounting to $15,000 and was divided into 150 shares, which sold for $100 each. The first board of directors included John K. Groff (the first president), John R. Bond, James C. Hensley, John T. Hensley, J. V. Musick, John E. Ramsey, John L. Prock, Thomas Doubikin, and John D. James. And later, one of the bank's cashiers/officers was Perry T. Wyrick.
The land was sold to the bank directors by George M. and Alcena (Rowden) Durham and the building was constructed on Lombar Avenue. It opened for business in 1907 and existed until 1934. The Great Depression era of the late 1920s and early 30s brought the bank to its demise when on May 21, 1934, the Missouri Commissioner of Finance seized the business and the property of the Farmers and Traders Bank. In 1937, the Commissioner conducted the sale of the building to Jackson D. Thompson, Jr. where he kept a small business in the building for a number of years. I remember, when I was a child, that Uncle Jack Thompson (as he was called by the youngsters) had an ice cream and candy store in the old building and I also believe he had a mini-delicatessen on the premises as well. I can only vaguely remember how the store looked in the early years of my childhood.............

The following is a list of shareholders and the amount of shares each purchased in 1907:
Charles O. Short   5 shares    Frank S. Ramsey   5 shares    Thomas Doubikin   5 shares
J. E. Ramsey       5 shares    J. V. Musick      5 shares    James A. Wall     5 shares
George F. Jarrett  1 shares    Andrew L. Benage  4 shares    Wm. T. Hensley    5 shares
John F. Hannah     5 shares    James A. Hannah   5 shares    J. C. Hensley     5 shares
George A. Wall     5 shares    John R. Bond      5 shares    J. D. James       2 shares
John K. Groff      5 shares    Chas. L. Groff    5 shares    C. J. Atwell      2 shares
R. W. Willis       1 share     J. W. Russell     1 share     A. B. Groff       1 share
John Musick        1 share     James P. Jarrett  2 shares    Geo. F. Ferguson  1 share
Thos. J. Hensley   2 shares    A.S. Marchant     1 share     W. S. Groff       1 share
John L. Prock      2 shares    Chas. B. Berry    1 share     Hyrum Haines      5 shares
Jos. F. Law        1 share     Jos. Whittle      2 shares    Wm. R. Short      2 shares
Benj. F. Fike      2 shares    Mrs. S. J. Smith  5 shares    Wm. J. Mace       1 share
James W. Berry     5 shares    W. D. Shelton     1 share     James A. Law      1 share
J. B. Livingston   2 shares    Lewis C. Faust    4 shares    John Maxwell      2 shares
Hervey W. Groff    1 share     Ranie Smith Faust 1 share     Benj. F. Groff    1 share
Walter Berry       5 shares    John L. Hopkins   2 shares    Geo. W.  Adams    1 share
J. R. Walker       2 shares    Robert D. Whittle 1 share     Henry Livingston  1 share
Wm. Teaverbaugh    1 share     B. E. Stites      2 shares

NOTE: Among the names mentioned was Perry T. Wyrick who was my great uncle, brother to my grandfather, Chesley S. Wyrick. They were sons of John Henry Wyrick and Rachel Elizabeth Kinder. Joseph/Josephus Whittle was my great grandfather who lived southwest of Iberia in the Pleasant Hill community. He was a son of John Levi Whittle and Nancy Jane Keeth, natives of Edmonson County, Kentucky.
Perry Tolbert Wyrick was the son-in-law of Josephus/Joseph Whittle. He married Carrie Gertrude Whittle, daughter of Joseph and Leatha (Loveall) Whittle.
---
BANK OF IBERIA: A CENTURY OF SERVICE
By Peggy Smith Hake
On Dec. 6, 1897, John Simeon Casey and his wife, Martha (Barlow) Casey, bought a parcel of land in the Original Town of Iberia. It was a 50' by 6O'lot located on the northeast corner of St. Louis and Main Streets (50' running north on St Louis St. & 60' running east along Main St). The parcel (town lot) was bought from Thomas D. and Margaret A. Garner. The Garners had come to the Iberia area after the Civil war and purchased land to the north and east of the original town. They platted some of their land as "Additions to the Town of Iberia."
John Casey may have purchased the land in 1897, speculating that the corner lot might prove to be a wise investment in the future. He and Martha had built their home just a short distance east on Main Street and the lot was well in view of their property.
Less than two years later, on Sept. 25, 1899, the Caseys sold the 50'x60' lot to the new Bank of Iberia for $800. It was indeed a wise investment for John Casey because he had paid $250 for it in 1897. The bank had not officially organized at that particular time. but did establish their charter on Oct. 20, 1899.
Miller County had two banks in 1899, both north of the Osage River. The Exchange Bank in Olean organized in 1889 and Bank of Eldon in 1894. I am sure the people of southern Miller County felt the need of a banking facility in their area. Bank of Iberia became the county's third bank in 1899 followed by Bank of Tuscumbia in 1902, Citizens Bank of Eldon I 1905, Bank of Brumley 1906. Farmers & Traders Bank of Iberia 1907 and Bank of St. Elizabeth in 1914.
Bank of Iberia's first president was John S. Casey with Miles J. Davidson as the vice president. By 1905, John Casey was elected as a state representative to the Missouri Legislature from Miller County and evidently at that time Miles J. Davidson took over the reins of president of the bank. Other early presidents were John L. Irwin and M. Jennings Davidson Jr. Other early officers were John B. Watkins, vice president; Barnabas Reed, cashier; George I. Farnham, cashier, William Topping, cashier; Robert Holmes Irwin, assistant cashier; Clint Casey, assistant cashier, and Frank L. Hedges, assistant cashier.
The first Bank of Iberia building was constructed of wood and was a small frame structure. Many people do not realize the first bank building is still in existence. It is sitting to the north of Eads Motor Company and has housed a restaurant and pool hall, a hardware store, a machine and lawn mower shop, and a small engine shop.
The second bank building was constructed in the late 1920s and was built of bricks. In October 1927, the Miller County Banks Association was formed at Iberia and the participating banks were Citizens Bank, Bank of Eldon, Bank of Tuscumbia, Bank of St. Elizabeth, Bank of Iberia, and Iberia Fanners and Traders Bank. This was before the Depression· years began across America and evidently all Miller County banks were solvent and successful at the time.
Farmers and Traders Bank of Iberia began to feel the crunch of the Depression in the early 1930s and on Jan. 5, 1933, the bank was closed. Two months later, on March 6, all Miller County banks were ordered closed by President Franklin D. Roosevelt Nine days later, March 15, 1933, the Missouri State Finance Department , granted all banks in Miller County to resume their daily business. The Bank of Iberia rallied back from the Depression while Fanners and Traders Bank did not.
The Bank of Iberia rode out the storm of the 1930s and was looking forward to a new decade of the 1940s, but fate intervened in April, 1939. The town of Iberia experienced a devastating fire on April 22, which left nine business places, two private residences and two other small buildings destroyed. Among those was the Bank of Iberia. According to newspaper reports, the bank was about the last to catch fire so the people had time to put the money, business machines, and Important records in the bank's fireproof vault The one-story brick building was considered one of the best buildings in the town and even though the structure was destroyed, the 22inch, reinforced steel wall vault survived the flames and all money and bank records were saved.
The newspaper reported the bank had $5,000 insurance coverage on the building and $1,500 coverage on the fixtures. The bank continued on with business with only a short delay. The management rented the old Farmers and Traders Bank on Lombar Avenue from Jackson Thompson, who had purchased the building and grounds in August 1937. They conducted the bank's business from that location until a new bank building could be erected.
The third Bank of Iberia was built on the original spot and was constructed of light buff stone. The banking business for Iberia continued on for many years through the 194Os, 50s, and 60s on the northeast comer of St. Louis arid Main Streets. Today the building is Iberia's City hall.
In the 1960s a new modern bank was built on Lombar Avenue on the site of the old Lombar mansion (later the home of the Brown family). It is the fourth building that has housed the Bank of Iberia ... actually it is the fifth when you consider the old Farmers and Traders Bank was used for awhile after the 1939 fire.
Bank of Iberia celebrated its l00th anniversary oil Oct. 22, 1999. The bank has existed through one of history's most magnificent centuries. The world has seen such unbelievable changes come about in the past 100 years. Soon we will arrive at a new century and the Bank of Iberia is ready to begin its second 100 years of service to the community. As a matter of fact, not only will it begin a new century but a new millennium which is quite a coincidence in the time frame of history!
---
BANK OF ST. ELIZABETH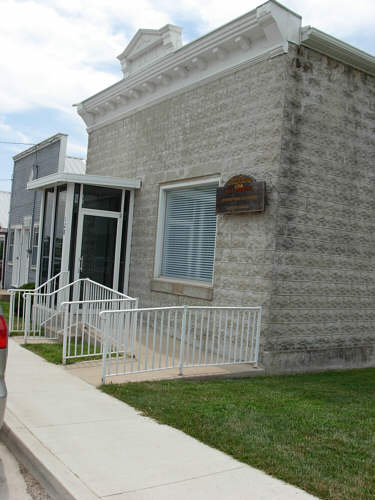 Bank of St. Elizabeth. It now houses Bert Doerhoff's accounting practice.
---
BANK OF ULMAN
By Peggy Smith Hake
I do not know for sure when the Bank of Ulman organized but it was 100 years ago, in 1907, the first building was constructed in the middle of the small village (once called Ulman's Ridge before, during and after the Civil War years). NOTE: The post office at Ulman's Ridge was in existence from 1857-1895 and the present post office was renamed Ulman in 1895.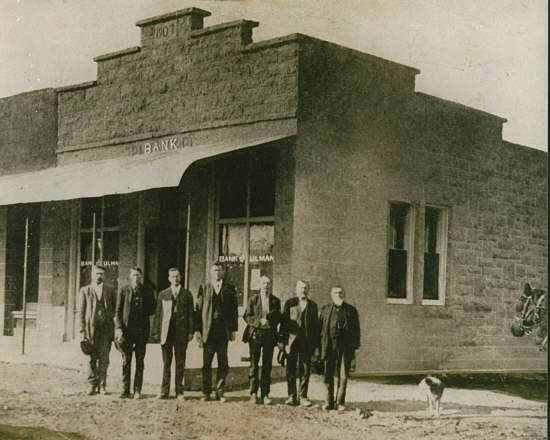 Ulman Bank
In 1907, the Board of Directors of the Bank of Ulman included seven men (pictured L-R above):
1. John B. Reed, who was a resident of the Ulman community. He was born in 1866 in Miller County and married Cora Markle in 1893. By 1919, he was the bank's cashier.
2. Walter "Wolf" Dawson, born in Missouri in 1850. He lived in Equality Township, a few miles northeast of Ulman with his wife, Lena (Markle). She was a niece of John B. Reed and his wife, Cora Markle Reed. In an old Miller County Autogram, dated Jan 26, 1905, was found the following news item…"Wolf Dawson of Ulman says he may be getting old, but he'll never get ugly!"
3. Dr. George W. Duncan was a son of James and Sarah Duncan of eastern Miller County. His father was a native of Nashville, Tenn. Dr. Duncan and his wife, the former Myrtle Ramsey, lived in Iberia.
4. Paul Nixdorf…his name was Anthony Paul Nixdorf Jr., born in Miller County in 1874. He was a son of Dr. Anthony Paul Nixdorf Sr., a native of Germany. Paul Jr. married Ida Cooper in 1901 and they lived near Pleasant Farm, Osage Township, a few miles northeast of Ulman. By 1919, he was the bank's president.
5. Bird T. Watkins was born in Miller County in 1858. He and his wife, the former Mary Ann Hughes, lived in Richwoods Township in the Hickory Point community in the Little Richwoods.
6. Henry Bear, born in Ohio in 1837, came to Miller County with his parents when he was a young boy. Henry first married Lucinda Spearman and after her death, he married Virginia F. (Livingston) Castleman, widow of Benjamin Castleman. They lived in Glaize Township near Ulman at the turn of the 20th century.
7. John Wilson was born in Miller County in 1852 and was a member of an early pioneer family of the county. In 1870, John married Susan Martin and they were residents of Glaize Township.
Today, 100 years after construction, the old Ulman Bank building is used as Ulman's post office.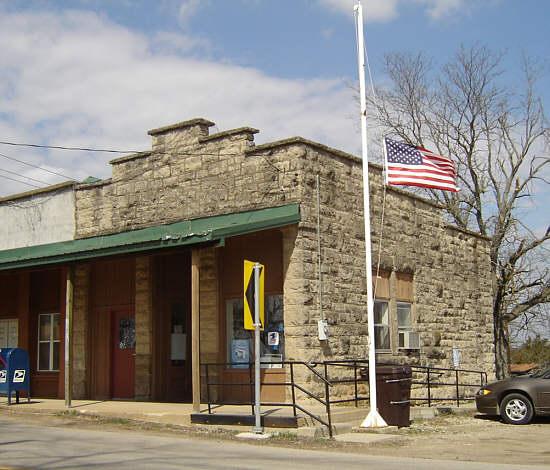 Ulman Bank
Ulman Post Office - Postmasters
James H. Karr, 4/11/1857
Joseph S. Phillips, 7/19/1859
Clayton S. Phillips, 5/10/1866
Theodore B. Doolittle, 11/20/1866
William Coburn, 12/13/1877
Alonzo Reed, 6/15/1889
James A. Belshe, 1/12/1891
John B. Norwood, 10/16/1893
Margaret Norwood, 2/ 6/1894
Barney Reed, Jr., 4/25/1895
Taylor F. Sullivan, 5/15/1897
Nora C. Sullivan, 4/20/1898
Alonzo Reed, 2/09/1899
Nora C. Meyers, 5/10/1900
Fred L. Williams, 7/31/1902
Charles B. Bass, 8/03/1914
Mrs. Stella D. Pemberton (Acting) 8/01/1943
Miss Julia Jackson, 4/09/1946
Mrs. Pearl J. Graham (acting), 5/31/1961
Mrs. My(r)na J. McGowin, 3/26/1963
Tennyson F. Patterson (Officer in charge) 3/10/1983
Billie M. Ash, 6/25/1983
Tennyson F. Patterson (Officer in charge) 6/08/1984
Peggy D. Myers, 10/13/1984