V. RED MOORE'S CAFÉ, LAKE OZARK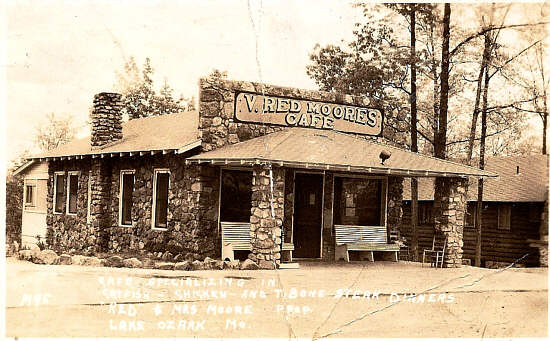 Café Specializing in catfish-chicken-and T-bone steak dinners
"Red" and Mrs. Moore prop.
Lake Ozark, Mo.
V. "Red" and Carrie Moore ran the Union Lunch Shop and bus station which was a busy place. It was Lake Ozark's first bus station. In 1933 they built this new rock café in Lake Ozark and it quickly became a popular gathering place. On the morning of December 8, 1939 a fire apparently got started in a small shop between the restaurant and the White House Hotel and the restaurant burned to the ground. The Moore's relocated in a gift shop nearer the dam which they sold to Paul and Nelia Wolff in 1949.
---
JOHNSON STORE/CAFÉ, TUSCUMBIA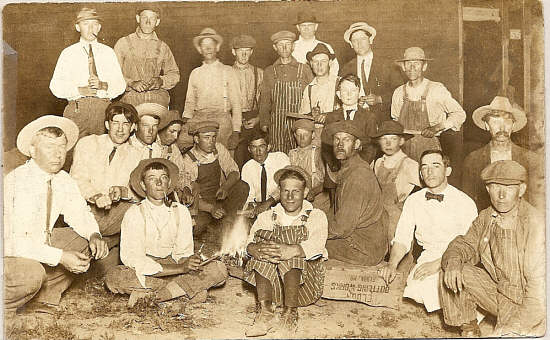 Visiting day at the Johnson Café, Tuscumbia
Back: James Spearman, Frank Vaughan, Lawrence Bassman, Frank Fendorf, Friday Williams, ? (white shirt), Dewey Kallenbach, Will Bear, Walt Matney
2nd Row: Perry Blackburn, ? Martin, Mark McGowan, ?, Leonard Kallenbach, ? (white shirt), ? (white suspenders), ? (coat & tie), ? (sitting on box), ? (light shirt & dark hat), ? (mustache)
Front: Tom Willis, Robert Fendorf, Leigh Johnson, Tony McGowen.