MERCANTILE IN MILLER COUNTY
MY MEMORIES OF THE ADAMS & CASEY STORE IN IBERIA
By Martha Casey Bunge
(Note: This old store was destroyed in the fire of 1939 which devastated much of Iberia's downtown area. Martha's memories bring life back to the store that was in existence for many years in the first half of the 20th century) ....I am proud to share her memories with everyone. (Peggy Smith Hake)
My earliest memory of the Adams and Casey Store in the early 1920's was of a large general store, selling a little bit of everything except fresh meat, eggs and dairy products. Almost everyone had laying hens, milk cows and hogs for butchering. If not, the M.F.A. had eggs and Mr. Shelton had fresh meats of all kinds.
The front of the store, on the outside, had a roof covering it and there were benches where old men sat, watching the world go by very slowly. Inside, at the right, was another bench in front of the candy case. On the shelves, behind the candy case, were the school supplies. Next were the groceries on shelves and the counter in front. Crackers were sold in bulk form as were the cookies. The crackers were twice the size we have today and were kept in a large blue tin barrel.
At the end of the counter was a coffee grinder for grinding the Peaberry Coffee beans. On the shelves behind the grinder were slabs of chewing tobacco and bags of loose tobacco in case you wanted to "roll your own." There was an instrument for cutting the tobacco slabs into squares.
Shoes came next, and they were on shelves that reached to the ceiling. A ladder was used to reach the top shelves and it rolled on a rod the length of the counter. Men's suits were in the back of the store and men's work clothes were on the left side. There were bib overalls (we called them "overhalls,") blue denim work shirts, accessories, etc. The work shirts looked the same as those sold today at exorbitant prices.
On toward the front of the store on the left, were the ribbons, bolts of cloth for every use, and hosiery. I loved the ribbon case because the ribbons were so pretty -- satin, velvet, taffeta and of all widths. The bolts of material were of cotton, calico, flannel, rayon, chinasilk, organdy, deimity, dotted swiss, silk shantung, voile and more. There were all widths of laces, lattings, batiste for making baby clothes, threads for sewing, dress patterns and more. Many more women made clothes for their children and themselves in that day than they do in the present day. The hose were lisle, rayon and real silk. Nylon hose came later and weren't early as nice as we have today. My first nylons were stiff and shiney, but they did resist runs.
In the wareroom, in my earliest memory, were saddles on wooden "horses," buggy whips, and other horse gear, rope, large containers of lard, flour, and other products for sale. Up the steps from the wareroom was an area where caskets were on display. This was before the fire of 1939, which destroyed the store and it became necessary for Adams and Casey to build their funeral home. This upper floor also contained a variety of furniture for sale.
A very large stove, toward the back of the store on the main floor, provided heat for the whole store. There were chairs around the stove where the men could visit while their wives shopped. A sink with pump was in the middle of the store. A gourd hung there for use as a dipper for drinking. I don't believe we worried as much about germs in those days as we do today.
Saturday was like a holiday in the Iberia of my early years. The country people would come to town on that day for visiting and "trading." There would be wagons and buggies tied up by the side of the store and other places of business. This mode of transportation would be supplanted by Model T's, Model A's, pickup trucks, etc. One Saturday, when I was very young, I went to the store with my grandmother Adams. Sitting on the bench in front of the candy case was a very old woman, old to me at least, in a calico dress, smoking a corncob pipe. I know I stood there staring at her. It was most unusual to see a woman smoking a cigarette in that day, but I'd never seen one smoking a pipe before. No one seemed to mind or think it unusual. Times do change.
My sister, Juanita, and I had fun in the store of our childhood. We would play "grocery store" with one of us the clerk and one the customer. The customer would have a basket just like the country women carried, and it was fun, fitting different packages in the basket and adding up the bill. I guess our arithmetic skills, mainly addition, came into play, adding up the bill. I was still using the "pecking" method at that age. We enjoyed playing with our dolls upstairs where the furniture was located. The saddles were a special treat because we could pretend we were actually riding horses.
I loved riding on the ladder in the shoe department. It was fun going from one end of the counter to the other. I would sit at my father's desk and write on the Adams and Casey stationery, pretending to be a business person. In this area was the cash register, which I was shown how to use in later years. The coffee grinder and tobacco were in this same area and I can still smell the coffee beans being ground. If I were close by when someone wanted chewing tobacco, daddy or grandpa would let me use the cutter to cut the squares.
When I was a teenager in Iberia Academy, I remember the shoe drummer (salesman) would come to the store in the spring and in the fall. He would display his shoes, both moderately priced and higher priced, on the shoe counter. At school, I would spread the word that the shoe drummer was at the store. When school was out for the day, the teachers and others would come and look over the selection. My sister and I would pick out a school pair and a "Sunday" pair of shoes. In those depression years it helped a great deal that we could get our shoes at the wholesale price.
There is so much more that I could write about this store of my growing-up years because it was so much a part of my life at that time. I want to make it clear that our father and grandfather were lenient with us up to a point, but we knew when to stay out of the way on busy days. We also knew to be careful with the merchandise and there were never any problems with that.
My grandfather, George Adams, and my father, Clarence Casey, purchased the store from my other grandfather, John Casey. This was about 1920 when Grandfather Casey retired and moved with his youngest family members and his wife, Martha, to Kansas City.
---
FRED HANNAH'S "TRADE RIGHT STORE"
By Peggy Smith Hake
In 1927, Fred Hannah operated a country store in northeast Richwoods Township and called it "Trade Right". It was located a short distance from Mt. Gilead church. Berry school was not too far away. I was fortunate to read some of the old ledgers from this country store. Most of the farming community around Trade Right were customers of Fred's store. Since the store was not far from the Maries County line, some of his customers were residents of both Miller and Maries counties.
Most of the staple goods were available including sugar, salt, coffee, flour, dress materials, thread, shoes, clothing, nails, coal oil, stove pipe, stove black and polish, etc. Later, Trade Right offered gasoline and oil for the vehicles that passed by the old country store. Some of the customers of Trade Right were from the families of Alexander, Baker, Berry, Blankenship, Bolin, Crismon, Clayton, Cross, Crane, Copeland, Cottrell, Dake, Donaldson, Duncan, Fritchey, Hannah, Hale, Humphrey, Healey, Helton, Hickey, Irvin, Jones, Kee, Keeth, Lee, Lawson, Morrow, McKee, Machon, Moss, Pankey, Prater, Pendleton, Patterson, Rowden, Roark, Rollins, Skaggs, Strickland, Sherrell, Sooter, Shelton, Slone, Thompson, Veasman, Vineyard, Watkins, Wilson, Wiles, Willis, Whitaker, and Yoakum.
Frederick/Fred Hannah was the oldest son of Benjamin and Elizabeth (Simpson) Hannah, natives of Pennsylvania. Benjamin was born circa 1830 and Elizabeth circa 1841 (in some records her name was spelled Sampson). They married in Miller County on June 7, 1870. According to marriage records her name was Hannah Elizabeth Simpson, so it is understandable she was called Elizabeth Hannah, not Hannah Hannah! Fred was born in March 1872 and had two younger brothers: John Franklin Hannah b. 1874 m. Ida M. Wilson; and James Albert Hannah b. 1877 m. Grace E. Phillips. There may have been other children I did not find record of.
Fred Hannah married Alcena Jones in October 1896. She was a daughter of James W. Jones and Frances Bowlin who lived in the same community as the Hannah family. In 1927, when Fred was operating Trade Right Store, he was 55 years old. He died in January 1966, almost reaching his 94th birthday and was buried beside Alcena at Brays Union Cemetery. She had died 14 years earlier in 1952.
---
REED'S STORE, ULMAN
Robert Reed is waiting on customer Harrison Mulligan Sullivan
---
HAUENSTEIN'S STORE, TUSCUMBIA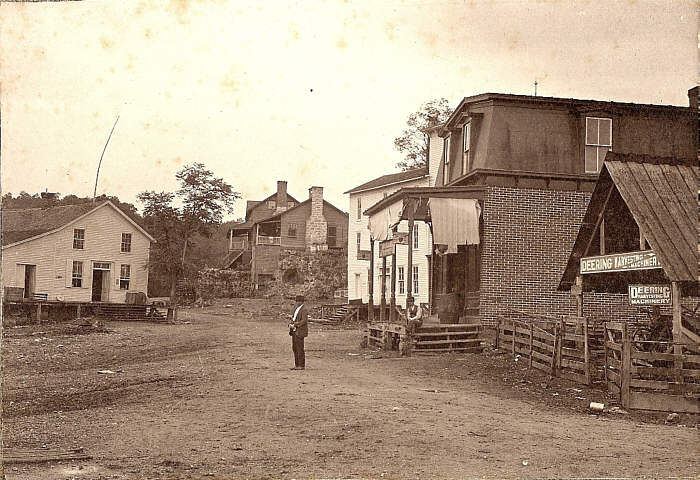 Hauenstein's Store
Part of Main Street. The large building is Tom Robinsonís store later Haynes Bros. Frank Fendorf and others owned it. White building on the left is Hauensteinís Store. Old open shed dimly seen by it, across the street is Sam Johnsonís store. . Those smaller buildings washed away by flooding Osage River about 1900. George Swanson, postmaster is in the foreground.
---
---
FARNHAM'S GENERAL STORE
By Peggy Smith Hake
(printed in The New Iberia in 1983 and also in Old Settlers Gazette in July 1987)
Another of Iberia's historic landmarks has vanished from the face of the earth forever, but not from the memory of those who will always remember the old building that stood for almost a century facing north on Main Street on the old Tuscumbia-Big Piney Road. She has a history, as do all aged buildings in any town, and I am happy to preserve hers in this article.
The year was 1892 and two brothers, Charles and William L. Farnham, who lived north of Iberia on farms out near the old Rabbithead School, decided to move to Iberia and start a general store and mercantile business. The father and mother of the Farnham brothers were David Farnham, born in 1826 in Canaan, Maine and Henrietta Goebel Farnham, born in 1831 in Williamsport, Pennsylvania. David and Henrietta came into Miller County after the Civil War from Williamsport, Lycoming County, Pennsylvania. Other Pennsylvanians came to Missouri during the same time including the Hedges, Newharts, Clarks, Hess', Heltzells, Johnstons, Irwins, Tallmans, Bennages, Groffs, Moores, and Browns. All remained except the John Hess family who returned to their eastern home.
When the Farnham brothers moved to Iberia, they acquired the land where the store was erected. On this land, in 1882, stood a small house where Will Farnham and his bride, Sarah Heltzell Farnham, lived for a few years. In 1900, he built the family home on Lombar Ave. at the corner of Normal Street. George Farnham, another brother to Will and Charles, built his family home next door to Will and Sarah. These two homes exist today. One is occupied by Wm. (Bill) Farnham and the other is owned by Mrs. Millie Duncan. Bill resides in his ancestral home where he was born 81 years ago. These two rooms sat directly south of the old Lombar mansion which was replaced a few years ago by the Bank of Iberia building.
In 1892, when the Farnham Store was ready to be opened to the public, William and Charles went to St. Louis on St. Patrick's Day and bought all the opening stock to outfit their new general store. The stock arrived from St. Louis, freighted by wagon, a few weeks later and their doors were opened for business in the spring of 1892. Bill Farnham told me his father and his Uncle Charley could remember being in St. Louis on St. Patrick's Day in 1892 because they observed the large parade by the Irish community of the city and were so impressed by the grandeur of the parade. They were, after all, small town country folk who were not accustomed to seeing such grand sights in Iberia.
The store continued on for many decades and passed on into a new generation. When I was a young girl growing up in Iberia, the store was operated by the grandson of David and Henrietta Farnham, the Pennsylvanians. He also owned and operated a lumber yard to the southwest of the store for many years.
The site of the old Farnham Store and Lumberyard is an historic spot which reaches back further in Miller County's history. During the Civil War, a fort was built on this piece of land by the citizenry of Iberia for protection from the renegade forces that ran rampant through the Big Piney Richwoods. It was used as a command post for the militia organized under the leadership of Captain William Long. Other buildings surrounding the fort in the war years included a blacksmith shop, a freighting company, a general store, and a saloon.
So you see every building and the land it sits upon, has some form of history which can be told after the years have melted away. Farnham Store is one of those that has a marvelous story to be told. It touches upon the history of the land, its people, the generations of our past. There are only a few old buildings left standing in Iberia and I am sure each of them could tell a wonderful story if only their walls could speak.
---
THE HARRISON BROTHER'S TRADING POST AT TUSCUMBIA
by Peggy Smith Hake
James Pryor Harrison and his brother, James Brazile Harrison, were among the early pioneers of Miller County. Their Harrison family, from a noble English heritage, were from the same lineage as William Henry Harrison, America's 9th president. James and John entered some land in present-day Miller County in the 1830s. Part of this land would one day become Tuscumbia, the capitol city of Miller County.
They built a store and trading post on the left bank of Shut-In branch slough in the middle of a thick, dense forest and close to a big spring. They conducted a large mercantile business, and traded with the Osage Indians as well as the few settlers in the area. The store building was built of hewn logs and was typical of a frontier trading post of early America.
Miller County was organized on February 6, 1837. James P. Harrison executed a warranty deed to the County of Miller for 50 acres to be used as a seat of justice for the new Missouri county. In the deed, Harrison reserved a plot of land, triangular in shape, for the Osage Indians who continued to trade with him. It was called Harrison's Reservation and, in later years, was the location of the old Hauenstein's store building.
While in Miller County, the Harrison brothers were active citizens, taking part in all phases of the county's expansion and success. The first post office was established at Tuscumbia in December 1837 at Harrison's Trading Post with James Pryor Harrison as the county's first postmaster. Mail was carried through the county only once a week between Jefferson City (Cole County) and Waynesville (Pulaski County) via Tuscumbia.
James and John Harrison also owned a ferry landing called Harrison's Landing on the Osage, although it was in existence for only about a year or so.
Miller County has been the home of some very interesting people and the Harrison brothers are among the more interesting and colorful. They brought their noble English heritage into the wilderness and left the county with a rich, lasting history of pioneering spirit and hard work that carved out a new county and seat of government from our untamed Osage River country.