AURORA SPRINGS and WEST AURORA
Aurora Springs - News Tribune October 24, 2007

In the mid 1800's Aurora Springs was the largest town in Miller County and it was a booming resort area. It was listed as "The Great Sanitarium of the West" and was known as a renowned Health and Pleasure Resort of Missouri. In the fall of 1880, W.C. Downing and Peter Thompson employed a surveyor, Abraham Fulkerson, to lay out the town which he named "Aurora Springs". It became so popular that it was overrun with pleasure-seekers, invalids, picknickers, etc.

It was incorporated as a village in 1881 receiving its popularity from the mineral springs that were discovered there. Improved land was selling at the rate of $10.00 - $15.00 per acre which was a very prime rate at that time of Miller County history. It had a Congregational and a Baptist Church and shipped out grain, livestock and ore to other parts of the country.

It had a newspaper, the ELDON REGISTER, published weekly by A.C. Harding and W.M. Harvey; an Express company named Pacific; and a Telegraph office of the Western union Line. There was a stagecoach daily to Jefferson City and the mail was also delivered daily. Its population was numbered at approximately 700 persons.

At one time it had three hotels, three lawyers, four doctors, six churches and a busy business district. The following are a few of its business places and their owners in this period of time: The Aurora Springs Mineral and Sanitarium owned by W.A. Miller; General stores were owned by John C. Driver, James S. Franklin, Robert S. Harvey, James M. Jobe, J. Kartz, William D. Wright and Hugh Logan; Hotels were owned by John M. Lutman (The Virginia House) Edward Anderson (The Aurora House), J. H. Moon and Noah Hoover. Saloons were owned by Joseph Anthony and John W. Fogelman. Other businessmen and their occupations included: Anderson and Taylor, livery stable; John K. Artz, grocery; J.T. Bills grocer; Andrew Bridges and Peter Siegel, blacksmiths and wagon masters; Andrew J. Cook, sawmill and flour mill; J. B. Cracker, carpenter; Rev. W.C. Downing, Baptist minister; Joseph Duncan, photographer; William C. Fritter, railroad agent and telegraph operator; James H. Hagen, livery stable; A.C. Harding, lawyer; Henderson and Company, shoemakers; Hunter and Swartwood, furniture makers; James Justice, carpenter; Alexander Klinger, jeweler and tiff miner; W.M. Lumpkin, lawyer; Green McClure, livestock buyer; Jasper McKinney, grocery; Alonzo Masterson, barber; the Miller Brothers (Herman L. and William A.) grocers, bakers, and confectioners; Rev. Robert Morrison, minister of the Presbyterian Church; F. Peterson and Company, lumber company; William Radley, shoemaker; George W. Shelton, physician; Frank C. Smith, sign painter; James A. Stevens, physician and postmaster; Mrs. J.A. Stevens, milliner; John H. Stover, lawyer and coal miner; Stover and Mansell, real estate; John T. Sullens, blacksmith; James M. Williams, tinsmith.

Aurora Springs boasted of fantastic hunting and fishing facilities; and Aurora Cave was described as unbelievable. It had a Gothic Chamber, The Lovers' Grotto, The Fountain of Youth, The Grand Fork, The Catholic Cathedral, and The Death Chamber. Ample hotel accommodations were available at the fantastic price of only $3.50 to $8.00 per week with access to the curative springs nearby. It advertised that the Springs could cure "sore eyes, leprosy, tetter, kidney diseases, rheumatism, milk leg, neuralgia, paralysis, indigestion, female diseases, liver ailments…and on and on…"

Efforts were provided to improve the park, wall the spring and bore an artesian well a short distance from the spring. Fulkerson published its first newspaper, a half-sheet, the Aurora Cresset, in 1881.

However, the Missouri Pacific railroad station was located about a half mile southwest of Aurora Sprigs and it was here the town of West Aurora sprang up. It was laid out by A.J. Armstrong in 1882. P.J. Davidson had the first store here and also operated a large tie-contracting business. A hotel and blacksmith shop opened there. Stock, lumber and ties were the chief shipments from the West Aurora depot which by 1889 reported about $120 express and $550 freight receipts a month.

Two blows hurt the health resort's boom. One was lengthy litigation after a former Kansas governor claimed he owned 40 acres in the park area. Aurora Springs won the final court decision, but the community progress had suffered in the meantime. The other was the location of the Rock Island Railroad line. It bypassed this village when the Jefferson City, Kansas City and Southwestern Railway Company (later called the Missouri Pacific) was built to the north through the small town of Eldon and eventually the town died away to the small village that exists today. Eldon eventually took over as the hub of Miller County activity and grew into the county's largest town as it remains today.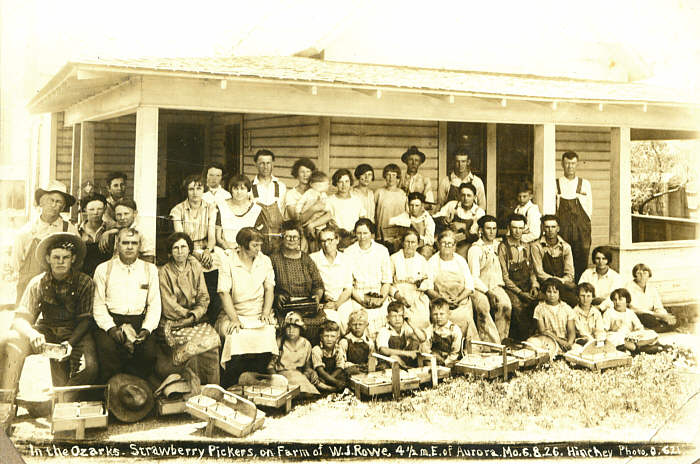 Strawberry pickers on farm of W. J. Rowe, 4 ˝ miles east of Aurora, 8 June 1926