BLACKMER
By Kelly Warman-Stallings
The Ghost Towns of Central Missouri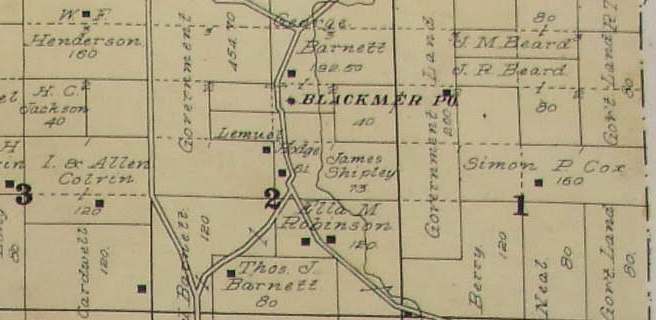 Blackmer Community from 1904 Atlas
Among the rolling hills of southwestern Miller County, in Glaize Township, the small hamlet of Blackmer was established in the mid to late 1800s.
It was located a few miles south of the Osage River and situated close to Bear Creek, a tributary of the Osage. I have not found much information on this small town that was listed on a 1904 county map, but I do know it once had a general store, post office, blacksmith shop, church, school, and a mill in the nearby vicinity. The post office was in operation from 1891-1912 according to "Missouri Post Offices 1804-1981" by Robert G. Schultz.
Barnett School and Church was about one mile southwest of the Blackmer settlement and provided the small town's religious and educational needs. I'm not sure when the school or church came into existence but it was prior to the turn of the century. In 1930/31, Barnett School was listed as District #64 of the county's many school districts. Charles D. Snodgrass was the county school superintendent during the depression years and Ruby Robinson, of Ulman, was the school's teacher. I have no information about Barnett Church, but both the school and church are gone today.
The mills were an important and vital part of life in the last century. A mill could almost be described as our present-day factory. There were a wide variety of mills including four, grist, saw, roller, and water. They were used to accommodate so many different needs for our pioneer forefathers. Around the turn of the century, perhaps earlier, the Brumley Milling Company was in operation and provided mill service to the Blackmer settlement.
The nearest towns to the Blackmer community were Brumley to the south and Ulman to the southeast. Tuscumbia, the county seat, was located about 10 miles to the northeast. The little hamlet of Blackmer went out of existence in the early 20th century when Kaiser was built a few miles to the west. The few residents in the old Blackmer area now have mailing addresses from the Kaiser post office. Nothing remains of this small settlement that once had several businesses necessary for the survival of our ancestors of long ago.
Ancestral Names of the Region: Atkisson, Beard, Colvin, DeGraffenreid, Evans, Jefferies, Jones, McDaniel, Brandt, Boltz, Thompson