FAITH
By Kelly Warman-Stallings
The Ghost Towns of Central Missouri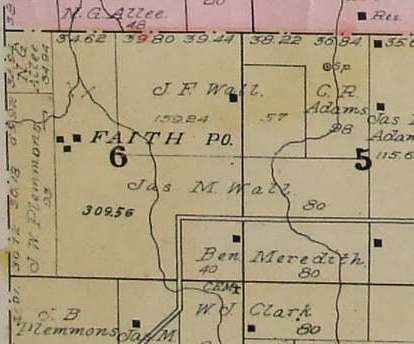 Faith Community from 1904 Atlas
In the backwoods country of southern Miller County, the small settlement of Faith began its existence in the late 1860s, after the Civil War. This small town/community in Richwoods Township, consisted of a trading post, general store, post office, blacksmith, a mill, school, and church. Faith's beginning was largely due to a man named James M. Wall, better known as "Black Jim" Wall to the country folks. Not long after 'Black Jim' married Mildred M. James in Virginia (mid 1860s), the newlyweds ventured west to Miller County and settled there for the rest of their lives.
Jim and Mildred built the trading post/general store/mill and gave it the name of Faith. I have no idea why they chose Faith to christen the town; perhaps they had faith in God and therefore dubbed this name to their new home.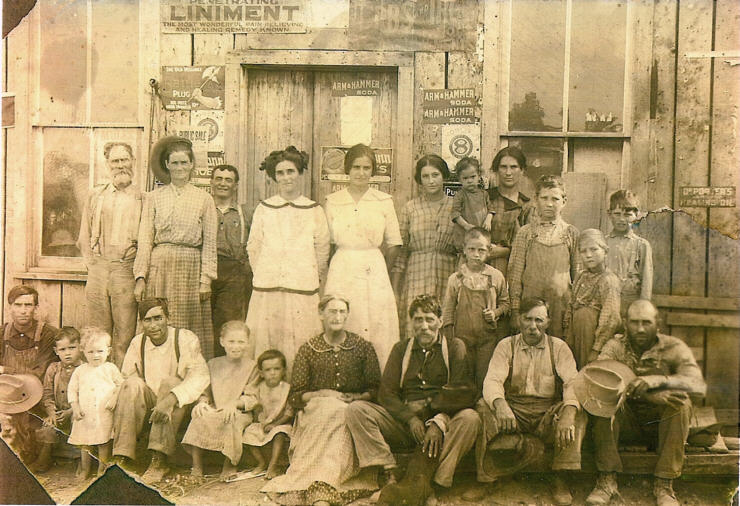 Front – Chester Wall, Frank, King Shackleford, Catlett Wall, 2 children unknown, Mildred Wall, Black Jim Wall, Solomon (Bud) Cochran, Franklin James Wall.
Back – James Watt Plemmons, Betty Wall, Charlie Thomas, Ida Wall, Ollie Wall, Cora Lulu Wall, baby Jesse, Stella Wall Shackleford. 4 children unknown

Ancestral Names in the Region: Alexander, Allee, Allen, Andrews, Barton, Cochran, Curry, Davis, Duncan, Hendericks, Horton, Karr, Keeth, Long, Luttrell, Martin, Meredith, Pemberton, Pelmmons, Shelton, Thomas, Thornsberry, Wall, Whittle, Winfrey, Wornell, Wyrick.

In the 1870s and 1880s, the backwoods country around Faith became a common place for the notorious James brothers (Jesse & Frank) to visit. Mildred James Wall was a cousin to these famous outlaws and they were known to travel to these parts to spend time with their kinfolks. Many wild legends have been told over the years about the visit from the James brothers; some were true, others just tall tales! Rumor has it that after Jesse's death, older brother, Frank James, came back to the area often. He would sit under a tall shade tree and play his fiddle as the country folks gathered to listen.

The Curry Church and school were located very close to the community and both were erected in the late 1800s. The church and school were both named for Silas Curry, who migrated to the county from Virginia about 1877. He and his wife, Adeline, settled in southeast Glaize Township, near the Richwoods line. In 1930/31, Curry School was listed as District #84 and the teacher that year was Emery Allee. Many children of the Faith Community attended Curry School over the years which spanned quite a few decades of the 20th century until the consolidation of Iberia's R-5 school closed Curry's doors.

The Curry Cemetery was begun in June 1896, when Silas Curry was the first person to be interred there. His grandchild, Charles Otto Wall, son of J.F. and Ella (Curry) Wall, died a month later (July 1896) and was buried in the same burial ground…thus was begun the Curry Cemetery. Black Jim and Mildred Wall are also laid to rest in the cemetery. The Walls, who were married for over 60 years, died only 7 days apart, both at the age of 83 years. Mildred died on July 28, 1928; James passed away August 5, 1928.

Today, nothing remains of the of the original Faith settlement. The settlement was located a short distance west of the present Curry Church and Cemetery, on land that is owned today by Mrs. Ruth Duncan.

NOTE: Ruth Duncan died in 2006. Her home on the property is shown below.