LAKESIDE
By William E. Chetham, Jr., 1981
The original Village of Lakeside was built in 1929, and served as a "construction town" for employees involved in the construction of Bagnell Dam. This original village was on the East side of the Osage River and became incorporated on April 6, 1936.
The site had its own school, jail house, clubhouse, hospital, mess hall, ice plant, and a fumigating house which is a question mark to everyone at the present. The site had 25 five-room houses, 54 labor bunk houses with 3 wash houses, 35 three-room cottages and 20 foreman's quarters. It also had its own water supply and sewer system. They had their own telephone system. At that time all of the houses were heated with coal; which was brought to a central coal yard by railroad from Eldon.
After construction of the dam was complete in 1932, and the need for most of the houses was gone, the houses were sold and one can still see them in different places throughout the area. Some are private homes and some are resorts.
The original village today consists of 2 three-room cottages, 9 six-room houses, and 8 five-room houses, a superintendent's home and the Club House (the old hospital). The village annexed an area on the West side of the Osage River on February 7, 1938. This annexation includes several businesses such as resorts, motels, clothing store, gift shops, various package goods stores, and restaurants, excursions and boat rentals. This area is now known as the "Bagnell Dam Strip" and has grown up along present Business Hwy. U.S. 54 for a distance of approximately 2 or 3 miles.
An increase in population and the need for expansion has created the need for a new road in a valley parallel to the present Bus. Hwy. 54 which hopefully will produce a "2nd strip" for future businesses. "Mack" Brown of Brown Construction has been hired to build this new road.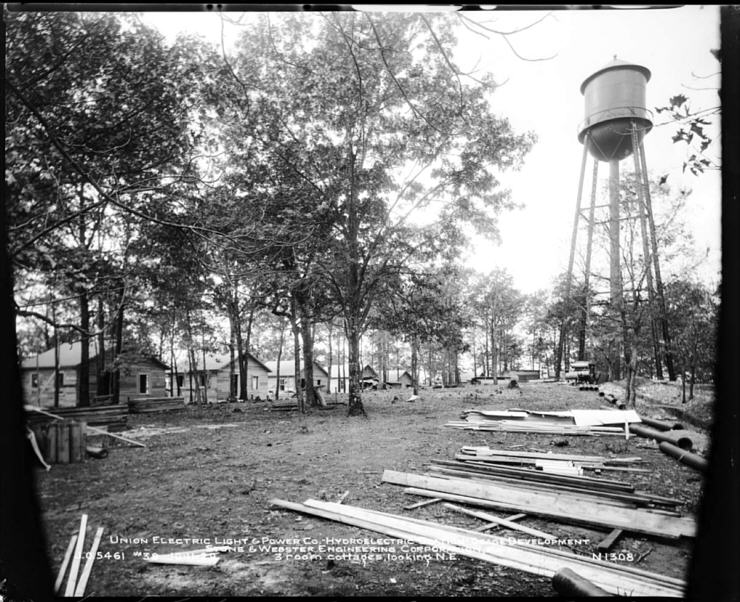 Since the Village incorporated there has been more than 20 other municipalities develop on the lake and there is still plenty of room for others. The main attraction in Lakeside is the Bagnell Dam itself. This dam has formed one of the world's largest man-made lakes which is Lake of the Ozarks. It has 650 billion gallons of water and 1375 miles of shoreline. Union Electric Company, owner and operator of the dam, is one of the biggest year-round employers in the area.
With the 1980 census, our population has expanded to 206. The Village is unique in the respect that most every service needed for this Village, such as police, street sweeper, and trash pick-up are all contracted out; therefore, Lakeside does not have any city vehicles or employees.