MARYS HOME
By Peggy Smith Hake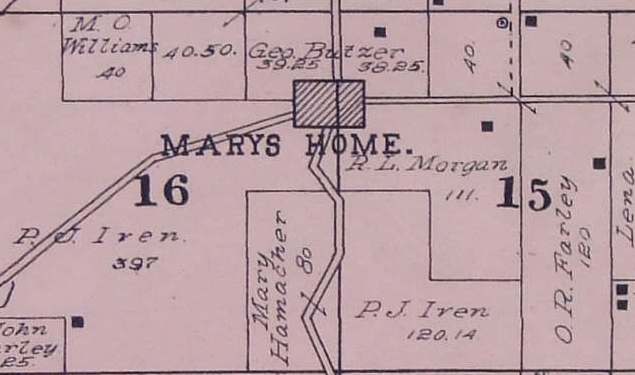 Mary's Home Community from 1904 Atlas
She has a fascinating history! A Catholic church was built on the west side of the Osage River for the convenience of the parishoners who had lived there since the 1870's and had no church to attend.
After the church was built, a few houses sprang up around St. Mary's Church and the citizens decided they needed a U.S. post office. Robert Morgan, who owned the town's only store and Saloon, decided he would like to have the post office named in his honor and called it Morgan. The government approved the name Morgan, but the zealous pioneer priest of the area, Father Cosmos Seeberger, 10 miles away at St. Elizabeth, learned of the plan and its execution. On the following Sunday, the floodgates of pastoral wrath were opened and Father Seeberger preached a "fiery" sermon from St. Mary's Church pulpit! He said, "Was denkt ihr denn doch auch, meine Leute? I founded this place, nothing was here before I came. Now, you have taken this matter into your own hands and named the post office after a Protestant, a Yankee, a saloon keeper, while I, as founder of this place, have the right to give it its name. This town belongs to the Mother of God and its name shall not be 'Morgan', but 'Mary's Home!'"
Well, immediately thereafter, a petition for a change of name was quickly signed and sent to Washington, D.C. and in a few days "Mary's Home" was painted on the sign before the new post office.
Some of the early German immigrant settlers in the area included the families of Schulte, Wilbers, Eicholz, Frank, Tellman, Hake, Evers, Berendzen, Lepper, Mertens, Arens and Roels.
News Tribune Article - Feb. 22, 2006