OLEAN
By Naomi Cain
Olean had three names before one was chosen that satisfied both the U.S. Postal Department and the Jefferson City, Lebanon and Southwestern Railroad, later known as the Bagnell Branch of the Missouri Pacific Railroad. The village was first called Proctor in honor of James G. Proctor, who owned land along the railroad that was built in 1881-82.

The first train operated over the tracks in February, 1882. The late Mrs. Boyd D. Miller, mother of Joe G. Miller, Olean, and Mrs. Clyde (Cleora) Sappington, California, Mo., often mentioned that she, the former Miss Elizabeth Goodman, and Mr. Miller were married the day the first train came through.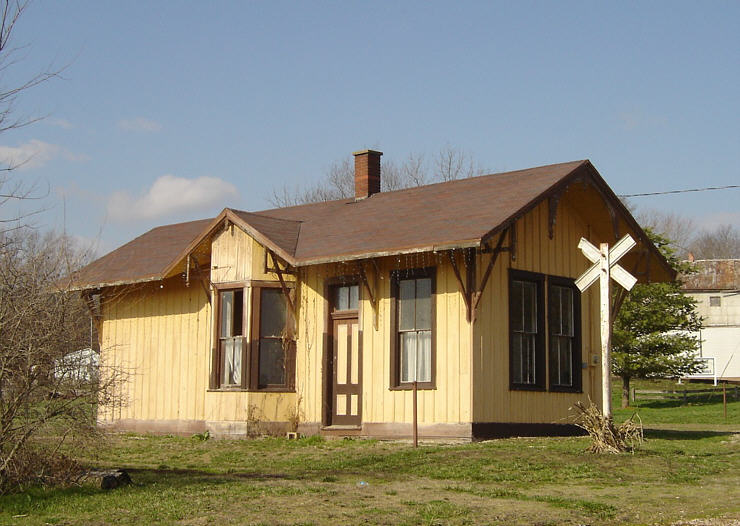 The train depot in Olean is on the National Register of Historic Places
A post office, established in July of that year, was called Cove because there was a town named Proctor in Morgan County. It wasn't satisfactory to have different names for the town and post office so it was decided to call the place Chester. This wasn't pleasing to the railroad so the name Olean was selected.
In June, 1882, T.J. Hart & Son began a general merchandising store, and Allee (Dr. W.S.) & Atkin (R.G.) opened a drug store. Other residents were Frank Hart, J. Stevens, James Enloe, and S.W. Gilleland.
George W. Franzee was the first agent for the railroad, and Clarence L. Diedriech was agent when operations ceased in August, 1962. Livestock and grain shipments provided a good business for the trains before trucks entered the hauling business. A lot of poultry was raised in the Olean area.
H.S. Burlingame laid out the town in March, 1882, on farms owned by himself, James G. Proctor, and Asa Burlingame (Section 12, Township 42, Range 15). The original plat of Olean was filed for record by James G. and Jane Proctor on Dec. 11, 1891.
More than half a century before this-on Jan. 5, 1831-Land Patent Certificate No. 3519 was issued to Jeremiah Vernon for 80 acres on which a portion of Olean was built. Most, if not all of the Vernons in this area are his descendants.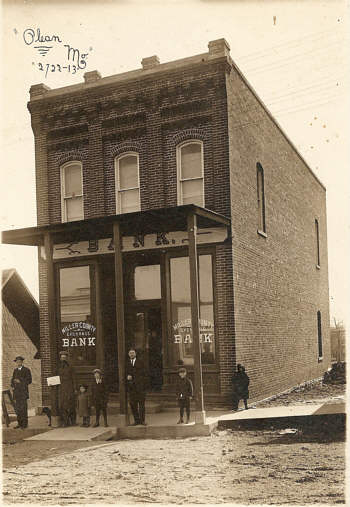 Miller County Exchange Bank,
the first bank in Miller County
L-R: H. Priest Allee, Stewart Allee, Herbert Allee, Rea Allee (father of Stewart, Herbert & Dick), Dick Allee, Sid Hogstett (holding calendar) Charles Atkins (corner of building) Lodge hall was located on the second floor

In an 1889 edition on the History of Missouri listing historical information on villages, towns and cities by counties, it was noted that Olean had a population of 225. Business firms listed that year included: General merchants: R.S. Harvey & Co., H.A. Wieneke & Co., and Lansdown & Currence; druggists, Allee & Atkins; grocer, B. Pitchford; lumber and grain dealers, H.E. Neville and Josiah Goodman; Olean Roller Mills owned by Joseph Gattermeier & Co.; sawmills, J.M. Stevens and J.W. McCann; livery stables, T.D. Shelton, wagon and blacksmith trade. Davis & Francis; undertaker and furniture dealer, M. Stoddard.

Milliners, Mrs. M. J. Shelton and Mrs. Fannie Hite; restaurant, Mrs. D. Richardson. James Morgan was a broom maker; D.D. Stepp operated the hotel; Dr. W.S. Allee was the physician; Thomas Farris and D.D. Stepp were contractors.

On April 16, 1889, the Miller County Exchange Bank was organized with capital stock of $15,000. This was the first bank organized in Miller County and it opened for business Aug. 20, 1889. Josiah Goodman was the president; R.S. Harvey, vice-president; S.R. Inglish, cashier; and H.E. Neville, assistant cashier. The first directors were: Goodman, Harvey, P.S. Miller, W.T. Franklin, B.J. Miller, T.H. Taylor, H.A. Wieneke, Dr. W.S. Allee and I.W. Porter.

There were three churches in Olean in 1889 and one public school.

The only lodge there at the time was B.H. Porch Post of the Grand Army of the Republic (GAR). Meetings were held in the house now (1975) owned by Eugene Meyers. A few years later James C. Walker operated a harness shop and lived in the downstairs rooms. The building is on California St., in the block north of Main St.

Others who operated a business in Olean during the early years of the 20th Century include Willis; M. Burris, grocery store, (he later owned the livery stables); W.E. Enloe, grocery; Franklin Bros., Haynes Merc. Co., operated by A.J. Haynes and J.W. McFarland; J.R. Proctor, lumber, who also was a state representative; A.E. Walser, T.J. May, Roy C. Wilson, Mrs. Nannie B. Renken, and Earl Wisner, general merchandise; W.J. Hahn and W.W. Walker, grain elevator; J.M. Stevens and Charles Henegar, blacksmith shop; C.B. Rea, Clinton McMillian, the J.M. Wienekes, Cleve Markles, Walter Pierceys, grocery and restaurant; Paul Inglish, Raymond Shipman & Clayton Dooley, Lewis Comer, garage; J.E. Hite, drug store; T.H. McMillin and the Howard MacMillins, sundries; F.W. Inglish, Boyd D. Miller, Jesse Dyer, E.W. Morris, hardware; Miss Becca Hite, milliner.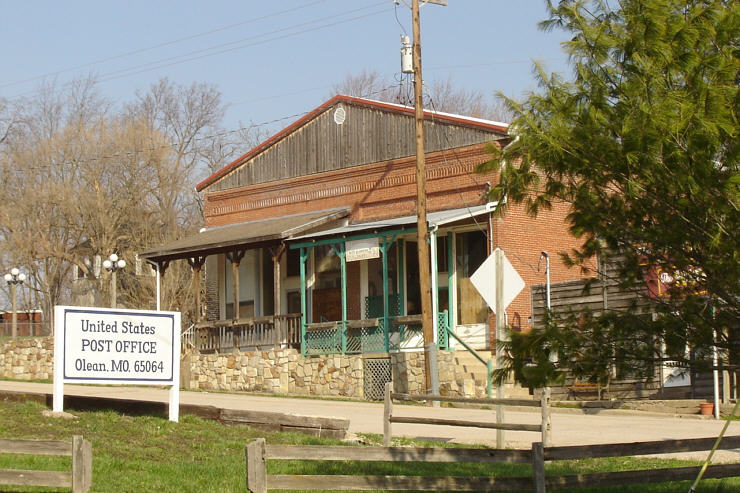 Olean Mercantile Building
Johnnie Robinson, undertaker, who sold to William Baker; Charles Roth operated a jitney service in Olean. His son, William D. Roth, Eldon recalls one passenger that his father always remembered. He took Almon Gattermeier to California, Mo., on his wedding day in 1921 and received a $5 gold piece for the fare. Lewis Comer had a dray service for some time, and J.E. Shaw operated a hatchery and later, a grocery store. Barbers included C.M. Currence, Jehu Scott, Ray Harrison, and Charlie Kneisly.
Olean Livestock Auction Co., operating since 1935, has probably brought more people and dollars to the town than any other business. Around 1975 the firm opened a modern facility on Rte. FF near Mt. Pleasant.
Physicians through the years have included W.S. Allee, G.D. Walker, J.L. Gilleland, J.S. Richardson, Gilbert Leslie, and W.E. Martin. Dentists: J.A. Taylor and Roy Stephens.
Olean has had three newspapers including the Olean News and the Olean Independent. Photographers, Coffman and George Dake.
During the days of the Chautauqua's, Olean was on the circuit. Numerous plays and entertainment have been held at the town hall which was built in 1919. In January, 1915 the town board closed a deal for land for a city park near the west edge of town. Most of the trees were either uprooted or severely damaged in the tornado that passed through the area in April 1916.
News Tribune Article - May 23, 2007