Other Communities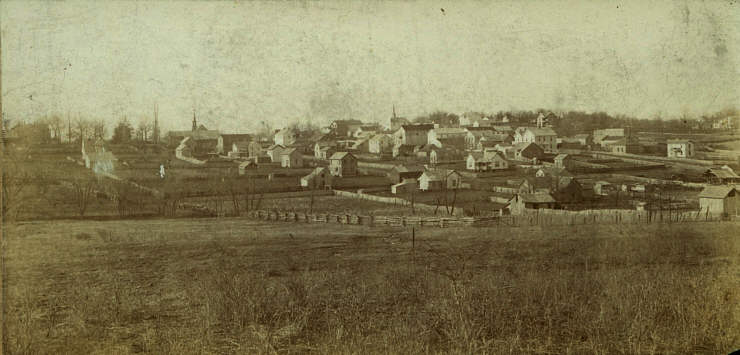 Does this community look familiar to you? We know it is in Miller County but are uncertain where.
If you can give us a clue we would appreciate it.
Community Identified - This picture has got to be Iberia. I own the house @ 206 E. Main (The old George Adams house) and I do believe it is in the picture. My house is a 2 story house with 2 roofs on the backside. The house across the street looks like the Irwin/Perkins 2 story house. I believe this picture is taken on the hill (belonging today to the Perkins farm) south of Iberia and looking north. The street farthest to the right of the picture is Main St. and the next one nearer is Pearl Street. The old Baptist Church is on the right at the top of the hill and the Congressional Church on Lombar (hwy 42) is on the left. - Tom Malmberg
The following communities are known to exist or have existed in Miller County. Some we have no information on at all or have not accumulated historical information at this time. If you can help us with the history of any of these communities, your assistance would be greatly appreciated. If possible, we would appreciate location information to include Towship, Range, & Section information or Latitude and Longitude. Also photographs of these communities would be of assistance to current and future generations. Thank you in advance.
Arnold Hollow
Barn Hollow
Barnes Hollow
Bear Hollow
Bowlin Hollow
Buck Knob
Colvin Hollow
Cooper
Cotton Hollow
Darby Hollow
Dill Ridge
Equality
Fox Hollow
Glaize
Happy Hollow
Harcy Hollow
Heltzell Hollow
Hudson Hollow
Jim Henry
John Allen Hollow

Kaiser
King Hollow
Lakeland
Lake Ozark
Lost Hill
Pemberton Ridge
Pickering Hollow
Prairie Hollow
Richwoods
Sawmill Hollow
Shoestring Hollow
Stillhouse Hollow
Tent Hollow
Thompson Ridge
Three Springs Hollow
Turn Back Ridge
Vaughn Hollow
Wilcox Bend
Wilson Hollow