PLEASANT FARM
By Kelly Warman-Stallings
The Ghost Towns of Central Missouri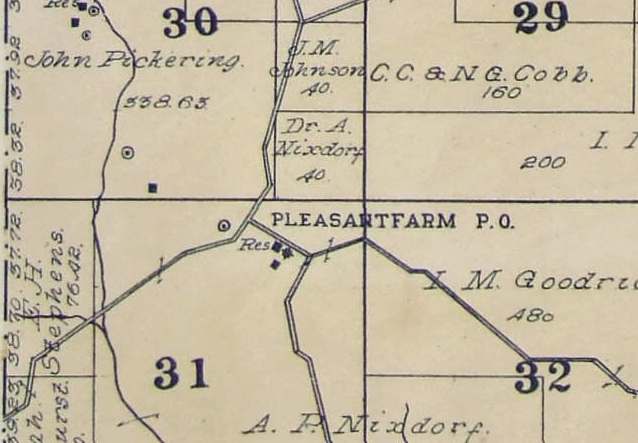 Pleasant Farm Community from 1904 Atlas
Situated in the central portion of Miller County, between the towns of Tuscumbia and Iberia, was once a settlement known as Pleasant Farm. It was located in Osage Township where today's Highway 17 and Route C intersect. The little farming community was founded in the mid 1800s. Its shipping point was Iron Summit, later called Hancock, in neighboring Pulaski County abou 20 miles to the southeast. The post office was established in 1858. The mail had a delivery of three times weekly and the postmaster in 1883 was Anton P. Nixdorf. Anton was also the community doctor who eventually settled in Tuscumbia in his elderly years. His son, Perry Nixdorf, also studied medicine and about the turn of the century, set up medical practices at Capps and Mary's Home. About this same era of time, the good doctor could be seen traveling the winding Osage River in his boat from settlement to settlement. Incidentally, Perry Nixdorf was one of the first persons in the county to own a newly-invented motorboat. Prior to his medical studies, Nixdorf was the local school teacher. There was no school nearby the Pleasant Farm Community, so the children probably attended either the Topping, Bear, or Keyes schools.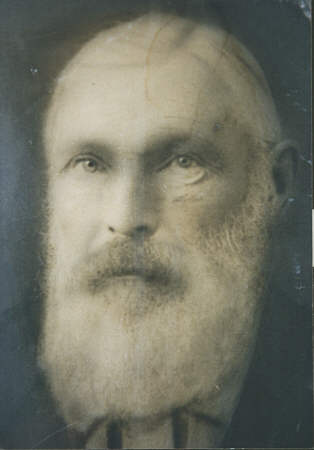 Anton P. Nixdorf
In the 1870s the following businesses could be found at Pleasant Farm: a grain and livestock dealer, Wm. C. Brumley; a blacksmith, B. Rawson; a cooper/barrel maker, John Shockley; a physicianm, A.P. Nixdorf; a school teacher, Perry Nixdorf; a justice of the peace, John Shockley. There is no mention of a general store or mercantile business so I am not sure if one ever existed in the settlement. The residents of the area could have traded in Tuscumbia, Iberia, or Ulman's Ridge for their needed provisions.
The post office discontinued service in 1909 and the small farming hamlet had completely disappeared by the 1920s. Nothing remains of the original settlement although there are a few houses, a feed store/general store and a roadside tavern in the area today…in the 1940s and 50s, many folks called this community "Harleytown", named for Harley and Nova Humphrey who had a business there.
The Nixdorf Cemetery is located at the junction of Hwy. 17 and Route C. Many members of the Nixdorf family are buried in this old burial ground.
Regional Ancestral Families: Abbett, Bass, Bear, Brumley, Burks, Davenport, Helton, Martin, Nixdorf, Patterson, Pickering, Pierce, Rawson, Shockley, Stark, Topping, Wilson, Wyrick.