SPRING GARDEN
Taken from the Eldon Advertiser/Miller County Autogram Sentinel
Special Bicentennial Salute
Spring Garden, one of the first settlements in Miller County, might be termed the community that education built. It was here 110 years ago that the first institution of higher learning in the county was established. And if the first survey for the Rock Island Railroad, a route which brought it within sight of the town of Spring Garden, had been used, the community's future might have been far different. Getting through a ridge proved a hurdle and a third survey took the railroad far to the south.

The settlement's history dates before these days, though. The nation was only 50 years old when William Miller entered the first tract of land in Miller County, near Spring Garden on July 20, 1826. It was here in a log cabin that his son, Pinkney S. Miller, was born March 23, 1827. William Miller and William P. Dixon, both from Virginia, are credited with naming the new community of Spring Garden after a town in that state.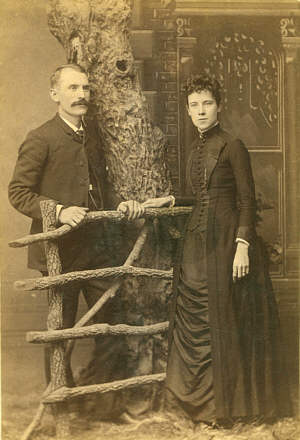 Jont and Rose Roberts
The Spring Garden settlement first appeared on an official plat of the state road leading from Lisletown on the Osage River in Cole County west toward Versailles on Feb. 15, 1847, county historian Clyde Lee Jenkins discovered on an old road plat found at the courthouse.
It shows the road leading past Martha Farmer's residence just over the line in Cole County, Martin Bond's astride the county line, the church, Thomas Sullen's tanyard by the spring, R.E. Simpson's house, S.C.H. Witten's house, Robert Belshe's, Alfred Carrender's, Franklin Belshe's, Mrs. Hough's and on west past Benjamin Hines' to Rosannah Etter's house.
Robert Belshe, Jenkins said, had bought the old William Miller place Jan. 26, 1839, paying for the 230 acres with a keg of $2,000 in silver coin toted in a wagon box from Kentucky. Miller, by then, had moved to the Saline Creek area.
Robert E. Simpson and Benjamin Hines were among the larger property owners of the area as indicated in 1859 records checked by Jenkins. Hines owned 1,404 acres south of what is now Etterville plus 17 slaves valued at $10,200. Simpson owned 7 slaves valued at $3,800 and 1,717 acres in Miller County and other land over the line in Cole County.
The first institute of higher learning that brought attention to Spring Garden was the Spring Garden Seminary, a private school for girls only that was established in 1866, using the old Christian Church building in what is now the northwest corner of the cemetery, according to Jenkins.
In 1868 the community erected a two-story frame schoolhouse in which Prof. William M. Lumpkin taught the first classes and which was incorporated as the Spring Garden Seminary. He was joined by Julia A.H. Colby who came from Springfield to join the faculty, and Edward A. Henry of Mt. Pleasant.
In 1879 Professors H.M. Sutton of Ada, Okla., and H.L. Moles of Clarksburg took charge of the school and changed the name to the Miller County Institute. The Institute, which drew students from a wide area, prospered and the community around it grew.
J.B. Henley and J.P. Sullens opened stores at Spring Garden and others followed. On December 9, 1881, Esom B. Lumpkin, proprietor and owner, filed the plat of the Town of Spring Garden at the recorder's office in Tuscumbia. The 25-foot wide diagonal street running from southwest to northeast through the town was known as Chalfant Ave., with other 40-foot streets bearing such names as Pink, Lumpkin, Green and Sutton.
Three additions to the town were subsequently files: Wilson's Addition on March 19, 1887 by John L. Wilson and his wife, Lenora; Lumpkin's First Addition by Esom B. Lumpkin and his wife, Sarah J., on Dec. 8, 1893, and Lumpkin's Second addition, Dec. 18, 1894.
By 1885 Spring Garden's population was estimated at 60 and James R. Hoff was postmaster; E.A. Becker had a general store; Hoff & Spalding, grist and saw mills; C.N. Mitchell, sawmill; William Rosson, blacksmith; A.P. Wadley, general store; R. Witten, wagon maker; J.G. Hoff, carpenter; E.A. DeVilbiss, physician; M.C. Bond, livestock dealer, and the Rev. E.M. Lumpkin pastor of the Baptist Church and the Rev. G.L. Thompson, the Christian Church, according to a list obtained through Jenkins' research.
The Spring Garden Christian Church was organized in 1840, and a frame building, 24 x 36 feet in size, was erected in 1845. This gave place in 1870 to a new 30 x 50-foot church building, according to an 1889 history of the county. Jenkins says both the first and second Christian Church buildings were in the northwest corner of the present cemetery.
The Spring Garden Baptist Church, according to this 1889 history, was organized in April 1883, and built a pine church building costing about $1,200 which was dedicated by its first pastor, the Rev. John Robinson. Other churches were later formed from these two churches.
By 1889 Spring Garden's population was estimated at 100. In the meantime, the institute continued to draw students interested in higher education. In 1884 Professor Moles, though, moved to Aurora Springs and started an academy there.
Following his departure, Professor Sutton was aided at Spring Garden by Professor W.A. Chalfant and later his brother-in-law and sister, Professor Jonathan Roberts and wife, Rose.
In 1890 the Institute building at Spring Garden was unable to accommodate those desiring enrollment, Jenkins said. An unusual method of school expansion was used. The two-story frame building was cut in two, down the middle, and one side moved over. In the middle was inserted the addition including classrooms and a large auditorium.
Many today recall that tree shaded campus in Spring Garden. In 1879, though, the institute sat on the edge of a wheat field. The campus was enlarged to six acres and each class of graduates subsequently set out one or more shade trees beautifying the grounds.
Times changed, though, and in 1907 the Institute at Spring Garden closed. The old seminary building was torn down and a public school built on the site. But before the public school was erected in Spring Garden, another public school, Sunnyside School, was built south of the town.
The Rock Island Railroad and later Highway 54, missed Spring Garden, running south of the community, and population began to dwindle. By 1910, Spring Garden's population was listed as 60, and 30 years later as half of that.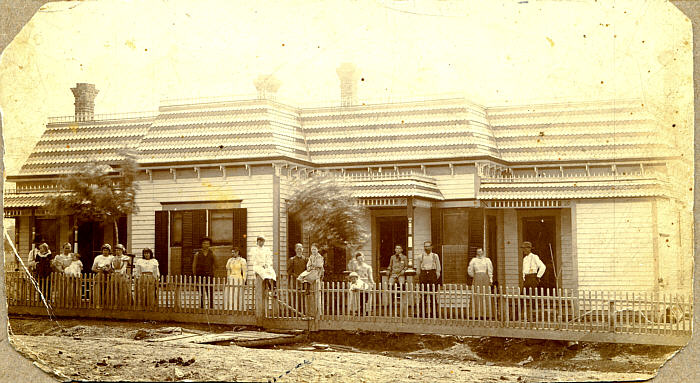 Brumley Harrison (Buck) Crane home in Spring Garden
Notes About Spring Garden
By Marjorie Roberts
The town of Spring Garden had a much larger population two or three generations ago than it does today. It was an incorporated town with a town board and laws referring to activities in the town. Boys racing their horses up and down the main street were made to pay fines of $5.00 and $25.00 for repeated offenses.
There were at least two general stores. One was owned by Jim Bond and my father, Jont Roberts. The stories which follow were told me by my father:
One customer who came to town every week, slightly intoxicated, told him he wanted two spools of number white. Dad gave him a 40 and 50 spool of thread which apparently satisfied his wife.
Another man, coming back from a crop failure on the land in Kansas that he had homesteaded, stopped in front of the store in Spring Garden on a cold day. The spring wagon he and his family were riding in had no cover and his two little girls were shivering. Dad brought them into the store and gave them mittens for their cold hands. They went on south several miles and bought a farm. On Saturday each week he would come into the store and say to my father ... "Mr. Roberts, you are a better man than I am. You put mittens on my little girl's hands when they were cold. You are a better man than I am, but, by golly, I am shust as good as you are!"
Two other men met frequently in the road in front of the store and fought each other for several minutes, but neither seemed to win the fight. Finally they would get on their horses and ride away in opposite directions until the next time they met!
Another boy, John Edgemond, (see letter of John Edgemond to Jont Roberts (1928)) who had lost one leg, rode horseback to Spring Garden where my father took him off the horse ad persuaded his widowed mother to keep him coming to school, telling her that he would educate her other children. John Edgemond finished at Spring Garden and taught the Waterloo school in Cole County. Later, he went to Warrensburg taking his brother and sister with him. He went west to Montana and taught school, added to his education and after awhile, he became the auditor of the Oakland, California school system. He became well-known for work there and traveled allover the United States making speeches at school meetings. When he was near Missouri, he always came to visit my father.
Pinkney Miller, the first white child born in Miller County, told that he stood with his father in the school yard of Miller County Institute (located at Spring Garden) when the Osage Indians stopped there on their way to Indian Territory in Oklahoma. He said the old chief got off his horse and shook hands with all the men gathered there to tell them goodbye. Then he got on his horse and led his people on to their next stop near Warsaw, Missouri.