THE TWO ST. ELIZABETHS
By Peggy Smith Hake
Did you know there have been two towns named St. Elizabeth in Miller County? St. Elizabeth was established as a community in the late 1860s. It was located about 35 miles by land or 50 miles by river southwest of Osage City, its river shipping point. Land was worth about $1 to $10 per acre. Its nearest bank was at Jefferson City. In 1874, there was a mail delivery three times weekly and the postmaster was William Wetlock. Other business places and their owners included Henry Boedecker, a wagon maker; Henry Evers, a blacksmith; Casper Morff, a shoemaker; Owen R. Pendleton, a clerk; and William Wetlock owned a general store as well as serving as the town's postmaster. In 1874, the town's population numbered 60 persons. It had a Catholic church, overlooking the Osage River, the only Catholic Church in the county in 1874.

Several years ago I found the above information in CAMPBELL'S GAZETTEER OF MISSOURI 1874. I was puzzled at the description of St. Elizabeth or the St. Elizabeth I know today, being "by the river". With research I realized it was the first St. Elizabeth that was described in 1874, not the present St. Elizabeth.

Old St. Elizabeth, on the Osage, was established by an Irishman named Owen Riggs (actual name was Awhen Ricces). He came to Miller County from Tyler County, Virginia with his brother, Calvin Riggs. The Riggs' were early settlers of Jim Henry Township and in 1838, patented many acres of land. By the end of the Civil War, Owen was a large landowner in Miller County. He established the old town of St. Elizabeth in 1869 and the town was laid out on the southeast band of the Osage River in Section 18, Township 41, Range 12. It had 8 blocks with 16 acres in each block.

The streets named in the old town's plat were: Water, First, Madison, Buckeye, Osage, Washington, and St. Louis. On the south edge of town was a large lot measuring 250'by278' and was the site of an old gristmill. To the north was a church measuring 172' square. Owen Riggs was instrumental in getting the first Catholic Church in the county build on that site, sitting atop a bluff overlooking the Osage. Some who assisted in the construction of the church were named Kemna, Heckemeyer, Buechter, Boedecker, Borgmeyer, Duerhoff, Schell, Whalen, Leibert, and Koester.

Some of the early settlers in the old town of St. Elizabeth, in addition to Owen Riggs, were Peter Koenig, Jacob L. Miller, Sarah J. Fancher, Eliza Schell, David Fancher, Henry Libbert, Frank Avers/Evers, Henry Borgmeyer, Peter R. Kendrick, Ludwig Henke, William Hopen, Joseph Kroeger, Henry Boedecker, William Wetlock, and William Pendleton.

Owen Riggs and his wife, Malinda, were the parents of four daughters with the unusal names of Tennessee, Missouri, Virginia, and Elizabeth (that one isn't too unusual). Owen Riggs died in 1875 and it seems that with his death, Old St. Elizabeth began to die also.

On May 8, 1882, an Order of Publication appeared in the Miller County newspaper listing all the land owned by Owen Riggs and it was being sold through the Miller Co. Probate Court. Included in the various parcels of land were several lots and blocks in Old St. Elizabeth. Many of those lots were sold to William Wetlock, the town's postmaster and storekeeper. When I added up the acreage for sale in the other tracts of land owned by Riggs, they totaled 1, 804 acres. In Judge Jenkins "History of Miller County", he stated that Riggs had once owned over 6,000 acres in the county. It took 9 years to settle his estate. The final settlement was filed 15 Feb. 1884.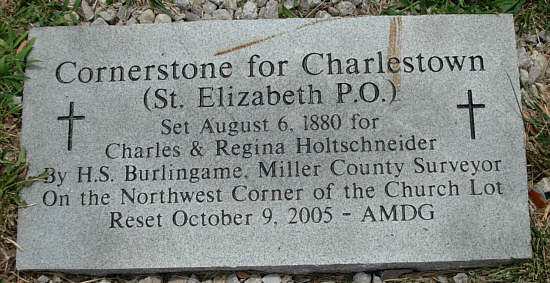 St. Elizabeth Cornerstone
The site of today's St. Elizabeth is about 3 miles inland from the original St. Elizabeth on the Osage. The present town was surveyed on August 6, 1880 by H.S. Burlingame, the county surveyor, and was filed for record at the courthouse on December 18, 1880. The town was first filed for record with the name "Charlestown", named for Charles Holschneider who had bought the land on which the town was platted. Charlestown contained six original blocks platted on the exact spot where they now lay. It was much later, June 5, 1961, the town's name was officially changed to St. Elizabeth.
The old church, built at Old St. Elizabeth on the Osage, was brought from its river site to the new town and was used as a school for many years.
Until I took time to research the facts all of those years ago, I had no idea there have been two towns in Miller County named St. Elizabeth and each with a history of their own.
EARLY HISTORY AND VALUES OF CITY REVIEWED
By Dale C. Doerhoff
The story of St. Elizabeth begins in Germany, and it begins with a man named Duden. Dr. Gottfried Duden, who studied both medicine and law, came to Missouri in 1824 from Germany. He was from the Rhine River region of Germany, and he found the Missouri River Valley to be like his native region. He wrote colorful letters home, setting out the advantages of living in Missouri.
In 1829 he published a book about what he had found. The book's title, when translated into English, was: "A Report of a Journey to the Western States of North America." Duden's book was widely circulated in Germany. It went through three editions.
By 1837 there were 30,000 German immigrants in Missouri. The largest influx came after 1848. In that year revolution spread across Europe. By 1860, there were 88,000 German immigrants in Missouri. 50,000 were in St. Louis. Others came up the Missouri River and settled in its tributaries, the Osage, Maries and Gasconade Rivers.
They began moving into eastern Miller County about 1870. Old St. Elizabeth, located on the Osage River upstream from the mouth of the Big Tavern Creek, was established in 1869. Old St. Elizabeth was abandoned in favor of the present site of St. Elizabeth which was established in August of 1880. Mary's Home formed around 1883. The building of St. Anthony began in 1906.
What kind of people were the German immigrants? Their language was different, but in substance they were not much different from the present citizens of St. Elizabeth. That is because many of the character traits of today were handed down from those settlers of long ago. First, they were patriotic and willing to fight for their country. Although they were not native-born Americans, 31,000 Missouri Germans served in the Union Army, making Germans 40 per cent of the total.
Another early trait was a commitment to quality education. The German immigrants were an educated lot. They had good schools in Germany, and when they moved here, they continued that tradition. There are other traits those of today owe to their ancestors. One trait is pride in homes and farms. The German settlers built big houses, usually two stories high. Another trait of the German immigrants was their emphasis on religion. They built their churches in the centers of their towns. They built them large and they built them of permanent materials so that they would last.
The German immigrants brought along some bad traits with the good. One of these was their taste for spirits. The grapevines growing by many of the older houses in St. Elizabeth were not planted to make jelly.
Although the German-Americans at St. Elizabeth had a different language, religion and cultural background than the rest of Miller County there never was an effort by the people to isolate themselves from the other people of the county. Take for example the county bond issue of 1911. The Miller County Court ran out of funds before the courthouse was finished. They submitted a bond issue to the voters to raise $10,000 for this project. In St. Elizabeth there were 41 for the bond issue and 0 opposed, the only precinct in the county without a "no" vote. The bond issue failed to gain the necessary two-thirds majority.
The centerpiece of today's celebration, the Christmas tree, did not appear in American until the German immigrants arrived in numbers. The first Christmas tree in the White House came in 1856. Of course nearly every home in St. Elizabeth had a Christmas tree that year as they had for many years before that. Christmas was always an important religious feast and social event.
One unusual Christmas season custom observed at St. Elizabeth since its founding is the observance of the feast of ST. Nicholas on December 5th. On the evening of December 5th St. Nicholas visits the homes of children. St. Nicholas himself is not so bad. He looks like Santa Claus, asks if the children have been good and asks if they can say their prayers. It's his companion, the devil that makes a visit so frightening. For a child is reported to have been bad or cannot say his prayers, he is seized by the devil, wrapped in the devil's chain and dragged screaming into the blackness of night. They say that one very bad child never was found, but nobody remembers who he was.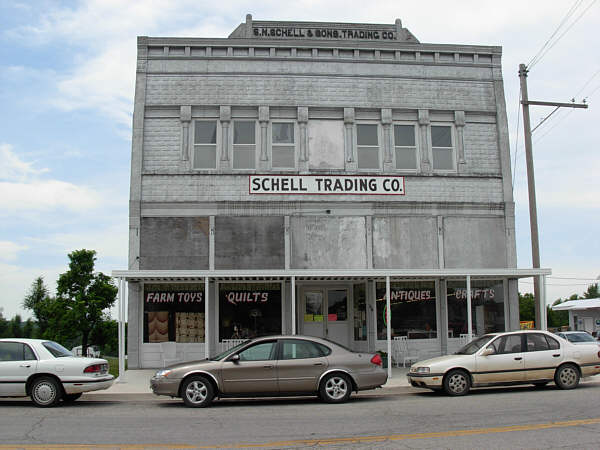 Schell Trading Company St. Elizabeth
The German language is not regularly spoken, although many people in their fifties or older have the ability to converse a bit in German. It is particularly useful for delivery of the punch lines to old jokes or stories. Only a generation ago there were some old-timers who used German exclusively.
While some of the outward signs may be gone, the customs and values that shape their character remain. Whether these customs and values can withstand the leveling forces of modern society remains to be seen. The burden rests with the people of today.
--Reprinted from "St. Elizabeth: The First Century 1880-1980"
By Dale C. Doerhoff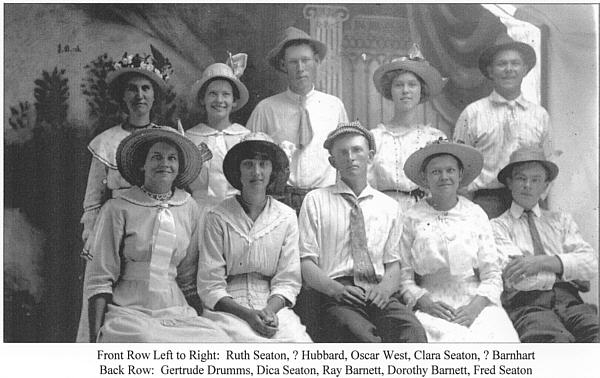 Charleytown Picnic July 25th 1916