Roads and Highways in Miller County
ROADWAYS
In 1841 a state road was surveyed leading from Russellville in Cole County to Springfield in Greene County which crossed the Osage River at the Old Mining Port Ford. This road soon destroyed the route of the Old Harmony Mission Trace across the Northwestern Corner of the County.
On November 1, 1841, Albert G. Nolen, surveyor of Miller County, was allowed $131.00 from the Road and Canal Fund by the County Court for services tendered by himself and sundry individuals in laying out the Russellville-Springfield State Road.
Stages were running over the Northern portions of this state road by the later 1840's from Jefferson City to Versailles. Winston and McKnezie used this route for freight wagons to the Far West. A petition presented to the Miller County Court to change a portion of this road drew the remonstrance's signed by more than one hundred citizens of Miller County, stating: this road is known by emigrants from Indiana and Ohio to Oregon and California.
This road gave rise to the first Wayside Inn in Miller County. It was operated by Willis Jolly, later by James Hite. There were sleeping rooms, a large dining room, and a huge log stable nearby, affording travelers many comforts and conveniences for themselves, oxen and horses.
It was near this place that a wagon train, returning from the California gold fields, with much diggings aboard, was attacked by a band of outlaws outfitted as Indians. A gentleman who escaped was reported to have hidden most of the gold in the hollow of a large tree near the end.
Later, the Walker Inn, one-half mile south of the Moreau Creek, was a prominent stopping place on this same state road.
--from Jenkin's History of Miller County
Roads remained a popular topic in 1913. In July, R.S. Harvey was made president of the Miller County Highway Board and Governor Major proclaimed August 20th and 21st "Good Roads Day" in Missouri. Businesses in Eldon were closed August 20th so the businessmen and farmers could meet to work on the roads.
Mayor John Koenig made the following announcement in the Eldon Advertiser:
Some people tell me that I ought to make some kind of proclamation in regard to the two days of road work. I want to say that I consider the Governor's proclamation good enough and I don't want to straddle it with another one.
Now all you fellows that are keen to get out please meet the board of aldermen, the Marshall, and myself at the Bank of Eldon at 7:30 a.m. and we will see how patriotic you are.
Why not have a general clean-up and everybody help? We can put two days to a good advantage right here in town.
If you want to do anything for Eldon come out. You can at least pick up loose rocks, cut weeks or chop sprouts. Improve something by helping the looks anyway.
In 1919, a big breakthrough took place for Eldon and Miller County. A state highway was put through making automobile travel faster and safer in the county and in Missouri. The following article appeared in the Eldon Advertiser, July 3, 1919: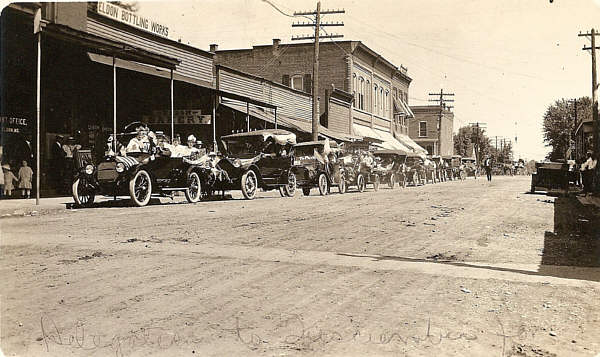 Good Roads Delegation
After hearing delegations from Cole and Miller Counties that appeared on behalf of the road from Jefferson City to Tuscumbia by way of Eugene, and a delegation from Miller County on behalf of the road from Eldon by Tuscumbia, Ulman, Iberia and Crocker, the Board designated the following roads on which state and federal aid will be used for construction beginning at the Miller-Cole County line then by way of Jim Henry Creek, Tuscumbia, Brockman's Ford and Gussie, and the beginning at the Morgan-Miller County line northwest of Eldon and then by way of Eldon, Tuscumbia, Iberia to the Maries-Pulaski County line. The second road being on the present Inter-County Seat Road, except that portion between Iberia and the Pulaski County line which is to follow the road proposed east of the County Seat Road.
The Board ordered that part of the road between Brockman's Ford and the Camden County line be completed on present state and county contract. The Brockman's Ford road by way of Tuscumbia and Jim Henry Creek and the Cole County line and the road from Tuscumbia to Eldon were designated as Road Number 1, which will be built first under the state and federal aid.
---
Ferry across the Osage River at Bagnell
The Osage River bisects Miller County from east to west often making travel by road difficult and hazardous. Before bridges were built, ferry boats transported cars, people and livestock across the Osage River at various locations.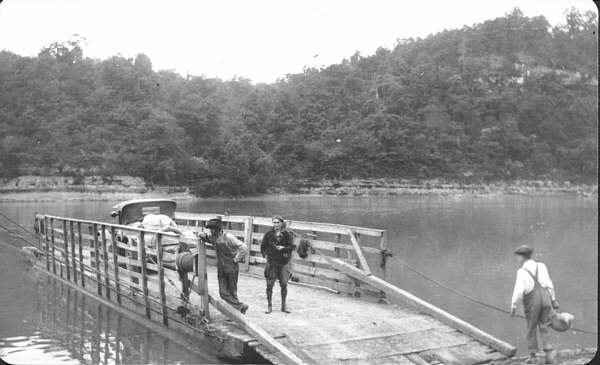 Ferry across the Osage River at Bagnell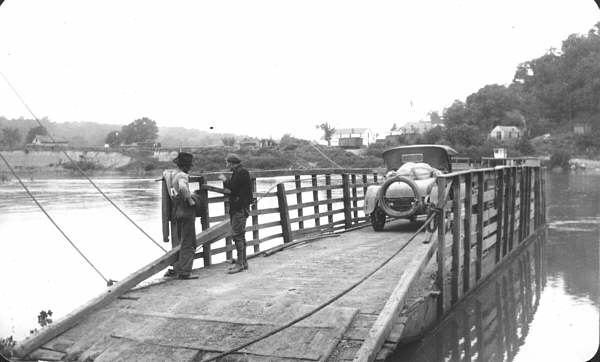 Ferry across the Osage River at Bagnell