Allen Slave Cabin
THE ALLEN SLAVE LOG CABIN
By Mr. and Mrs. Robert Groff, Iberia, MO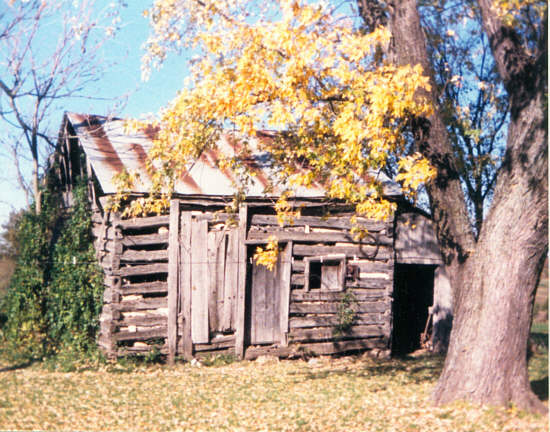 Allen Slave Cabin
Probably the oldest building standing in Miller County is an old log cabin on the Robert Groff farm east of Iberia. The cabin was the home of slaves, owned by the Allen family for many years before the Civil War. The name "Allen" was imprinted in the mortar used between the logs.
The probable owner of these slaves was Elias and Mary (Gardner) Allen, natives of Barren County, Kentucky. The Allen and Gardner families came to Miller County in the early 1840's and brought several slaves with them. Elias and Mary homesteaded east of Iberia so it can be presumed they owned the slaves who resided in the old log cabin.
In 1859, Elias was assessed by Miller County's Assessor owning six slaves valued at $1,950. In 1860, he owned five, valued at $1800; and in 1862, he was assessed $500 for five slaves. You can see how the Civil War era brought about a great change in slave ownership.
When Benjamin Groff came to Miller County, he bought some of the Allen land where the slave's log cabin was located and where they still lived. He freed these slaves, but some stayed and worked as hired hands for Mr. Groff.
Benjamin was partially blinded during the Civil War and after he returned home, he and the former slaves were cutting wood and a tree fell on Benjamin and he was killed. The hired man's name was Allen, a good friend of Mr. Groff, who said he would work for him as long as he was needed.