BUECHTER/BOECKMANN HOUSE
By Peggy Smith Hake
The Boeckmann House (as it is commonly known) sits on the hillside overlooking the Big Tavern Creek just a few hundred yards from the Boeckmann Bridge in Osage Township, about 3 1/2 miles south of St. Elizabeth. The Boeckmann Bridge was a historic site in Miller County and was placed on the National Register of Historic Places in the 1970's. It was torn down in recent years and replaced by a modern bridge.
I am not sure who built the house or when, but the Buechter family lived there as early as 1870 (or at least on the land). The present house was not built until circa 1880's. In the 1870 census of Miller County, Frank and Gertrude Buechter had just moved into the area from Westphalia, Osage County, MO. They had at least 4 children including: Gertrude, Elizabeth, Catherine and Joseph.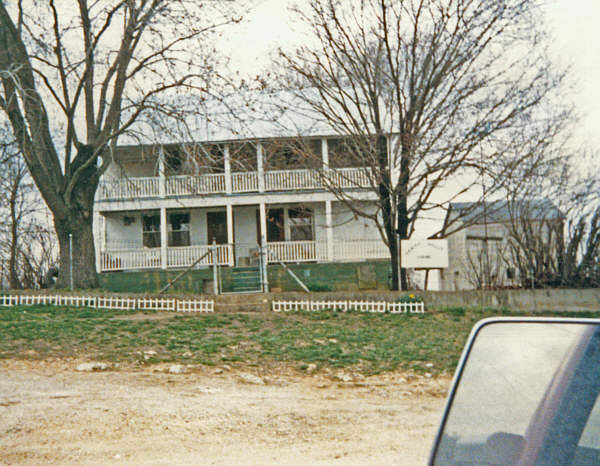 Buechter/Boeckmann House
Herman died in the early 1870's and Gertrude married Hermann Boeckmann at Old St. Elizabeth on the Osage River. Their marriage records say…"The widow Gertrude Buechter married Herman Boeckmann at Old St. Elizabeth on 18 Feb. 1873, performed by J.M. Buergler, Catholic Priest." Herman and Gertrude continued to live on the farm and today it is known as Boeckmann Bridge and the old Boeckmann House.
There is no further record found of the oldest daughter, Gertrude. If she married, it must have been out of Miller County. Joseph Buechter married Katherine Volmert 13 April 1885; Catherine Buechter married Anton J. Tellman 25 Nov. 1886; and Elizabeth Buechter married John Volmert on 21 Nov. 1882. John Volmert and Katherine Volmert were brother and sister, children of Herman and Gertrude Volmert, natives of Prussia (Germany). John Volmert and Elizabeth Buechter were the grandparents of my husband, Ambrose H. Hake. His mother, Ida Vernoica Volmert Hake was the 7th of 9 children born to John and Elizabeth (Buechter) Volmert. She was born on the Volmert homestead on the Big Tavern Creek south of St. Elizabeth in 1900.
John Volmert was an industrious farmer and his Tavern Creek Farm was one of the most successful in the area for many years.
Note: In 1900 Herman Boeckmann, son of Joseph and Josephine Boeckmann, was living on the above property. His wife was Theresa/Tracy (Albers) whom he married in November 1886. They had 5 children in the census of 1900: Mary Josephine, Anna C., Katherine O., Mary and Joseph A. The other Herman Boeckmann was probably an uncle to Herman. There are no burial records for Herman Boeckmann I and his wife Gertrude Buechter Boeckmann.