THE BOYD HOMESTEAD
By Peggy Smith Hake
The old Boyd homestead, a two-story log house, sat for over a hundred years in Brushy Creek valley of the Big Tavern country of Osage Township. It was built about 1885 by Robert Boyd for his wife, Cynthia Ann (Grosvenor) Boyd and their children, Greenville and Sarah, and the third child, William, was born after they moved into their new home.
This first piece of Miller County history stood in my valley until the week of October 15, 1990. I saw it every day from my front porch as I would gaze northward toward St. Elizabeth. But on Monday, October 15th, as my husband and I drove home from an early morning breakfast in Eldon, we came within sight of the old homestead, something was drastically wrong…the walls had collapsed and the hay inside was strewn about. My heart sunk low because it was such a shock…I thought that log house would stand forever!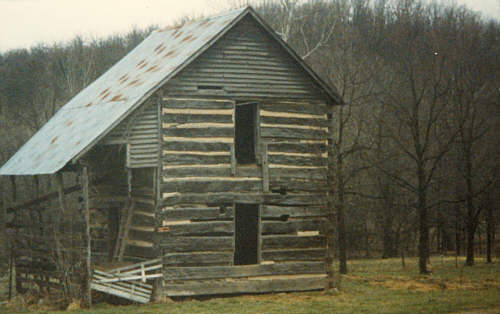 Boyd Homestead
This old log house was a grand specimen of the life style of our ancestors a century ago. Robert Boyd was a son of Greenville and Jane (Freeman) Boyd and a grandson of James and Ruth (Clark) Boyd, natives of Greenup Co., Kentucky. I have researched extensively in Greenup County for my Boyd and Clark ancestors, so I feel I know them well. James and Ruth Boyd were my great-greaat-great-grandparents and Robert Boyd was a brother to my great grandfather, James Boyd II.
Robert Boyd was born about 1858 in Osage Township not far from where he built his log house. He grew to manhood in the Big Tavern Creek valley and in 1876, married Cynthia Ann Grosvenor, a daughter of George and Jemima Grosvenor, natives of Kentucky. Robert and Cynthia were neighbors and probably had known each other from childhood.
In 1896, at age 38 years, Robert Boyd died of typhoid fever and left Cynthia alone to rear three young children. She lived until 1905 and when she died, her three children, Greenville, Sarah, and William inherited the land. By this time Greenville had married Emma C. Lee and Sarah was the wife of George W. Clark. William was yet a minor at his mother's death. Sarah and William sold their portion of the land to brother Greenville after the estate was settled. Greenville and Emma Boyd lived in the log house for about 14 years when, in 1919, they sold the house and 2 acres to Henry Grosvenor.
The Grosvenor family lived in the old house for many years. Willie Grosvenor, who acquired the land in later years told me before his death that he could remember so vividly the years he spent there as a boy. The house and acreage is still owned by the Grosvenor family although it has not been lived in for many years.
I'm going to miss walking down our country road past the old log house. In years past, as I ventured down her way, I would let my imagination run rampant. I could hear those voices from the past as they did their daily chores; plowed their fields; carried water from the spring up the hollow; perhaps even hear the music of their fiddle and other stringed instruments as they played for a Saturday night barn dance…I know they were gifted musicians because they have passed the gift down to new generations.
You may say…"but it was just an old, decaying house", while to others who appreciate our heritage, it was a reminder of those pioneer forefathers who sacrificed much to pass on to those who came later, their freedom, courage, and spiritual heritage. It is said that every man is a modern day Moses…he hopes to find the Promised Land in his own lifetime. Thank goodness they did venture out and found their "promised land" in this beautiful valley of the Big Tavern.
I have a large picture of Cynthia Grosvenor Boyd hanging on a wall in my office. Today as I sat working in that room, I glanced up and I believe I saw a tear gleam in her eye…or perhaps it was a reflection of the one that slowly crept from mine…