Shelby Crane Log Cabin
SHELBY CRANE LOG HOUSE
By Peggy Smith Hake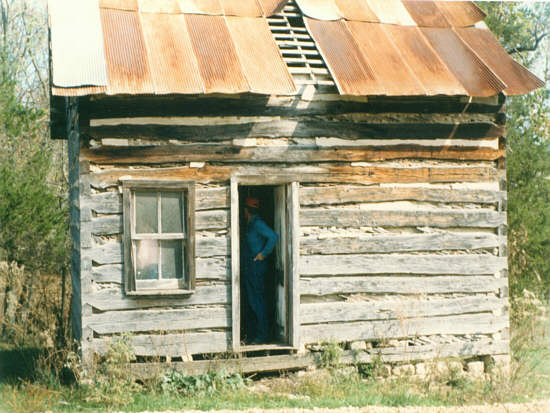 Shelby Crane Log Cabin
The old log house pictured is located in Equality Township in what is called "Shelby Crane Holler". It is near Dog Creek and was the home of the Phillips family during the 1930s. Ialeen Phillips Duncan of Excelsior Springs, MO, remembers living in the log home when she was a child and she attended Dog Creek School, not too far away, about 1937 when she was only 4 years old. Her school principal that year was Logan Stone who taught in many country schools across Miller County in the days before district consolidation.
I was a little curious how "Shelby Crane Holler" got its name, so decided to do a little research to see if I could learn more about the name and the following is what I learned:
Charles Shelby Crane was a son of John and Rachel (Boltz) Crane who lived in Equality Township in 1880. They had several children, including:
1. Emma S. Crane born c/1868 m. Grant Patterson in 1888
2. Leander F. Crane b. 1871 d. 1973 m. Rosa Colvin in 1896
3. Charles Shelby Crane b. 1874 d. 1963 m. Anna Belle Colvin in 1894
4. David L. Crane b. 1877 d 1956 m. Rutha Jane Kinder in 1897
5. William C. Crane b. 1880 d. ? m. Estelle C. Markle in 1901
In the census of 1900, Shelby C. (Charles) Crane was living in Equality Township with his wife, Annie B. Crane, and their 2 children: Clora A. born April 1895 and Effie Z. born July 1897. Their neighbors in 1900 were Grant and Emma Patterson (Emma was a sister to Shelby), his parents, John and Rachel Crane, Leander Crane and his family (brother to Shelby), David and Rebecca Horton, William and Cordelia Neal, and Calloway and Mary Workman.
Shelby Crane and his wife, Annie Belle (Colvin) are buried at Gott Cemetery, located on Hwy. C about midway between the little towns of Brumley and Ulman. Most of the Crane family are buried at Gott Cemetery.