THE HENRY CLAY JACKSON HOME - Historic Landmark
By Peggy Smith Hake
OBITUARY OF HENRY CLAY JACKSON------Henry Clay Jackson was born 22 Nov 1839 at Louisiana, Pike Co., MO. He was educated in the schools there and attended college in Fayetteville, Ark. It was said that he rode a mule from his home in Pike Co. to Fayetteville to get his higher education. He married Sue Elizabeth Chadwick at Warrensburg, MO. on 23 Apr 1872. They became parents of 7 children: Julius, Walker, Barnard, Hattie, Julia, Lee, and Marguerite. They came to Miller Co. in 1878 and started Linwood Farm near Ulman. They came by a two-horse wagon loaded with their belongings.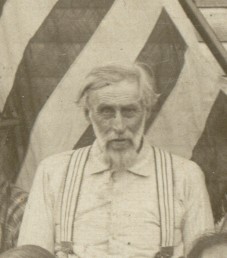 Henry Clay Jackson
In 1885, he affiliated with the Brumley Christian Church and was a member for over 47 years. At the age of 92 years, on June 23, 1932, he died at his Linwood Farm home. On a Sunday afternoon in the old, historic house that dated back well over a century, and under the shade of the maple trees, his services were conducted. He was buried at the Eldon City Cemetery.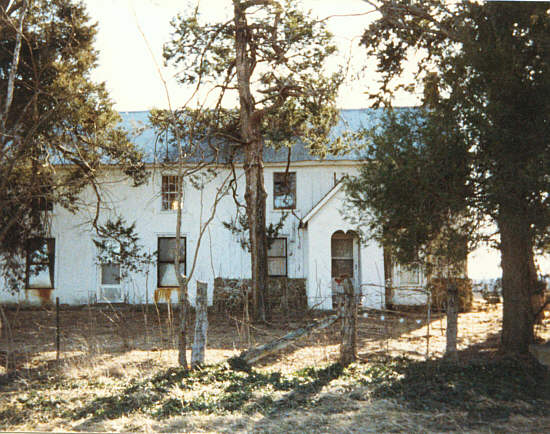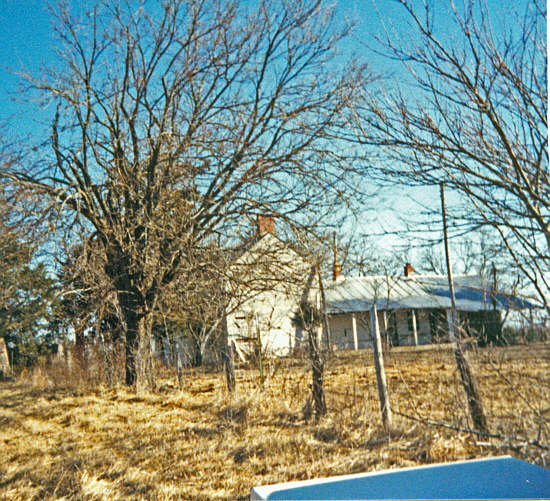 The home of Henry Clay Jackson near Ulman. Part of this home was built prior to the Civil War.
Part of the house where Henry Clay Jackson lived pre-dated the Civil War and built of logs from the virgin forests nearby. It later was covered inside and out with cherry lumber which grew on Linwood Farm. Many doors were solid walnut. One of the farm buildings also contained the same material. Some of the lumber was cut with a whipsaw. The nails holding it together were the old 'cut nails' that the present generation knows little about. It held fine pieces of furniture of solid walnut dating back several generations. One book of accounts was dated 1832 and recorded the barter of slaves. The desk held an old Webster's dictionary dated 1859. Other books were dated in the 1840's.
ADDEUM… The above obituary has much historical and genealogical data recorded. I searched a little deeper to learn more about the old, historical home of Henry Clay Jackson. The line of ownership began in 1840 when John and Andrew Bilyeu patented 240 acres. They sold their acreage to Emly Golden in 1857 and at that time Emly patented another 65 acres making the complete tract of land containing 305 acres. Emly Golden was a famous Civil War soldier in Miller County history, a Lt. Colonel in McClurgs Osage Regiment (Union Army). I can not determine if the Bilyeu family built the house in question or if Mr. Golden built it after he bought the land in 1857. I suspect the Bilyeu family built the house and lived there until they pulled up stakes and moved west to Oregon territory in the mid 1850's.
After the Civil War, Emly and Sarah (Ulman) Golden sold the land to Theodore and Amanda Doolittle of Geauga Co., Ohio. They came to Miller Co. circa 1867 and lived in the home for several years. During their stay in Miller Co., their two daughters married local men: Estella A. Doolittle married Dr. Joseph M. Ulman and Lydia K. Doolittle married Andrew C. Thompson. On 28 Sept 1878, Theodore and Amanda Doolittle sold the land (305 acres) to Henry Clay Jackson of Pike Co., MO. Selling price--$3,500.00. After buying the land, Henry Clay obtained permission to name his new home Linwood Farm, the first farm in Miller County to receive a legal name of record.