Lupardus Cabin
LUPARDUS LOG HOUSE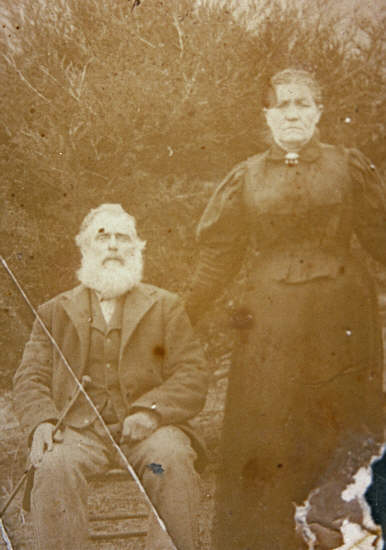 Peter Burton and Joanna Caine Lupardus
The two story log house constructed by Peter Burton Lupardus in the late 1860's on his land in Equality Township, Miller County, Mo. near Ulman, Missouri, was of the best craftsmanship. Built of hewn logs and rocks, inside measurements of the one room downstairs are approximately 15' x 17'. A free-standing "large" rock fireplace was built for their daily cooking and heating. A second story provided a sleep area for the children. A "lean on" kitchen was later built and the date of this cannot be ascertained. When the kitchen (beyond repair) was torn off, it was noted that "square" nails were also used in the building of this part of the house. Perhaps it was built of the same era, but there is no indication that is was part of the original building. The house was built on huge rock boulders at the four corners and the fireplace was built of large stones, one measured 10" x 45". How did Peter move them in the 1860's? We understand he was a builder and mechanically inclined. Peter built other log houses in Miller Co. among them one for his daughter, Priscilla May and husband, Benjamin Butler McDonald. The latter property is now owned by Dennis and Molly (Howard) Patterson and is located near Ulman, Mo.
| | | |
| --- | --- | --- |
| Lupardus Cabin | | Lupardus Cabin Inside |
Water was carried to the house from springs at the foot of the hill. A porcelain type pipe barrel was sunk in the spring that is the closer to the house of the two springs. This pipe is still submerged and visible. Water was carried from the spring for use in the household. Milk and perishables were carried farther to another larger spring (Cave Spring) where water flowed from the hillside into the creek meeting water from the other spring, both flowing on a solid rock creek bed. What fun the children must have had in that creek! Watercress still grows in abundance a short distance below Cave Spring.
The log house and fireplace were disassembled in the fall of 1994 and has been moved to the grounds of the Miller County Historical Society, Tuscumbia, Mo. for restoration. The log house and farm are now owned by Gary Flaugher, Raytown, Mo., grandson of the late Willard and Maggie Boyd, previous owners of the house and land. Mr. Flaugher has graciously given this log house to be preserved on the Miller County Historical Society Grounds. Carl McDonald, great-grandson of Peter Lupardus, coordinated the moving and preservation of the house by descendants of the Peter Lupardus family.