THE MYERS HOMESTEAD IN THE LITTLE RICHWOODS
By Peggy Smith Hake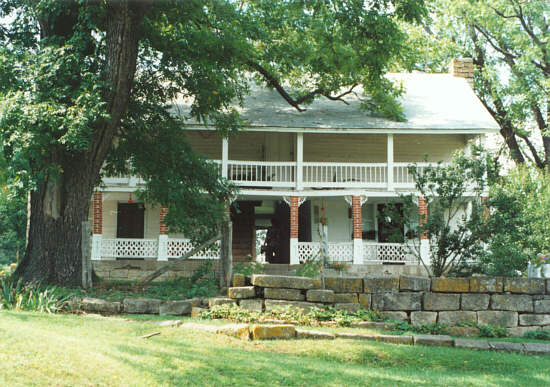 Myers Homestead 1992 -
Photo by Janet Sipe Roberts
In the Little Richwoods of Miller County, stands a very unique structure which, to the passerby, may only appear as an ordinary farm home…not so…look again! There is an opening in the center of the house which looks like a porch receding backward between two rooms. This old home has been sitting on that same spot since about 1867. It is steeped in history, one of the oldest buildings in the county. This type of house is very quaint and unique, almost one of a kind, left in our midst today. I will tell you about the house later, but first let me tell you about the family who built it over 125 years ago.
Charles Phillips Myers, the son of a German immigrant (some records say Russian ancestry), married Nancy Bass in 1866. Charles had returned from the Civil War in 1865 after having spent 3 years as a soldier of the Union army. He and his brother, James R. Myers, both served together in the 26th Infantry of Missouri Volunteers where they marched across the South fighting in battles at Corinth, Iuka, Vicksburg, and Missionary Ridge all in Mississippi. At Missionary Ridge, Charles was wounded in the arm by a mini-ball, but continued on in the march of the Georgia campaign from Chattanooga to Atlanta where they joined with General Sherman's troops, numbering 60,000, in the siege of Atlanta. It has been recorded in America's history this group of soldiers was instrumental in breaking the backbone of the Eastern Confederacy.
Charles was discharged from the military on 27 February 1865 and returned to Miller County where he resumed farming in Osage Township south of present-day St. Elizabeth. Before the war, he and James lived in the Big Tavern country of Osage Township with their mother and stepfather, Alexander and Minerva (Davidson-Myers) Clark. The father of Charles and James was Charles Phillip Myers, Sr., a native of Baden, Germany. He came to America in 1840 and settled in St. Louis. There he met and married Mi9nerva Davidson, daughter of William and Rhoda (Boyd) Davidson, natives of Greenup Co., Kentucky.
James and Martha Myers family
Charles Myers, Sr. was killed in a boating accident on the Mississippi River near St. Louis in 1844, the same year Charles Jr. was born. Shortly thereafter, Minerva and her two young sons moved to Miller County where her Boyd kinfolk were living in Osage Township. Within a few months, she married Alexander Clark who lived nearby. Alexander was the only father Charles Myers ever knew because his own father died when Charles was only an infant. He and James grew to manhood in the beautiful Osage River country and learned farming from childhood. After the Civil War, James R. Myers married Martha (Clark) Boyd, widow of Robert Boyd, and they remained in the same area where they grew up, but Charles married Nancy Bass, daughter of William and Melvina (McCubbin) Bass of the Little Richwoods region. After their marriage on 30 Aug. 1866, the couple remained near her parents and the next year, 1867, built their home where they reared seven children. As the years passed by, the children, including James R. Myers, Wm. M. Myers, Desdemonia Myers, Asa A. Myers, Emma C. Myers, Dora B. Myers, and Perry E. Myers, grew to adulthood on this beautiful farm near Brushy Creek in the Hickory Point community.
Charls P. Myers, Jr. was active in Miller County politics serving as sheriff (1880-1882) and collector (1886-1888). He was a staunch Republican; a Mason; and a member of the Grand Army of the Republic (G.A.R.). In 1889, Charles owned 393 acres of prime land; 160 acres under cultivation with a splendid house and good barns on the land.
All these folks are resting peacefully in the Hickory Point Cemetery, not far from the land that sustained them for many years and which remains in the Myers family to this day.
Now, back to the history of the old Myers log house…The home sits in the Hickory Point community, near Brushy Fork Creek in Richwoods Township. An old road once led out of Iberia, crossed the Barren Fork, turned west and passed by the old Hickory Point Church and school, then turned northwestward and crossed the Brushy Fork near the Myers home.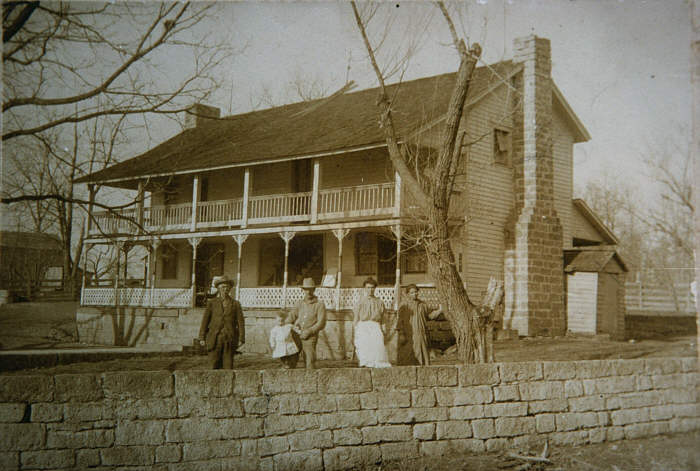 Charles P. Myers Home
The log house, built about 1867, was unique and rare to our part of the country in those years. The style was known as a double-pen log house. They had been prevalent in the countryside of the eastern states prior to the Civil War. The structure was two log cabins interconnected to form one house. They were built 10 to 20 feet apart with a common roof built over the space between.
In 1820, a man named Zerah Hawley, while visiting in Ohio, wrote with wonderment of this type of home. He said in the space between the two log units was…"placed the swill barrel (table garbage for the animals), tubs, posts, kettles, etc. Here the hogs almost every night dance a hornpipe to a swinish tune, which some one or more musicians of their own number play upon the pots and kettles, while others regale themselves in the swill barrel."
Other names given this type of structure include "dog-trot house", "dog-run house", "possum-trot house", "two pen and a passage house". These names were applied mainly in the states of Georgia and Tennessee.
One unit was usually used to serve as a kitchen and living room while the other was used as a bedroom. The covered passageway formed an area for family activities in the summer and a cool veranda on a hot summer's night. Each cabin had its own fireplace for winter's heat and year-round cooking.
This type of house was widely distributed in the early American settlements and later, in our country's history, the dog-trot house found its way to Texas and other western states. While researching this extraordinary type of log house, I found another way it was used. Frontier doctors often used these breezeways between the units to "purge, bleed, blister, and salivate" their patients in order to bring on the "shakes", believed to cure anyone suffering from ague (a violent fever). One pioneer doctor wrote in his journal that he "suggested to a family that they carry the patient into the passageway between the cabins, strip off his clothes that he might lie naked in the cold air upon the bare sacking, and then pour upon him successive buckets of cold spring water and continue until he had a pretty powerful, smart chance of a shake!"
As families increased in size, rooms were added to the top of each cabin with stairways on the outside. The only heat these bedrooms had was what could filter and drift up from the floor below. At times, it must have been bitterly cold because in Miller County we have had "Arctic blasts" from the North converge upon our peaceful countryside…Oh! How comfortable my 20th century home.