FREE MASONS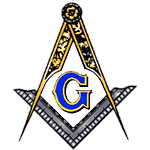 Free Masonry is a world wide fraternity. There are subordinate lodges in almost every community in America. Free Masonry came to America from Europe with the first settlers. Our first President, George Washington, was an ordinate member of the craft and served as Worshipful Master of his lodge. Each state I the United States has a Grand Lodge which has control of the subordinate lodges. The Grand Lodge of Missouri had its origins the same year Missouri became a state-1821. Today there are some 100,000 Free Masons in Missouri.
Many well-known and prominent men have served the Missouri Grand Lodge as Grand Master. President Harry Truman and Governor Forrest Donnell are among the list of men to serve during recent years. The only Grand Master ever elected from the Lake of the Ozarks area was Senator and Dr. James A. Noland, Jr., who served 1977-78.
There are subordinate lodges around the lake area located in Camdenton, Eldon, Versailles, Barnett, Iberia, and Macks Creek. Many lake area residents are members of these lodges. The Linn Creek Lodge, which was located at Old Linn Creek, was moved to Camdenton at the time of formation of the Lake of the Ozarks.
In the pioneer days, some of the public schools, lodges and churches shared in ownership and use of a community building. This was the case of the early Masonic Lodge in Macks Creek.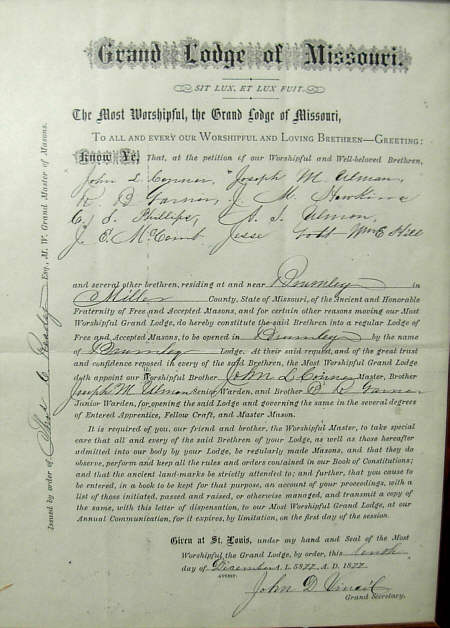 Brumley Masonic Charter
There is a Shrine Club that serves the entire Lake of the Ozarks Shrine Club. The entire fraternity concerns itself with the betterment of mankind. The Shrine Club not only assists with the crippled children's hospital, the local club sponsors young ladies who wish to become registered nurses. Not all Masons are Shriners; however, all Shriners must be Master Masons.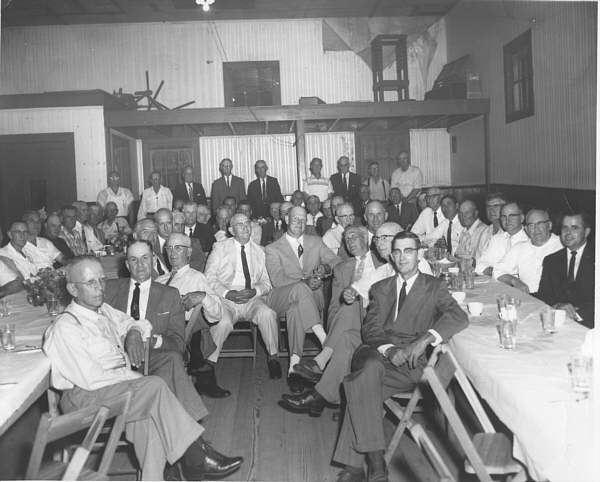 Olean Lodge 134 A.F. & A.M., June 11, 1960
IBERIA A.F. & A.M. LODGE #410
By Peggy Smith Hake
A few years ago I wrote an article about Iberia's Masonic Lodge #410. The old Masonic Hall is now undergoing an addition to the original building and it is going to give downtown Iberia a new look on Lombar Avenue. The members have undertaken the renovation of their lodge home and it is something to be very proud of. I would like to repeat my story and say "Congratulations" to the Masons of Iberia for the great improvement being made to an old historic building. So many structures of our past did not fare so well and have disappeared from our midst forever..........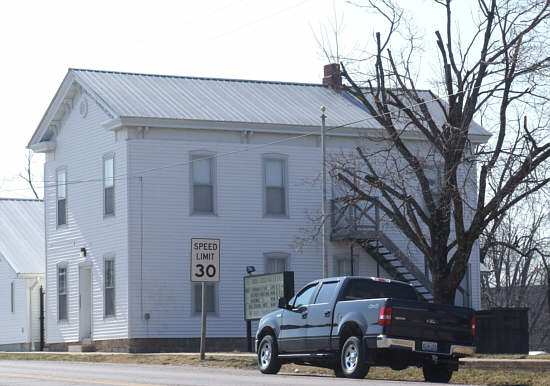 Iberia Lodge 410 A.F. & A.M.
According "Goodspeed's History of Cole, Miller, Moniteau, Benton, Osage, and Maries Counties, 1889", the Iberia Lodge #410 of the A.F. & A.M. (Masons) was organized in 1873. According to Schultz's History of Miller County, Iberia Masonic Lodge #410 was chartered on October 13, 1871 but no mention is made of their Masonic hall until 1889 when it was stated, "(in 1889) they had a hall and other property valued near $2,000." The hall evidently was in existence as early as 1876 because an old Miller County newspaper (The Miller County Vidette) reported that the Iberia I.O.O.F. Lodge met in "the Masonic hall" for their meetings.
The first officers of Iberia Lodge #410 were William E. Wheeler, W.H. (born about 1825 in Kentucky); George W. Helm, S.W. (born about 1820 in Tennessee); and Benjamin F. Brickey, J.W. (born 1820 in Kentucky). Helm and Brickey were neighbors in the old Fairview/Livingston Cemetery community and Wheeler lived a short distance east of Iberia.
By 1889, sixteen years about organization, they had 42 active members on their roster. Early Worshipful Masters of Lodge #410 included Albert A. Arendall (operator and miller of the old Brays Mill); Squire John Ferguson, a native of Dumfries, Scotland who was a noted Civil War veteran; Francis E. Lombar, early merchant of Iberia and born in New York; Thomas J. Marchant, another early Iberia merchant from Tennessee; Theodore B. Robinson, an attorney who was born in southeast Missouri; and Miles J. Davidson, another businessman of Iberia whose ancestors came to Miller County from East Tennessee.
Iberia had several other fraternities and societies during the era following the Civil War. It appears the Masons (Lodge #410) were the first to organize followed by:
1. Iberia Lodge #340 I.O.O.F. (Independent Order of Odd Fellows) who organized in 1875 with seven members. In 1878, they were holding their meetings at the Iberia Masonic Hall. By 1889, they had a membership of 40 persons.
2. G. A. R. Miles Carroll Post #111 (Grand Army of the Republic), a society of Union Civil War soldiers. They organized in 1884. The G.A.R. built their own hall, which was destroyed in a fire in the early 20th century. They rebuilt and the building still stands today and is the home of Iberia American Legion Post #105. add a link to the GAR page here.
3. Iberia Olive Branch Lodge #543 of I.O.G.T. (International Order of Grand Templars), organized in 1881. Many of their members were people who attended the Iberia Congregational Church. I do not know if they ever built their own lodge hall in the town. (The Grand Templars were a temperance group who preached abstinence of alcoholic beverages and what they considered other vices).
In two issues of an old Miller County newspaper, The Miller County Vidette, dated August 1876 and December 1878, there were advertisements of county societies, but Iberia's Masonic Lodge (organized in 1873) is not mentioned. There were Masonic Lodges at Tuscumbia and Brumley who advertised the time and place of their meetings and listed their W.M.'s and Secretaries.
Unfortunately Iberia did not post their meeting in the old newspapers, so the important information needed cannot be found to substantiate their early history.
Iberia's Masonic Hall (built c/1873) is qualified to be placed on the National Register of Historic Places as well as the American Legion Hall (originally the Grand Army of the Republic Hall) sitting a short distance south of the Masonic building. I believe, from my research, that the Iberia Masonic Hall may be the oldest building still standing in the town today and is so rich in the early history of Iberia.
---
ELDON EASTERN STAR
By Esther Clawson, Lena Bear and Hazel Catron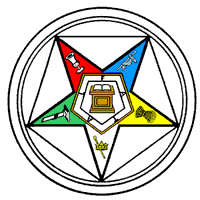 Eldon Chapter No. 210 Order of the Eastern Star, was organized and received their charter January 17, 1904. The charter members were: Effie Austin, Florence Godfrey, Lena Keisling, Bertha Godfrey, Ella Lawbaugh, Nellie Lawbaugh, Bird E. Moles, Lillian Harrison, P.J. Shepherd, M.C. Harvey, Maude Shepherd, Georgia Fowler, Nina Bird, Alice Brockman, Lena Lowbaugh, Janie Roark, Elizabeth Brockman, Elizabeth Franklin, Nancy M. Harvey, Malcalon Brockman, Charles Godfrey, Charles Lawbaugh, William S. Brockman.
The meetings were held in the Masonic Temple above the building that is now a shoe store, and moved to the new Temple which was built in 1930.
Eldon Chapter donated money to the Grand Chapter of Missouri, to buy the equipment located in Columbia, Missouri, for the detection of cancer. Donate money each year to the ESTARL fund which is given to students to help pay their way through a seminary if they are studying for the ministry or religious work. Other projects to which money is donated are: Heart Fund, St. John's Fund, Masonic Home in St. Louis and Kansas City and to Meals on Wheels in Eldon.
Each year the chapter entertains the Past Matrons, Past Patrons, entertains the Masons, and attends church once a year with the Worthy Matron, at her church.
In 1981 the membership totaled 180 with 12 living members who have 50 years continuous membership
IBERIA EASTERN STAR
The Eldon Advertiser and Miller County Autogram-Sentinel
1976 Bicentennial Salute
Iberia Chapter 537, Order of Eastern Star, of 38th District was instituted March 14, 1925, under the dispensation of The Grand Chapter of Missouri with Eldon's Order of the Eastern Star as the Mother Chapter. The first Meeting was held upstairs at the present Maud Grady property in order to accommodate Grand Officers and Eldon's O.E.S. officers. Later meetings convened in the present Masonic Building.
Dr. Robert Morris, Master Builder of The Order of the Eastern Star, was born Aug. 31, 1818, near Boston, Mass. He once said, "I am happiest when sharing with others that which the Lord has bestowed upon me." Thus O.E.S. was instituted.
Iberia Chapter was organized with the following 25 members: William Adams, Emmett Allen, Irene Allen, Clarence Casey, Cora Casey, Helen Clark, Ada Condra, Elbert Condra, Edna Davidson, Miles J. Davidson, George Duncan, Myrtle Duncan, Dorothy Duncan, Lou Eads, Clara Ferguson, William Fogleman, Arlie B. Fogleman, Maud Grady, Annie M. Groff, Eska Heltzell, Bert Mace, Annie Marchant, Belle Thompson, Fred Whitlock and Margaret Whitlock.
Maud Grady said she was installed associate conductress at that time. Iberia O.E.S. meets regularly the first Tuesday of each month. At present the membership totals 115.
The membership is proud of its District Deputy Grand Matron Eunice Mace of Iberia Chapter, Lita Lynn Keeth was appointed Grand Representative to state of Wyoming. Other D.D.G.M.'s from the Chapter serving in this position were: Mrs. Clara Ferguson; Mrs. Ruth Jones; and Mrs. Keeth.
The chapter has also been enjoying the work of the order exemplified by Sister Lorraine Whitaker, Worthy Grand Matron of Grand Chapter of Missouri. She and her husband, Leo are formerly from this area.
Jo and John Grady are worthy matron and worthy patron of Iberia Chapter. O.E.S. of Iberia participates in many charitable projects as cancer fund drives, De Molays, Masonic Home, Home for Cripple Children, ESTARL, sick and distressed, etc.