THOUGH SPARSE HERE TODAY, NEGROES HELPED SETTLE AREA
Early in Miller County's history, you will find the Negro was part of its population. Very few came to the area as freed men and women but instead were brought westward as slaves of the families who relocated in this new frontier.
Anyone who is familiar with America's history know that when Missouri was admitted to the Union in 1821, she was instituted as a slave state and Maine was admitted at the same time as a free state, therefore keeping the balance even of Northern and Southern states.
Miller County had approximately 100 slaves listed in a census of 1840. It increased to approximately 190 in 1850 and by 1860 the census recorded an increase to nearly 240 slaves.
Slave ownership was part of my ancestral background. My great, great, great grandfather, William Gardner of Barren County, Kentucky, owned quite a number of slaves. In his will, dated 5 March 1838, he deeded each of his six children one slave each. Part of that will stated...."I have given to my son, Richard Gardner, a Negro boy named Socrates; to my daughter, Anne Sperlocke, a Negro girl named Polly Ann; to my son, Jacob, a Negro boy named Ben; to my daughter Jemimah Allen, a Negro girl named Sizann; to my son, Paullin Gardner, a Negro girl named Stephanna; to my daughter, Polly Gardner, I give a Negro girl named Peggy, with her bed, her cover, and her heffer/heifer...." Paullin Gardner, Anne Sperlocke/Spurlock, Jemima Allen, and Jacob Gardner emigrated, with their families, to Miller County circa 1842. It is presumed the Negroes mentioned in William's will came to Missouri with them. I do know that my great, great grandfather, Paullin/Paulin Gardner, did indeed bring his slave, Stephanna, and she helped to rear his children during the ensuing years.
The Allen family of Barren County, Kentucky was slave-owners bringing quite a number of blacks with them to Miller County in 1842. Joel Allen, who had married Jemimah/Jemima Gardner, owned 7 in 1860; Elias Allen, who married Mary Gardner, owned 5; and Isaiah Allen owned 3. I am told the land located at the south city limits of Iberia, was owned by the Allen slaves after their freedom was granted in the mid 1860s. On December 2, 1866, Josephus Allen, a man of color, married StephanAnn Allen, a lady of color at Iberia. Their marriage was performed by Charles Tallman, who was a justice of the peace in the Big Richwoods. These folks were two of the Allen slaves who had gained their freedom and, as was the custom, assumed the last name of the family who had owned them.
Charles Tallman, a Pennsylvania immigrant to Miller County, also performed two other marriages for black folks in 1866. William Lawless married Manda Lawless and Henry Lawless married Violet Lawless. William and Henry were brothers who lived in Miller County before, during, and after the Civil War. Their life began in the early 1800s. Henry was born in 1820 and William was a few years younger. At the time of their marriages in 1866, each couple had several children. After the war years, they must have decided to give their children a legal name and birthright.
In October, 1869, the two Lawless brothers bought a large tract of land containing 540 acres. They purchased the land on the steps of the courthouse at Tuscumbia after being the highest bidders of $987.50. Henry Lawless died June 1875 and left the following heirs: his widow, Violet; daughters Mary Bobo, Amanda Rial, Mariah L. Turner, Rebecca Lawless; sons Benjamin Frank Lawless, Henry R. Lawless, Sylvester Lawless, and John W. Lawless..........Manda Lawless, wife of William, died in 1874 and left him with ten children to rear. William died in the latter part of the 1890s and left all his children as heirs including: Jeremiah Lawless, Edward Lawless, John Lawless, George C. Lawless, Zebedee R. Lawless, Martha Hogue, Mary Owens, Belle Trout, Sarah Scott, and Lucretia Fouse.
The family of Henry Lawless kept their acreage until the mid 1950s when all that remained of the "old Lollis/Lawless farm" on the Iberia-Brumley road, was sold to Orval Allee. The children of William Lawless/Lollis left Miller County in the late 1800s and sold their father's property to Sarah Adams of Iberia. The older generation will remember these folks as the LOLLIS families. In searching out the name, I found it recorded as Lawless (the original name), Lallace, Lallis, and finally Lollis, which became the most common spelling.
In the census of 1880, two families of black people lived in the small community of Iberia. There were very few homes listed in the town during that census. I will try to reconstruct Iberia as it appeared in 1880....inside the town limits were John Moore, a doctor/druggist; Marcus Fancher, a grocer; John Brown, carpenter; Clary Amos, teach of music, Martha Hayhurst, school teacher; Joseph Hume, blacksmith; Thomas D. Garner, dry good merchant; Rector Thompson, blacksmith; Isabelle Ferguson, seamstress. The two black families living in Iberia in 1880 were the Landers and Lawless/Lollis families.
The Landers family included Jacob age 28, his brother Wilson age 36, their sister Matilda age 33, and their mother Hetty age 53. Hetty was born a slave in the state of North Carolina in 1827. Her three children were all born in Tennessee and I would presume all were born slaves since their births were prior to the Civil War. Jacob Landers married Hester Williams in Miller County on 6 September 1900, the marriage performed by Squire John Ferguson, a justice of the peace. Jacob/Jake and Hester/Easter Landers farmed some land one and half miles southwest of Iberia for several years.
The second Negro family living in Iberia in 1880 was Hardy and Elizabeth/Bette Lawless/Lollis. Hardy was a farmer, born in Kentucky in 1820. Elizabeth/Bette was much younger, born in Arkansas in 1860. They had two sons, Joseph who was born in 1878 and Frank, born in 1879. Later, after the 1880 census was taken, they became parents of two more children, Chester/Chet and Missouri. At the turn of the century, Hardy and Bett Lollis and three of their children (Joe, Chet, and Missouri) lived on the land that is owned today by the heirs of Spurgeon Atwill. Hardy Park, which was situated on this land for many years, was named for Hardy Lolllis. They lived in an old log cabin on a grassy knoll overlooking Hardy Park with a small creek running through the park and set in a beautiful grove of trees. The old log cabin was there for many years after the Lollis family moved away.
Other Lawless/Lollis families living in the general area around Iberia in 1880 included: John and Eva Lawless, Lewis F. and Sarah/Sally Lawless with 4 children, Benjamin Lawless and his brother Sylvester, William Lawless (a widower with his 8 children), and Henry J Lawless who was a farm hand working for the John Thompson family.
Living on a neighboring farm to Lewis Lawless/Lollis was another black family, which included Christopher Birthright, a farmer, born 1818 in Tennessee, his wife Elizabeth and their 8 children. Another black family in Richwoods township near Iberia was Alexander Shell, a farmer born in Arkansas in 1855, his sister Frankey, and their mother Esther, born in Kentucky in 1828. The Shell family lived in an old log cabin across the street from the old Iberia Academy. Bythia Shell, who had some kinship to them, lived in a log cabin directly across the road from the Shells. Her log cabin is the one that most people remember sitting on campus of the old Iberia Academy and was used as a knitting and weaving classroom for many years.
In Saline township, in the Eldon vicinity, lived quite a number of Negro families in the latter portion of the 19th century. Among the families were: Malinda Garin and her daughter, Julia; John McAllister; Anthony Crowder and Albert Meader, both servants in the home of A. M. Houston (both of the men were members of the family of Violet Wilkes-Meaders); Bill Hite and his wife Harriett and their 5 daughters and 5 grandchildren; James Johnson with his wife Matilda and several children; Lawyer Webb, his wife, Lucinda and their 8 children; George Denny, his wife Susan, and George's mother, Mariah Denny; Thomas Denny, his wife Joannah and their 3 sons; Alexander Mulkey, his wife Martha and 2 daughters; Henry Berry, his wife Viney and 1 daughter; Violet Meaders, born in Tennessee in 1825, her 6 children, 9 grandchildren (which included 3 sets of twins!) and 2 boarders, Mariaha and Martha Crowder. Violet Meaders must have had the proverbial patience of Job to have withstood that large household of kith and kin!!!
The only black family I can remember in the Iberia areas as I grew up there were Walter and Josie Lollis and a family named Driver. I was just a small child when I last saw Bill Driver, who was a wonderful musician. Many people say he was the best musician in our part of the country. He was very much in demand and very popular at the Saturday night dances held in the Iberia area. Bill and his wife, Violet (Williams), were parents of 7 children, 6 girls and 1 boy. The father of Bill Driver was the Reverend William W. Driver, a minister who was widely known in central Missouri during the early 20th century. He was born in Jefferson City, a son of Mary Dixon, and was later adopted by a slave family named Driver. He was held as a slave during the Civil War times. Later, he moved to Laclede County, MO where he performed a commendable service to other members of his race in the surrounding area. Circa 1916, he came to Iberia and moved to a farm southwest of town near the old Oak View Church. In his obituary, his widow is not listed, but he was married at that time and had two children—William 'Bill' Driver of Iberia and Grace Driver Tucker of Rockford, Illinois. They had six other children, but they all died in infancy. Rev. Driver died at the age of 75 years in 1934 and his funeral service was held at the Iberia Nazarene Church with Rev. Otto Shearrer officiating. He is buried in the Iberia Cemetery. Bill Driver, Jr. moved his family to the Jefferson City community where he died in the mid 1980s after reaching his 103rd birthday. His last years were spent in darkness when he lost his eyesight but I am told he could still play his beloved fiddle. Annette Driver, a granddaughter of Bill Driver Jr., owns and operates a restaurant in western Jefferson City, which has a huge clientele of patrons. Folks from near and far love the bar-b-que dishes for which the restaurant has been famous over the years.
My most vivid memories are of Walter and Josie Lollis. J. Walter Lollis, son of Lewis and Sarah (Patrick) Lollis, was born near Iberia 10 Feb 1879 and Josie was born 19 November 1883. Both are buried at Iberia Cemetery. Walter died in 1956 and Josie lived until 1965 when she died at the age of 86 years. Walter was a big, towering giant of a man (or perhaps he just looked like a giant to a little girl in the early 1940s!) Josie was a tiny, petite little lady. I remember her only in her elderly years when she was bent with age. As a child I can remember that my grandmother, Eliza Boyd Smith, would take me with her when she visited Josie Lollis. I can recall the return visits when Josie would tread through the fields to see my grandmother. Josie was the personification of what a true Christian should be and she lived this Christian life daily. I can still see her small, stooped body walking through the streets of Iberia on a Sunday morning as she made her way to the Church of the Nazarene. I would meet her along the way as I walked to the Iberia Christian Church and I always remember saying..."Good mornin' Josie, how are you?" and she would always reply, "Just fine, girl, just fine"..... What a precious memory!
The Lollis' were no strangers to poverty. Josie once made a profound statement that would give some insight to their way of life when she was a girl. She said at times her family was so hungry, but all they could find to eat were acorns, which fell to the ground.....they would gather them and roast them for food.
Josie Lollis was born in Howell County, Missouri, near West Plains in 1883. Her name before marriage was Josephine Duke (although her marriage records in Miller County list her name as Clark)-----I still don't understand the error. I do not know when she came to the Iberia area, but it was before her marriage to Walter. She had a sister named Julia Yarrington who, with her husband and 2 sons, lived in Iberia. Josie lived with them when she first came to Iberia. The Yarrington/Arrington family lived in an old house on the spot where the Roy Holeyfield home once stood, also known as the Jim Grady place. After her marriage to Walter, they moved into the log cabin once occupied by the Alexander Shell family, located across the street from the Iberia Academy. I understand that as a young person, Josie attended a school in the Iberia area that was segregated for the black children. It was located near the site of the old Mace school, west of Iberia. In 1878, Miller County had 55 schoolhouses for the white children and 1 for the black children. The white enrollment was 3,513 students and the black enrollment was 59 children. The school for the black students was constructed in 1869 and sat on an acre of land that was donated by James and Harriett Long. Note: I believe there was another school for the black children that was located somewhere north of Eldon in the Olean area during this time because there were several families living there with a number of children and I am sure some of the 59 enumerated in 1878, lived in Saline township as well as Richwoods.
Walter Lollis was known in Iberia area as a 'water witcher'. This was an old-fashioned means of locating a fast-running stream of water underground where a well could be dug on the spot for a water supply. The method was used very extensively and most times was very accurate. One would cut a peach tree limb with a fork in the limb. It needed to be only 24 to 30 inches long and the forked end would be held in each hand with the straight end pointed away from the 'witcher'. As he walked over the land, if the stick began to shake, then he knew that somewhere close by ran a stream of water underground. I have been told it was 99% accurate and when the peach tree limb shook convulsively in the 'witcher's' hand, he had struck water!
In 1880, the Lewis F. Lawless/Lollis family (parents of Walter Lolls) lived on a farm southwest of the Pleasant Hill community. He and his wife, Sarah Jane (Patrick), called Sally, had three children: Rosa born 1875, Elcy born 1877, and John born 1879. There was another child living with them, Ellen Moore age 8 years. I believe Ellen Moore was a daughter of Sarah Jane Patrick-Lollis and a stepdaughter to Lewis Lollis. I am including this family in this story because I found an item that was of great interest to me genealogically.....it concerned my great grandparents, Josephus and Leatha (Loveall) Whittle. I had scanned through microfilm for a long time trying to locate my great grandparents in the 1880 census but with no luck. I knew they had to be there somewhere because they were still newlyweds, married in August 1878. After further research, I finally found them listed in the household of Lewis and Sarah Lawless/Lollis. On the day the census taker came to the Lollis farm, Leatha Loveall-Whittle was in bed with a 4-day old son, her firstborn....He was the first of 11 children born to Josephus and Leatha.. It still remains a mystery to me why this young white couple were enumerated in the home of a young black family in 1880....did Sarah Lollis act as a midwife for Leatha Whittle when her baby was born and she put her to bed in her own home? I will probably never know the true story, but historically and genealogically speaking, I am sure it was a fascinating and wonderful story...............
My research of the black population of Miller County has been both inspiring and an enjoyable endeavor and has helped me to better understand their ways of life, their thoughts, customs, and beliefs. I have gained much insight with the writing of this small history. Many people have given me their time, thoughts, and have shared some very pleasant memories with me. Without their assistance, the writing of this history would not have been possible.
Peggy Smith Hake, December 1985
Re-written in April, 2005
---
I REMEMBER MILLER COUNTY'S COLORED FOLK OF SALINE TOWNSHIP
by Maude Wright, Eldon, MO
Note: Maude was born in 1896, a daughter of Joseph L. Wright and Lena R.
Simpson. She died in the 1990s and had almost reached her 100th birthday.
I was asked to write about what I knew about the colored folk in my area when I was young. There was a colored couple that lived near our home that I knew well. I knew of a family named Tyree that lived near Decatur (in southwest Cole County). Bill Tyree worked for Jim Bond, the merchant of Spring Garden, for several years. He was the oldest of the Tyree children. Roy Tyree, his brother, kept the Spring Garden cemetery mowed for several years. There were some girls in this family also.
The colored family I knew well, who lived about 3 ½ miles from us, I will write about. They had a farm north of what is Highway 54 today, near the Highway 17 junction. Mrs. J. Lee Glover bought the farm later and her daughter, Opal and husband Parker Norfleet, lived in a new house built there. The colored man's name was Abe Anderson and his wife was Harriett. He had a sister named Rachael. This couple had no children, but they raised a niece of Mr. Anderson's. When she was grown, she married and left the area. The Andersons lived in a large log house with a large fireplace in the center of the house. They had all the farm animals most farmers had...hogs, cows, horses and chickens. They worked hard and had all the necessities of life.
Note: I believe Abe and Harriett Anderson lived just across the line in Cole County because they do not appear in any of the Miller County census records.
Abe Anderson died and left Harriett alone. She went on living as usual. Her watchdog was her best companion. She took over some of her husband's work like plowing and harvesting the crops. She planted a large field of corn to have feed for her animals. She was lonesome and went to see certain neighbors often. Our place was one she visited almost every week. I called her 'Nigger Harriett', which she didn't resent. When about 7 or 8 years old, my mother would often give me the task of churning. The churn was one you used a dasher with. Due to my laziness, I worked very slowly and it took awhile to get butter. Once Harriett came when I was churning and noticed my slowness. She said "Get up from there, you just make me tired!" She took over the churning and soon there was butter. I welcomed her on churning day from then on.
When I was 9 years old my brother was born (Nile b.1905). He was a sickly baby and required constant care. My mother spent most of her time caring for him. My parents had planted a large navy bean patch. When the beans were ready to harvest, father hired Harriett to help pick the beans. I was to help her. He gave each of us a basket to pick in and a bushel basket to empty our picked beans into. He told Harriett to see that I picked the beans well. I began to pick a pod here and there, leaving some ripe pods. She told me two times to do better work but I kept skipping as usual. Suddenly Harriett put me across her knee and did she ever spank me! It hurt, so I started to the house screaming and crying loudly. Father heard me and came to meet me. He said, "What is the matter?" I said, "Harriett spanked me". He said, 'What did she spank you for?" I replied, "Nothing". Father said, "Don't lie to me, Harriett didn't spank you for nothing!". Harriett followed me and explained all to father. I got no sympathy and was sent back with a warning he would also punish me the next time.
As the years went by, it became harder for Harriett to do the farm work necessary. One year she didn't get her corn crop all in the barn. A big snow came early and her corn shocks froze to the ground. She needed some feed for her horses so she came to our house for help. Father had bundled oats in the barn loft and told her to say when he had thrown down enough bundles....she said 16 was enough. She tied all 16 into a bundle with a rope and put it over her shoulder and started for home. The load extended above her head and almost touched the ground. North of the barn was a little wooded area she had to go through to get to the public road. On her way home, father knew she would never get home with her load, so he went to the wooded area and found half of her load she had left and had planned to come back and get later.
Harriett was a good cook. She was known for her persimmon pie. At all public sales she would take her pies. She removed the skins and seeds after heating the pulp and would run it through a sieve. She seasoned the pulp with spices. She never had to take any home from a sale! She would sell the whole pie or just a piece.
When Harriett died, the farm was desired by several persons. The county sold it at Tuscumbia. The day of the hearings, several colored folk were there claiming they were relatives of both Abe and Harriett, but they lacked the proof. Abe and Harriett are buried at Spring Garden cemetery. They lived a good life and were an inspiration to the folk of their community.
NOTE: There is no record of a gravestone for either Abe or Harriett Anderson at Spring Garden Cemetery. They are probably buried in the older section in unmarked graves. The older part of the cemetery is known to be full but with many graves marked only with field stones. (psh)
---
THE BLACK FAMILIES OF SALINE TOWNSHIP, MILLER COUNTY, MISSOURI
Since the publication of my history of Miller County's black population (first in 1985 and then in PIONEER FAMILIES OF MILLER COUNTY @1900), I have received inquiries from folks in the Eldon and north county area wondering why I did not devote more of my story to Negroes in that area of Miller County. I have since researched and spoke personally with some area residents who have enlightened me on more county history in the Eldon and Olean communities..................
In the northern part of Miller County, Saline Township, lived many black families who were freed after the abolition of slavery following the Civil War. Many of these folks were brought to central Missouri by their owners as early as the 1820s. At that time Miller County did not exist; north of the river was Cole County while south of the Osage was Crawford County before 1837. Among the early families who owned slaves were the Mulkeys from Virginia, the Hites from Virginia, the Meadows from Virginia, and the Parks from North Carolina.
The family names were carried on after the war by the black families who had kept the surnames of the former owners. The Mulkeys, Taylors, Meadows, and Parks were still in the area by 1905 when George Evans moved to Miller County with his family from Kansas. Mr. Evans' grandfather purchased five farms east of Olean and many of his neighbors in the early years of his childhood were the black families mentioned. I had a delightful and informative letter from Mr. Evans in 1985. He was 83 years old and was living near Olean at that time.
Other black families in the Olean area prior to and during the early part of the 20th century included the families of Moses Richardson, Henry Smith, Isaac Webb, Bob Bush, Gene Lewis, Bob Taylor, Samuel Mulkey, Miles Parks, Alexander Mulkey, Violet Meadows, Riley Webb, Lawyer Webb, Harry Webb, James Johnson, Hiram Brockman, James Brockman, George Brockman, Emily Dodson, Henry Berry, Daniel Richardson, John McCallister, Anthony Crowder, Albert Meader, Ridge Walker, Ida Webb, Eugene Stills, Pinkey Richardson, Jacob Cox, Charley Taylor and Henry Crowder.
Mt. Zion Colored Baptist Church at Olean was organized by Rev. Gilbert Ballance c/1873. In 1889 the church had 48 members. It was constructed as a good, frame building and existed for many years. The church was a member of the North Missouri Baptist Association. Other colored Christian folks in the county were members of white churches. The town of Olean had three churches in 1889---2 for the whites and 1 for the blacks.....All this information was found in the 1889 publication of Goodspeed's History.
ADDENDUM:
The following is excerpts from the letter I received from Mr. George Evans of Olean in 1985......... Mr. Evans grandfather came to Miller County from Kansas in 1904 and bought 5 farms for his 5 children. George's father received 80 acres where George now lives. This 80 acres was bought from a man named Hite. Mr. Hite had once owned slaves and when they received their freedom, he gave each of them 40 acres to live and farm. They thought very well of Mr. Hite and were well treated. Some of this land joined Mr. Evans farm—only a road separated the properties. Mr. Evans said..."they were our neighbors and very nice people. The names of the Negroes who lived near us were Bob Taylor, Sam Mulkey, Moses Richardson, Miles Parks, and Elick/Alex Mulkey. They were elderly folks when I remember them...Sam and Elick Mulkey were widowers and had large families."
Going east from Mr. Evans toward Olean, there was a ¾ mile strip of land where three Negro families lived with the names of Smith and Webb. Bob Bush, a Negro, bought some land near there, too. In the small village of Olean lived Gene Lewis and probably more of the Smith family. 'Olean was full of Negroes around the turn of the century', wrote Mr. Evans.
Today, on the old Webb place, is a frame house that still belongs to some heirs and cannot be sold for some reason. The main house (original home) burned down and a small one was later built.
Across from the three houses mentioned, and 'up the timber', there was a Negro school house on the land Mr. Evans owns today. You can still find traces of these homes with some old stones that were used as foundations. The old school was in existence many years before Mr. Evans' family came to Miller County in 1904. In 1904, the Negro children attended a school ½ mile south of the Manning schoolhouse. It was located on the Samuel Mulkey place.
The house and barn formerly belonging to the Hite family, and where Mr. Evans lived in 1985, is very old and was built by slaves. Most of the construction of the home and barn was put together by wooden pegs and square nails. There was a big, two-story log house and another 1 ½ story building, which was also built of logs. In 1946, the bigger place was torn down the smaller place was pulled 'back in a field for a feed house'. In 1946, it was determined the building was 128 years old...built c/1818!
About 1980, a man and a woman from California returned to the home site and took pictures. On the last trip, they found an old doorknob and asked to keep it for a keepsake. They told Mr. Evans their grandfather once lived there. He did not remember the name of the couple who came to visit all those years ago.
Per Mr. Evans, the old schoolhouse for the black youngsters was located on the Lindy Adcock place. There is a homemade tombstone there that has the name Grandstill engraved on it. Mr. Grandstill was supposed to have lived to be almost 100 years old. There is a small graveyard 'just over the fence on my neighbor's place' and has been referred to as the Hite cemetery. Family members from the families of Hite and Taylor are supposed to be buried there. Some of their black slaves are buried there also. (Once there was a family or two in that same area named Grandstaff...I wonder if it could be the same family he mentioned as "Grandstill"?) Mr. Evans also wrote me the following information concerning the old Negro school...."There was some kind of a ruckus at the old school in years past. There was kind of a disagreement over something, but I couldn't find out what...there was some shooting, but no one was killed. The schoolhouse was burned down and then a lawsuit followed....this occurred between 1905 and 1910. A year or two later, another school was built on the edge of the Sam Mulkey and Bob Taylor places way back of the main road. It also burned down and then a third school was built on the road on the Sam Mulkey place. Part of it still stands today. The third school was taught by the wife of Otis Mulkey, who had been educated at Lincoln University, an all-Negro school in those years, located at Jefferson City.
Mr. Evans stated that some of his information came from Earnest Taylor of Olean. He was the son of Charlie Taylor and a grandson of Bob Taylor. Also he informed me two black women, descendants of some of these families, were still living in 1985. Myrtle Fowler lived at Versailles, Morgan Co., MO and Melma Lewis lived at Sedalia, Pettis Co., MO. Note: I do not know if these folks are still alive today (2005), 20 years after I heard from Mr. Evans...................
---
FROM SLAVE TO SOLDIER: THE STORY OF ISAAC ADAMS (1847-1902)
While researching Civil War discharge records at the Miller County courthouse, I came across the record of a young black man named Isaac Adams who had served as a Missouri Colored Infantry Volunteer. My curiosity took over and I decided to learn more of this young man who was black and served in the Union Army. What I learned, after receiving his war records from Washington, D.C., unfolded into an interesting story. The one mystery of this story is why he was discharged in Miller County and his records found there, because it appears he never lived in the county.
His story began in Callaway County, MO in 1847, the year of his birth to a slave woman. I could find no record of his mother's name, but his owner was a man named John B. Adams. In a "Claim for Compensation for Enlisted Slaves", John B. Adams made claim for compensation from the United States government for Isaac's years of military service stating..."this claimant obtained his title to him in the following manner---to wit: the said Isaac was born my slave."
Isaac Adams enlisted in Company D, 68th Regiment, U.S. Colored Infantry on March 1, 1864 at Jefferson City. He was 17 years old, stood 5 feet 3 inches tall and was listed as a mulatto. He was mustered into service at Benton Barracks, Missouri and spent the next two years fighting with this unit. During the months of May and June, 1864, Isaac was in the Camp Hospital in Memphis, Tennessee. According to his military records, this was the only time he was absent from his regiment. On February 5, 1866, he was discharged from service at Camp Parapet, Louisiana near New Orleans.
Evidently he returned to the home of his former owner, John B. Adams, in Calloway County and lived for awhile. From 1866 until 1875, there is no record of Isaac's whereabouts. On December 24, 1875, he married Harriet Henderson of Cedar City, MO (Callaway County). She was born in Callaway County in 1846. Isaac and Harriet were parents of seven children, Virgie born 1877; William b. 1879; Florence b. 1881; Ora b. 1883; Dona b. 1885; Nellie b. 1887; and Zepher b. 1889. Isaac and Harriet reared their children at Cedar City across the river from Jefferson City. In 1894, Isaac made application for a pension, due to a disability he acquired while in military service in 1864. There was an injury to his left hand with the middle finger bent to the palm. This may have been the reason he was in the camp hospital for two months in 1864. He also complained of rheumatism, lumbago, and stiffness to his right leg and both arms.
Isaac died in Jefferson City where they were living in June 1902. He left Harriet with the younger children to rear alone. She made application for a widow's pension after Isaac's death. Her friends, William and Millie Wilson of Cedar City, wrote an affidavit on her behalf stating she possessed no property except a few household goods and had no income except her daily labor of taking in washings for others. After much red tape, Harriet finally acquired a small widow's pension. She was receiving $30 monthly at her death in June 1927 at the age of 81 years. Harriet was a resident of Kansas City at her death and was probably living with one of her children since she had reached an advanced age.
I have the Civil War records and pension records of Isaac Adams and the file contains 27 pages. This is quite a large file compared to military records I have seen of other Civil War soldiers. Often very important and pertinent information can be learned from these old war records. The story of Isaac Adams, a young slave of Callaway County, MO, who served in the Union Army in the Great Rebellion and was discharged in Miller County, is one of those interesting stories from our past history that can be found in records, if only you take the time to research them.
---
DROWNING OF JAMES ALLEN
"Last Sunday evening (May 15), James Allen, a colored boy of 14 years, went to the Tavern Creek about 2 miles east of Iberia to go bathing. He got beyond his depth and was drowned".
I found this interesting news item in the old newspaper (The Miller County Vindicator, 20 May 1881 – Iberia Straws by Kitty) and it caused some curiosity on my part.....I wondered who James Allen was and decided to do some research to see if I could learn more.
I believe that James Allen was a son of Josephus Allen and his first wife, Stephanna Allen who lived near Iberia before and after the Civil War. They were married on December 2, 1866 by Charles Tallman, a Pennsylvania immigrant who was a justice of the peace in the Iberia community. Josephus was born in Kentucky in February 1831 and I tend to believe he and Stephanna were former slaves who were owned by members of the Allen family who came to Miller County from Barren County, Kentucky in the early 1840s with the families of Gardner, Bailey, Wheeler, Shackelford, and others........In the enumeration of slave owners, Elias Allen owned 1 female and 3 males in 1850; his brother Joel Allen owned 4 females and 2 males; and Isaiah Allen owned 1 female and 3 males......All lived in the Iberia community during those years.
Charles Tallman also performed marriage for other black couples in 1866 including William Lawless/Lollis who married Amanda Lawless/Lollis and Henry Lawless/Lollis who married Violet Lawless/Lollis. These couples had children that were born before their marriages and evidently decided to make their marriages legal when they received their freedom at the close of the Civil War. I would venture a guess that Josephus Allen and Stephanna also had children before they married.
James L. Allen is buried at Iberia Cemetery and his gravestone states he died 15 May 1881 at the age of 14 years, 9 months, and 27 days. In 1881, James may have been a student in the old black school that was located on an acre of land that was donated for a black school by James and Harriett Long in 1869. It was in existence for a number of years and was located near the old Mace school, west of Iberia. The foundation of the old school was still standing a few years ago in a field north of Highway 42, but has probably deteriorated by now.
I do not know when Stephanna Allen died, but Josephus married his second wife, named Tabitha, about 1877. I do not know if James was the only child of Josephus and Stephanna because I could find no record of them in any of the census records. By 1880, Josephus and his 2nd wife, Tabitha, were living near Iberia with 3 children in their household including James, Wallace, and Isabel.....Their neighbors included the families of Robertson, Benage, Foster, Brown, Moore, Hicks, Williams, Setser, and Drace.
By 1900, Josephus and Tabitha were living southwest of Iberia near the Condra families (Charles, Andrew, William P.), Seigel Keeth, E. D. Hays, James Ramey, and Francis West. In their home were 6 children including Otis b. 1881, Arthur G. b. 1884, Caty b. 1886, Polan D. b. 1891, Porter b. 1896, and Joseph b. 1900..........so according to this census, Josephus Allen was the father of 9 children including James, Wallace, Isabel, Otis, Arthur, Caty, Polan, Porter, and Joseph.
There have been legends handed down through the generations that the young black boy, James Allen, drowned in the Big Tavern Creek out east of Iberia. In the swimming hole where he drowned, it has been said there were undercurrents and a deep cave and he could not escape from the watery grave where he lost his life. There is no one alive today who could remember when this happened in 1881, but the age-old method of oral history has kept the story alive.....
---
THE ALLEN SLAVE LOG CABIN…Located on the Groff Farm near Iberia
Probably the oldest building still standing in the Iberia area and perhaps even the entire county is an old log cabin on the Robert Groff farm, east of Iberia. The cabin was the home of slaves, owned by the Allen family for many years before the Civil War. The name "Allen" was imprinted in the mortar used between the logs.
The probable owner of these slaves was Elias and Mary (Gardner) Allen, natives of Barren Co., KY. The Allen and Gardner families came to Miller County in the early 1840s and brought several slaves with them. Elias and Mary homesteaded east of Iberia so it can be presumed they owned the slaves who resided in the old log cabin.
In 1859, Elias was assessed by the County Assessor owning six slaves, valued at $1,950. In 1860, he owned five, valued at $1800 and in 1862 he was assessed $500 for five slaves. You can see how the Civil War era brought about a great change in slave ownership.
When Benjamin and Diana Groff, natives of Pennsylvania, came to Miller County, they bought some of the Allen land where the slave log cabin was located and where they still lived. Benjamin freed these slaves, but some stayed on and worked as hired hands for Mr. Groff. Benjamin was partially blind during the Civil War and after he returned home, he and the former slaves were cutting wood when a tree fell on Benjamin and he was killed. The hired man's name was Allen, a good friend of Mr. Groff. He had told Benjamin he would work for him as long as he was needed. Benjamin died on December 8, 1869, at the age of 37 years and was buried at Iberia Cemetery.
---
MARY E. BIRTHRIGHT
Mary E. Birthright died in Miller County in 1899. I found her estate records in old Miller County probate files. Mary was a black woman who was born about 1866 in Arkansas (per the 1880 census). She was the oldest of nine children born to Christopher and Julia Birthright, natives of Tennessee. I believe her mother's maiden name was Landers and she may have been a sister to Jacob Landers, who lived in the Iberia area at the turn of the 20th century. These families were probably former slaves since they were born before the Civil War.
The children of Christopher and Julia were: Mary E. Birthright 1866-1899 who did not marry; Frank Willis Birthright b. c/1868 MO; John C. Birthright b. c/1869 MO; Mahala Frances Birthright b. c/1870 MO; Samuel P. Birthright b. c/1873 MO; Thomas B. Birthright b. c/1875 MO; James Albert Birthright b. c/1877 m. Georgia A. Lollis in 1900; Jacob Rufus Birthright b. c/1879; and Charles Birthright b. after 1880.
In the 1880 census, they were living southwest of Iberia near the families of Lawless/Lollis, Whittle, Spearman, Thompson, Condra, Allen, and Wood. The Birthright family moved to Miller County (probably from Arkansas) about 1870. Evidently Julia Birthright died before 1896, because Christopher married a lady named Maria Christian in 1896, their marriage performed by Squire John Ferguson, Justice of the Peace.
In the probate records for Mary E. Birthright, the administrator of her estate was Jacob Landers of Iberia (her uncle). He signed the "Application for Letters of Administration" on 6 Feb 1899. On the application Jacob listed the known heirs of Mary E. Birthright who were: John Birthright (brother) of Laclede Co., MO; Albert (James) Birthright (brother) of Miller Co., MO; Rufus Birthright (brother) of the city of St. Louis; Charley Birthright (brother) of Howell Co., MO; and Frances Birthright (sister) of West Plains, Howell Co., MO.
The only member of the Birthright family still living in Miller County in 1900 was James Albert. He had married Georgia A. Lollis in early 1900 and they were living in the home of his uncle, Jacob Landers, near Iberia. Also in the Landers home was Hester M. Williams and her daughter, Violet. Jacob and Hester married in September 1900 and he helped to rear her child, Violet.
I do not know if Mary E. Birthright was buried in the Iberia area, but suspect that she was. In the probate records I found "paid" bills for a coffin, gloves, clothing, etc. She may be buried at Iberia Cemetery or possibly in Rankin Wright/Spearman Cemetery which was not too far from where the Birthright and Landers families lived. There is no record of her burial in inventoried cemetery records.
---
WILLIAM DRIVER, SR.AND HIS SON, WILLIAM 'BILL' DRIVER, JR.
In February 1995, I gave the following information to Bob Watson, a reporter for the Jefferson City Post-Tribune. He was writing an article about William "Bill' Driver for the Sunday edition of the News-Tribune. February is "Black History Month" and the newspaper wanted to write a story about Mr. Driver who died in 1985 at the advanced age of 104 years.
Rev. William Driver, Sr. was born in Jefferson City in 1859, the son of a slave woman named Amanda/Mandy Dixon. At an early age he was adopted by a black family named Driver and carried that name the rest of his life.
William Driver, Sr. moved to Laclede Co., MO in the early 1880's and located near the small town of Eldridge. He became a preacher in the Free Will Baptist Church and traveled around central Missouri as an evangelist.
About 1916, he moved his wife and children to Miller County and located southwest of Iberia near the Pleasant Hill community and the old Rankin Wright Cemetery. There was a house on the land at the time, but is gone today. 'Preacher' William (also called Bill) Driver was a well-known minister in our area as he traveled around preaching the Holy Word and playing loudly on his large drum.......
When he died in 1934, his funeral was held at the Iberia Nazarene Church, conducted by Rev. Otto Shearrer. He was buried at the Iberia Cemetery (per his obituary) but no stone marks his grave today.
William 'Bill' Driver, Jr. was born 8 Dec 1881. He was about 35 years old when he came to Miller County with his parents. He married Violet Williams in Miller County. She was a daughter of Hester/Esther Williams Landers.
Bill and Violet were parents of 6 daughters and one son. They lived on a farm in the same community where Bill's parents had moved in 1916. Their small home still exists today, remodeled to a larger size. It sat near the old Oak View Church on EE Highway about 3 miles southwest of Iberia. While there, they had a young child who died and was buried behind Oak View Church. For many years a small stone marked the child's grave but it disappeared. Eugene Keeth, of Iberia, hand-crafted a wooden cross and placed it at the child's grave a few years ago.
Bill Driver had the unique, God-given talent of a musician. He was very well-learned on the old country fiddle and during his lifetime he won many fiddling contests across the countryside. Often his first-place prize was $25 in cash.....He was much in demand at Saturday night dances where he played to the delight of his many admirers. Many times he was accompanied by the Howser sisters (Sadie and Sylvia) as they picked their flat-top guitars for lively dances. Bill and the Howsers (including Sadie and Sylvia's blind brother) often played at the local picnics held each summer at Hardy Lollis Park in Iberia.
Mrs. Edna Williams Irwin of Iberia, before her death in the early 1990s, told me that often her husband, Dr. Ray Irwin, would meet Bill Driver in Iberia at the Adams and Casey Store and they would sit for hours playing their fiddles in double harmony....Dr. Ray Irwin was a retired professor of history at New York University.
Bill Driver was a farmer and was always willing to help his neighbors during hay harvests, corn picking seasons, and butchering times. He was hired as a handyman around the farms because his neighbors knew he was a good and trusted helper.
I was told about an incident that happened once when Bill was hired by David Farnham Sr. to help bale hay on his farm. Bill was a little careless with his old pipe, which he had smoked for many years. He accidently caught some of the hay bales on fire....he was so taken back by what he had done, he just tossed his old pipe in the burning hay bales and never smoked again !
The seven children of Bill and Violet (Williams) Driver never attended school while in the Iberia area. Violet self-taught her children at home. She made a statement one time and said she educated her children in such a manner so others could respect and love them as much as she did..........
There was once a school for the black children located about 1½ miles west of Iberia. It was located only a quarter mile from the Mace country school. One school year the black school had 36 students and the white school (Mace) had 35.....By the time the Driver children were of school age, the black school no longer was in use. There was a law which required the schools to have at least 20 students in order to remain open. The Drivers were the only black children left in the area by then.
The Driver family of Richwoods township were well-respected by their neighbors....they were considered part of the neighborhood and considered as down-to-earth country folk.
In later years the Driver family moved to Centertown, MO (Cole County). The people of the Iberia area did not forget Bill Driver and his family. Eugene Keeth told me he respected Bill so much that he never called him 'Bill'. He was always "Mr. Driver" to him.
William 'Bill' Driver died at the age of 104 years in 1985 in Jefferson City. I had wanted to go visit him and talk about his years while living in the Iberia area, but by the time I requested to see him, his family said his health had deteriorated too much and he was not able to speak. Unfortunately he lost his eyesight during his last years of life and was quite incapacitated. I will always regret I waited too long to go visit with him..........
---
ABRAHAM FLOOD....A Wonderful Old Character Of Saline Township, Miller County, Missouri
(Taken from the old newspaper, THE MILLER COUNTY AUTOGRAM, 16 April 1908)
"County Court met here Monday to make some disposition of Abe Flood, an old colored gentleman, who until a few years ago was a resident of this county. He is about 100 years old and has become senile and weak minded and wants to wander about the county. He has children who would gladly keep him, but he won't stay anywhere very long. A few weeks ago the train on the Branch Road was barely stopped in time to have his life and on the return of the train that night he had to be dragged off the tracks again. The Court met here on Monday to find a place where he might be kept, but he is still confined in the jail. To pacify him, Sheriff Martin told him he was putting him in a "church house". After surveying the surroundings, the old darkey said, "Say, boss, I'se been in a good many churches, but I'se nevah seed beds in 'em before".
What a priceless story!....in the 1900 census of Miller County, Abraham Flood, age 70, and a widower, was living alone near the families of Sullens, Hackney, Stubblefield, Scott, Harrison, and Templeton in Saline township of northern Miller County. He was born in Kentucky in February 1820, so by 1908, when this episode occurred, he was actually 78 years of age and not "close to 100 years" as stated in the news item.
A lady once wrote me to say she remembered old Abe Flood. Maude Sullens Hoffman of Konawa, Oklahoma (now deceased), said she could remember old Abe so vividly and I will quote some of her letter....."I was born in 1904 and can remember my parents, brothers, and sisters having talked about Abe Flood so much. They told me that he rocked me to sleep many times in an old rocker mama kept in the yard in the summertime. He wasn't a slave because he roamed the country at will. (Note: By 1904, there were no slaves in Miller County). He wasn't a big man and he had white hair and was stooped with age. Mama sometimes would feed him when he came around and he would "mind" her little ones while she would wash and do other chores. He was a gentle person; loved the Lord; and would sing about Him as he roamed about."........What wonderful and delightful memories Mrs. Hoffman had of Abe Flood.
---
SLAVES OF THE HITE FAMILY OF SALINE TOWNSHIP, MILLER COUNTY, MISSOURI
Edward Southwood Hite and his wife, Mary R. (Butler) moved from Logan County, KY in 1855. They had 4 children at the time---John D. Hite b. 1834, Edward S. Hite b. c/1835, and Samuel H. Hite b. c/1837, and Elizabeth Jane Hite. They brought 2 slaves with them to Missouri. In 1855, Mary's brothers, Samuel H. butler, James C. Butler, and A. Wayne Butler, all of Logan Co., KY, deeded Mary the two slaves, to wit: "a negro girl named Lucy of black complexion and a boy six year old." Family members think perhaps her brothers gave Mary these slaves to take to Missouri because her husband was not well and he died within 2 years of coming to Miller County.
According to family history, the Hites freed the 2 slaves, but they remained with the family at their farm near Olean, Saline Township. According to records in the Assessor's office at Tuscumbia, the two slaves of Mary H. Hite were asses at $600 in 1859; $650 in 1860; and by 1862, they were only valued at $200---thus showing the effect of the Civil War. In 1862, there were still 61 slave owners in the county, down from 78 in 1860.
James C. Hite, brother to Edward Southwood Hite, married Mary Butler Hite's sister and they also came to Miller County with a number of slaves. James came to Missouri to sell some slaves in Independence but business was not very good so, with several of his slaves, he started back to Logan County, KY. He stopped off in Miller County to visit his brother and his wife's sister. He was impressed with the beautiful terrain of northern Saline Township, so decided to stay. They first lived in the Pleasant Mount area and later bought some land, which is owned today by Russell Evans. There is a family cemetery located on this land with members of the Hite family buried there. Legend says several slaves are also buried in the region, just outside the fence, with large fieldstones as grave markers.
In 1859, James C. Hite was the owner of 6 slaves valued at $3,000; in 1860 he owned 7 with an assessment of $3,300; and by 1862, the value of 8 slaves was only assessed at $450.
---
IBERIA CEMETERY---THE OLD AND THE NEW
by Peggy Smith Hake
The present cemetery at Iberia has been in existence for more years than most realize. Outside the south rock wall there is an old gravesite that has a tombstone and the name inscribed is Elijah Dyer. The Dyer family was among Iberia's earliest settlers. They came into the Big Richwoods in the late 1830s. Elijah Dyer was the son of Haman and Frances Dyer and died at early age. I have been told there are several graves in the cemetery area where Negro slaves were buried. I have not been able to definitely confirm this because all the people who would have had first-hand information are long gone. I have interviewed some of the older residents of the area and all have told me they have heard the stories of the slaves being buried there but did not know when nor where this happened. I decided to use the next best solution and try to do some research to see if I could come up with anything concrete............
There were several early families in the Iberia area who were slave owners according to assessments made before and during the Civil War years. These assessments are at the courthouse and the black people were assessed the same as the pioneer's livestock! It is difficult for me to comprehend all that occurred in those years and even more difficult to try to write about it.
Elias Allen came to Miller County from Barren Co., Kentucky in the early 1840s. He was born 24 Aug 1809, a son of Isaiah & Rachel (Brown) Allen. His parents, brothers, and sisters also came to Miller County. Elias married Mary Gardner January 6, 1842 in Miller County and she also was a native of Barren Co., KY. She came to central Missouri with other members of the Gardner family.
The Allen family was owners of several slaves and brought them to Miller County when they came here. In the 1859 Miller County assessment lists, Elias owned 6 blacks; his brother Joel Allen had 9; and their father, Isaiah owned 8 slaves. By 1862, after the Civil War had begun, the three Allen families still were slave owners but the value of each had been drastically reduced. Elias and Mary (Gardner) Allen bought land just south of the Iberia Cemetery and owned it all their lives. They donated an acre of land to the school district and the old Allen school was built on the site. It was the only school near Iberia for many years with the exception of Iberia Academy. After the Civil War the Allen slaves were given their freedom and some remained in the Iberia vicinity. There is a marriage in Miller County records for the marriage of Josephus Allen to StephenAnn /Stephanna Allen on December 2, 1866, performed by Charles Tallman. They were former Allen slaves.
Another early pioneer family who owned land in the general area of Iberia cemetery was Samuel P. and Mary Malvina Tucker. They also were slave owners. On August 31, 1858, the Tucker's conveyed a parcel of land "13 rods square" (one acre) to the Trustees of The United Baptist Church of Christ in the Big Richwoods. The trustees named were Reuben Short, James Bowlin, Paulin Gardner, Alvis Dunkin/Duncan, and William R. Right/Wright. In the deed it stated the land was "for the use and benefit of said Baptist Church for a place of public worship and cemetery for the use and benefit of the neighborhood and to be kept expressly for that purpose" A church was built on the land which is now part of Iberia Cemetery. I do not know how long the old church existed but do know local residents sometimes called it "Sulky Church" because of conflicts that arose from time to time within its membership and the attitude some showed toward others! In some old death records at the courthouse, I found some folks were buried in "Sulkey Cemetery" including: Walter F. Bilyeu d. 1884-3 months old; William I. Bilyeu d. 1888-18 years old; Frank B. Condra d. 1888 age 30; Henry Paulin/Paulding Gardner d. 1887-age 73; baby male) Gardner d. ? - age 12 days; Stella D. Trent d. 1886-age 10 months; George Long d. 1888-age 85; Charles Arthur Mace d. 1886--1 month old; Leonard L. Sclone/Slone d. 1884-age 3 years; and Pearl S. Skaggs d. 1886-age 2 years. Only three of them have gravestones----Henry Paulin Gardner, Charles Arthur Mace, and Pearl S. Skaggs.
The oldest graves in Iberia Cemetery are located on the north side toward Highway 42, easily visible as you enter the grounds. The earliest burial record in Barnhouse & Kelsay's Inventories at Iberia Cemetery was in 1868. Many people died over the next three decades of the 1870s-80s-90s and were interred at Iberia Cemetery.
The Tuckers and the Allens, who were landowners in the cemetery area in the 19th century, are buried in Iberia Cemetery so they did not leave Miller County but remained in the Iberia community until their deaths.
Elias Allen 1809-1821 Samuel P. Tucker 1817-1896
Mary Allen 1821-1894 Mary Malvina Tucker 1822-1884
One can only speculate now about slaves being buried in unmarked graves at the site of the old church and original burying ground of Iberia Cemetery. Knowing that both the families of Elias Allen and Samuel Tucker owned several slaves and both were land owners in the cemetery area, I am left with the assumption that one or both families may have buried their Negroes at Old Iberia/Sulkey Cemetery....As with the identity of the Unknown Soldier at Arlington National Cemetery, only God knows for sure......
---
ESTHER E. WILLIAMS
Esther E. Williams was born 25 Feb 1853 near Mayfield, Graves County, Kentucky and died at her home 1 ½ miles southwest of Iberia on 9 March 1916 at the age of 63 years.
Esther was a black child, born to her slave mother, Chaney Williams, who was owned by the John Williams family of Kentucky. In an old Williams family bible, another child is listed born to Chaney, a boy named Harrison. Nothing more is known about the son, Harrison. He may have died as a child. The Williams family came to Missouri and settled near the Glaize/Richwoods township lines in southern Miller County circa 1855. Chaney, mother of Esther, was living in an old log cabin built for her by the Williams family and located on their land. Chaney died sometime prior to 1880 because Esther was living with the John Williams family in the census of 1880. Both Chaney and Esther lived in the old, one-room log cabin over the years of the 19th century.....Today the slave log cabin is renovated and sitting on the grounds of the Miller County Historical Society Museum in Tuscumbia.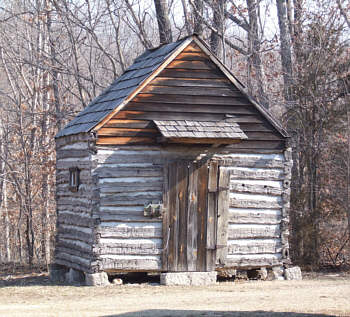 In May, 1887, at the age of 34 years, Esther had a child whom she named Violet Mae. By 1900, Esther and Violet were living southwest of Iberia in the Jake Landers home. She was enumerated as a servant in the Landers residence. Jake Landers was a black man who was living in the Iberia vicinity. On September 6, 1900, he married Esther Williams. Next door to them was Sarah (Patrick) Lollis with four of her ten children still living in the family home. Sarah/Sally was the widow of Lewis Frank Lollis, also a black family. Frank and Sally were the parents of Walter Lollis, who lived in Iberia all his life I remember Walter and his wife, Josie, so well as I grew up in Iberia.
Jacob/Jake Landers was born in March 1851 in Tennessee but I can't find the date of his death nor his burial place although I am sure it is in the Iberia area. In the 1900 census there is a young couple living in the home of Jake and were listed as his nephew and wife. They were James Alfred Birthright and Georgia (Lollis) who were newlyweds.
Esther's daughter, Violet Mae, married William A. Driver, Jr. on September 27, 1907. They continued to live southwest of Iberia near the old Oak View Church of Christ for many years and reared a large family. Eventually the Driver family moved to the Jefferson City area where descendants of their family still reside.
Esther Williams Landers died 9 March 1916, a couple of weeks after reaching her 63rd birthday. According to her obituary, she was buried at the Iberia Cemetery but she is not listed in the inventory of burials. Since she is at Iberia Cemetery without a headstone, then perhaps Jake Landers is also buried there beside her. It is thought by the Williams family descendants that Esther's mother, Chaney, is buried at the Williams family cemetery on the old family farm.
In Esther's obituary was a beautiful memorial written to her memory. It stated..."Esther was a devoted wife and mother and ever ready to aid the sick and afflicted. Beloved by all who knew her, both black and white, she always extended a helping hand. No one was ever turned away from her door. She was widely-known and loved by all people of Richwoods Township."
---
THE LAWLESS/LOLLIS FAMILY
I have a copy of "The Iberia News", printed by the late Wm. Freeman Jones, dated 29 Oct 1960. On page 3 was the following headline..."William Lollis Dies". Sgt. William Lollis, a 50-year veteran of the U.S. Army, died at Junction City, KS on 15 Oct 1960. The article said he was a son of 'Long' Frank Lollis and a brother to J. Walter Lollis of Iberia.
Sgt. Lollis was a black man, a descendant of slaves who were brought to Miller County before the Civil War. His ancestry can be well documented in Miller County's history. His grandparents were Wm. Lawless (1824-1898) and Amanda Lawless (1832-1874) who lived in the Big Richwoods before the Civil War. They were parents of several children but did not marry until they were freed from slavery. Charles Tallman, Judge of the County Court, performed their marriage on 3 Feb 1866 and then performed a marriage for William's brother, Henry Lawless and his wife, Violet, a month later on 4 March 1866.
I believe another brother was Hardy Lawless who married Elizabeth/Bett Schell, a daughter of slave parents, Frank and Ester Schell of Iberia. Amanda died in 1874 leaving William with several young children. He lived until 1898 and both are buried in the Iberia Cemetery. Their children were Frank, Mary J., Lucretia, Zebedee, Everett S., Susan, Thomas, George, Martha, Newton N. and Isabelle.
Lewis Frank Lawless (later changed to Lollis) was the oldest son of William and Amanda and he was born in 1850. He married Sarah Patrick in Miller County in February 1876, the same year his mother died. Sarah seems to be more of a mystery.....she appears in the 1870 census living in the home of William and Sarah (Tucker) Burks and probably was their hired help. Rev. Samuel O. Burks performed her marriage to Lewis Frank Lawless in 1876. Her age is uncertain also, ranging in birth years anywhere from 1848 to 1860!
When Sarah/Sally Patrick married Frank Lawless/Lollis, she had a 4-year old daughter named Ellen Moore, born 1872, listed as a mulatto. As the years went by, in the late 19th century, eleven more children were born to Frank and Sally Lawless/Lollis including Rosa B. 1877; Elcy M. 1878; John Walter 1879; Edgar Lonzo 1886; May 1890; Bessie Myrtle 1892; Thomas F. 1898; Josephine/Josie, William/Bill; and evidently two other children died in infancy.
In the 1900 census of Miller County, Sarah/Sally Lollis is listed as a widow. There are no burial records for Lewis Frank Lollis (known as 'Long' Frank), so one has to presume he died prior to the enumeration of the 1900 census of Richwoods Township. Sally and her family lived on an 80-acre farm near the old Iberia-Faith road running southwestward from Iberia to the Faith community which was once a trading post owned and operated by Jim and Mildred (James) Wall. Some of Sally's neighbors were the families of Wall, Adams, Mace, Landers (a black family), Driver (a black family), Loveall, Whittle, Keeth, Johnson, Arnold, Haus, Condra and Hayes.
Since there is no record of Sally's burial place, it is probable she and Lewis Frank are buried with other Lollis family members in the Iberia cemetery....or they could be in an old country cemetery near where they lived called "Rankin Wright Cemetery".
A grandson of William 'Bill' Lollis, who lives near Washington D.C., is researching material to write a history of his Lawless/Lollis family. I heard from him on several occasions a few years ago, but have not had any correspondence from him for quite a few years now.
---
OBITUARY OF JOHN WALTER LOLLIS,
Son of Lewis Frank Lollis and Sarah/Sally Patrick.
John Walter Lollis was born at Iberia on November 19, 1879 (his obituary said 1873, but his parents had not married yet at that time and in the 1900 census he is listed as born in 1879...also on his tombstone, his birthdate is 1879). He was a son of Frank and Sally (Patrick) Lollis and a grandson of William Lawless/Lollis and Amanda Lawless/Lollis.
John Walter married Josie Duke in Iberia on March 6, 1906, the marriage performed by Peter J. Whittle, justice of the peace in Richwoods Township. In the Miller County inventoried marriage records, Josie's name was given as 'Josie Clark', but I do not know where that name came from.....Josie was born in Howell County, MO near West Plains about 1883. She had kinfolk in the Iberia area with the surname of Arrington. I would venture a guess she came to Iberia to be near her sister who had married Mr. Arrington.
Walter Lollis died in Iberia on 15 Feb 1956. He was survived by his wife, Josie. They never had any children so his lineage of the Lollis family stopped with his death. He was also survived by a brother, William Lollis of Junction City, KS; two sisters—Josephine/Josie (Lollis) Walker of Kansas City; and May (Lollis) McKensie of the state of Nevada. His funeral services were held at the Iberia Nazarene Church with Rev. Don Tyler conducting the services. Walter was laid to rest at Iberia Cemetery. Josie lived a number of years after his death....she died in August 1965 and was buried beside Walter at Iberia Cemetery.
---
LETT-CALIMAN FAMILIES

Miller County, MO census 1880------Glaize  Township:
 Family #66--CALIMAN, 
Nelson          50  OH  MD  MD
Deborah         43  OH  OH  MD
Willis E.       17  OH  OH  OH   
m. Florence L. Lett 2 July 1893 in Miller Co., MO
Chas.           12  OH OH  OH    
m.  Fannie L.________________
 
Family #67--LETT, 
Henry J.        20  OH  OH  MD
Lucetta         25  OH  OH  MD
Henry Jackson Lett m. Lucetta Caliman 5 Oct l879 in MIller Co., MO
 
Family #68--LETT, 
Moses           56  OH  MD  MD
Mary            42  OH  OH  OH
Siegle          18  OH  OH  OH  
m. Mary E. Reynolds 22 Feb 1885 in Miller Co., MO
Aquilla         16  OH  OH  OH 

Mary E. 11  OH  OH  OH  
m. Thomas Hues (of Cole Co., MO)  2 Jan 1886 in Miller Co.
Leander 9  OH  OH  OH
Benjamin        8  OH  OH  OH
Amanda  6  OH  OH  OH
Nelson          1  OH  OH  OH

1900 Miller County Census------Glaize township
Family #34--LETT, 
Charles S.    b. Jan 1865   m. 11 yrs.  Mich.  OH  OH
Emma C.      b. Feb 1867, 3 of 4 ch. living   OH  OH  OH
Stanley                 Oct 1889
Effie           Jun 1891
Ella M.         Feb 1893
NOTE:  Charles Lett m. Emma C. Johnson in Miller Co., MO 12 Jun 1889

Family #81--CALLMAN, 
Willis E.       b. Nov 1863   m. 7 yrs.        OH  OH  OH
Florence L.     Mar 1873, 2 of 3 ch. living   Mich. OH  MO
Blanche O.      Mar 1897
Ruby            Jan 1900
(son, Frank  1894-1896)
LETT, Emmanuel        b. Mar 1834  Widower   OH  MD  MD  (father of Florence)
Note:  I think his wife was Mary J. Lett (1837-1896--buried Gott Cemetery, Glaize Township)

Family #116—CALIMAN, 
Nelson C.       b. Apr 1830   m. 45 yrs.               OH  MD  MD
Labora(Deborah)        Aug 1836,  2 of 4 ch. living    OH  OH  OH

Family #117--CALIMAN, 
Charles L.      b. Aug 1867   m. 10 yrs.   OH  OH  OH (son of Nelson)
Fannie L.       Mar 1867   4 of 4 ch. Living
James G.        Aug 1890
Bessie          Jul 1892
Charles Jun 1895
Annie           Oct 1896

GOTT CEMETERY
Glaize Township, located on Highway C between Ulman and Brumley, MO

 CALIMAN, Nelson        23 Apr 1829-18 Jun 1915
               Deborah Ana   21 Aug 1836-24 May 1914  (wife of Nelson)
               Frank, son of Willis & Florence    1894-1896

LETT, Margaret J., d/o E. & L.              12 Aug 1857-14 Nov 1886
            Lusetta, w/o H. J.   (Aged 25 y 5 m 11 d)  d. 27 Jul 1881
               (Lucetta Caliman m. Henry Jackson Lett in October 1879--she may have died in childbirth)
            Mary J., w/o E. (Emmanuel?)    25 Dec 1837-31 Dec 1896

---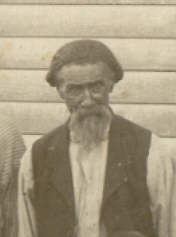 Emanuel Lett
From Peggy Hake's notes:
A lady in Idaho contacted me in 1998 about her Lett family. She informed me that Seigel Lett and his family moved to Nowata County, Oklahoma. Emanuel Lett also appears in the 1910 census of Nowata Co., OK He was 77 years old and was living with his daughter and family, Florence (Lett) and Willis Truman-----Actually Florence married Willis Caliman in Miller County 2 July 1893. I don't know where the name Willis Truman came from According to Betty Rogers (of Idaho), Emanuel Lett was a younger brother to Moses Lett who was the great grandfather of Betty Rogers. Her name and address is:
I do not know if you are African-American, white, or mixed blood because I do know that the Lett families who lived in Miller County were black. I have also been told the Caliman family was also black. Perhaps you can enlighten me on your family history so I can more accurately write about them. I have a picture of old Civil War soldiers taken at Brumley, (Glaize township, Miller County), in the early 1900s. It had to be taken between 1900 and 1910 because Emanuel Lett is in the picture and he was in Nowata Co., OK in 1910. He was most assuredly a black.
I would appreciate very much any information you can send me about the Caliman/Lett families because they came to Miller County together from Ohio (Perry County) and lived here for several years in Glaize Township.
---
AUNT ADELINE RAY-----Slave Woman Who Lived For 110 Years
I was able to write the following story after reading a newspaper clipping which outlined the life and death of a Central Missouri lady who began life as a slave on a Virginia plantation. The news item was printed in a Miller County newspaper in 1920. It was given to the local newspaper by Dr. W. M. Scott of the Boonville area. Adeline Ray, a former slave woman, was owned by both Dr. Scott's father and grandfather. The original clipping was printed in a Boonville newspaper. This story certainly gives one a glimpse through that 'window to the past'...........
Aunt Adelaide Ray died in Sedalia, Pettis County, MO on April 8, 1920 and was probably the oldest person in Missouri at that time, being almost 110 years old. Aunt Adeline, a former slave woman, made her home with her youngest son, Anthony Ray, age 60, in Sedalia. She was taken back home to Cooper County, MO for burial in a cemetery near the small village of Speed, MO, a few miles south of Boonville.
Aunt Adeline was born in Virginia on 2 June 1810 and was brought to Missouri in 1850 by Robert Scott. Following the close of the Civil War, she moved to Cooper County, MO and lived with the family of John Allison on Lone Elm prairie. By this time, she was almost 60 years old when she received her freedom. A few years later, she moved to the area called Speed in Cooper County and late in life moved back to Sedalia to live with her son.
Her husband, George Ray, died in 1861 and she lived the life of widowhood for almost 60 years. She and George were parents of seven children and she outlived them all except the youngest son, Anthony, whom she must have bore rather late in life. Aunt Adeline was described as a "rare old character, deeply religious, and extremely kind to all whom she came into contact."
What a marvelous lady she must have been as she lived through 110 years of American history. When she was born in 1810, James Madison was serving as America's 4th President and when she died in 1920, Woodrow Wilson was in office, our 28th President! She lived to see the War of 1812, the Seminole War, the Mexican War, the Civil War, the Spanish-American War, and World War I.....what a legacy she must have left her descendants...........
---
GEORGE WASHINGTON "MOSES" RICHARDSON
George Washington 'Moses' Richardson was born in Miller County about 1850 and died at the age of 90 years in November 1940. George, called Moses, was a black man, probably born a slave to the Richardson family of Saline Township in Miller County. I am not sure but I suspect Moses was one of the five slaves owned by James M. Richardson in 1859. In Miller County records, James Richardson's 5 slaves were valued at $2400 per the assessor's books. At one time James and Frances (Stephens) Richardson, their seven children, and five slaves lived in the Tuscumbia area before the Civil War.
On July 5, 1884, at the approximate age of 34 years, Moses Richardson married Lucinda Hite, the marriage performed by Benjamin D. Roark, a justice of the peace.
Over the years they became parents of several children including:
Elmer L. Richardson b. August 1885
Ida M. Richardson b. August 1887
Roy Washington Richardson 1890-1956
Stella F. Richardson b. March 1892
Ora H. Richardson b. August 1894
Myrtle J. Richardson b. c/1898
Before 1900, four other children had died in childhood or infancy, so Lucinda had bore 10 children by the 1900 census.
In the home of Moses and Lucinda during the 1900 census was her mother, Harriett Hite, a widow, who was born in Kentucky in April 1837. Three of her nine children were still living in 1900 including Lucinda. Some of the neighbors of Moses and Lucinda at the turn of the century were Joseph Adcock, William Milburn, Samuel W. Parks, John W. Currence, Walt Uptegrove, Samuel Mulkey and Andrew Brockman.
In researching the area where Moses and Lucinda resided, I learned they lived about 4 miles west of Olean and owned 40 acres. On an old 1905 map of Saline Township, Moses' 40 acres of land laid just a short distance west of the old Jefferson City-Springfield road and faced what is today State Route OO. Along a two-mile stretch of country road lived the families of Miles Parks, Sam Mulkey, Alex Mulkey and other black families with the surnames of Bush, Smith and Taylor. There was an old school near the properties, which served as a school for the black children during those years. Green Ridge Baptist Church was located just a short distance northeast of these families and today several of those various family members are buried in the older section of the Green Ridge Cemetery.
When George Washington 'Moses' Richardson died in November 1940, his funeral services were held at the Olean Negro Baptist Church and he was buried in Green Ridge Cemetery near his home. I do not know if he has a tombstone there because his burial site is not recorded in the inventoried cemetery books I have, nor is there a record for his wife, Lucinda (Hite) Richardson.
NOTE: The Olean Negro Baptist Church was organized c/1873 and was called "Mt. Zion Colored Baptist Church at Olean" when it was begun. Rev. Gilbert Balance, a pioneer black Baptist preacher from Kentucky, helped to organize this old church for the black residents of the Olean community. By 1889, the church had 48 members on their membership rolls and they had constructed a good frame building for their worship services. During those years it was a member of the North Missouri Baptist Association.
---
ALEXANDER SHELL
Alexander Shell (spelled Schell in some records) was born in Arkansas on March 2, 1850, the only son of Frank and Esther Shell. Frank was born in Tennessee c/1830 and Esther was born in February 1822 in Tennessee. I would imagine the Shells were both born into slavery and, at times, accurate birth and death records were not kept for slaves. The three known children of Frank and Esther were born in Arkansas.
The children were
Alexander Shell 1850-1901 m. Tabitha/Bythia_____
Elizabeth/Betty Shell b. c/1860 m. Hardy Lollis
Frankey Shell b. 1863 m. _____ Harden
Frank Shell died in 1876 and left Esther with the three children to rear alone. They were living in the Iberia area at that time, having come to Miller County from Arkansas after the Civil War.
Alexander married Tabitha/Bythia _____ Oct. 24, 1879, but I could find no record of their marriage in Miller County. They settled down in Iberia where they reared their children. The Shell family was landowners in the town, owning a small parcel near the old Iberia Academy. The log cabin they lived in would one day become a part of the campus of the Iberia Academy and the cabin would be used as a spinning and weaving classroom.
Alexander and Bythia produced seven children but four died in infancy. The three surviving children were:
Lucretia Shell b. June 1882 m. William L. Brisco in 1903
Hugh E. Shell b. Sept 1888
David E. Shell b. Feb 1895
Most of the Shell children eventually moved away from Iberia and relocated in Jackson County, Missouri in the Kansas City area. NOTE: Lucretia Shell married Wm. L. Brisco in 1903 and the following passage is found in the book, IBERIA ACADEMY AND THE TOWN, IT'S HISTORY (by Peggy Smith Hake), page 47…"the Negro population of Iberia in the 1880s held their worship services as often as possible. They had to depend on a transient preacher to come through the area to conduct a Sunday service and sometimes one could stay long enough to hold an old-fashioned revival in the old log schoolhouse one mile west of Iberia. There was an old Negro minister called 'Preacher Brisco' who frequently passed through the area and one night, in 1903, he preached a sermon to the white folks at the Baptist Church:…This is probably William Brisco (or a son) who married Lucretia Shell in 1903.
Alexander Shell, only son of Frank and Esther, died Aug 5, 1901, at age 51. Surviving Alexander was his wife, Blythia/Tabitha, and three children. I believe Tabitha Shell was married again in 1904 to a man named Isaac Fowler.
Alexander's funeral was preached by Rev. William Driver from Eldridge, Laclede County, Missouri. The services were held in the "Darkey" schoolhouse (per the newspaper report)…I am sure the schoolhouse mentioned was the old school built for the black children in 1869 and was located about a mile west of Iberia near the old Mace School… At the same time, Rev. Driver also preached a funeral service for "Aunt Esther Shell" who had sometime earlier. She was Alexander's mother. I am not sure if Alexander and Aunt Esther are buried at Iberia Cemetery because there is no record of their graves in the inventoried cemetery book of Miller County (published in 1972).
NOTE: Rev. William Driver and his family moved to the Iberia area in 1916 and settled on a farm about three miles southwest of Iberia.
---
DEATHS OF BLACK/ 'COLORED' RESIDENTS OF MILLER COUNTY, MO IN THE 1880s
Taken from a book at the Miller County Courthouse called "Births and Deaths 1883-1890"
( BIRTHS ARE ALSO RECORDED IN THE SAME BOOK MENTIONED ABOVE........AT THE END OF THE DEATH RECORDS, I HAVE INCLUDED THE BIRTHS OF SOME BLACK CHILDREN DURING THE SAME PERIOD OF 1883-1890)
DATSON/DODSON, Emily (black)...female...age 79...d. 22 Sept 1885...widow died of hydrothorax....b. c/1806 North Carolina.....She had been a resident of Miller County for 51 years (c/1834).....Buried at Mt. Vernon Cemetery, Saline township...........Emily Dodson was in the 1880 Miller Co. census living in the home of Hiram and Nancy J. Brockman. Nancy was her daughter. According to census records, Emily was 81 years old (b.c/1799 North Carolnia). If that is true, her age at death was 86 years, not 79.
BIRRY/BERRY, Minnie (black)...female...age 30...housewife of African descent..... d. 24 Jul 1884...b. c/1854 Cole Co., MO....cause of death was phthisis pulmonalis (some type of lung disease)....buried Cole Co., MO...no cemetery listed I believe Minnie Berry was the wife of Henry Berry, born c/1855, a son of Martha Berry. During the 1880 census, Henry and Minnie were living in Saline township near the family of Hiram and Nancy Brockman. Minnie was 24 yrs. old and had one child, Amanda, age 10 months.
BROCKMAN, Gabriel (black).....male...age 16...farmer....d. 11 May 1885....he was single....c. c/1869 in Missouri...cause of death was phthisis pulmonalis (lung disease)....buried Mt. Vernon Cemetery, Saline township........Gabriel was a son of Hiram & Nancy J. (Dodson) Brockman and a grandson of Emily Dodson (listed above). He was one of several children born to Hiram and Nancy including Aaron, Alexander, Lewis, Andrew, James, Squire, & Eliza J.
HICKORY, Della D.E. (black)...age 1 year...d. 28 Jul 1885 of cerebral menigitis... born c/ 1884 Miller Co., MO....buried Moniteau Co., MO..no cemetery listed. I could find no further information on this child through census or birth records. I do not know who her parents were.
HICOX, _______ (black)....female...age 25...married......d. 1 May 1885 of phthisis plumonalis (lung disease).....b. c/1861 Cole Co., MO....buried Porter Cemetery (I do not know if this cemetery is in Miller County or a surrounding county) No further information found for this female. Could not find the name Hicox in Miller County records.
LEE, William (black)....age 14....laborer....single....d. 15 Jul 1885 of tuberculosis b. c/1871 in Cole County, MO.....buried at Porter Cemetery (location not known) No further information found for this young man.
MULKEY, David (black)....age 24....farmer....single....d. 24 May 1885 of phthisis pulmonmalis (lung disease)....b. c/1861 in Miller Co., MO....buried at Mt. Vernon Cemetery, Saline Township................In the 1880 census of Miller County, David Mulkey was found living in the home of a woman named Susan South. Also in the home was Samuel Mulkey and 2 young children with the surname of Ballance.
WILKES, Saphnonia/Sophronia (black)....age 8 years....d. 20 Nov 1886 of typanic abcess (abcess of the ear).....b.c/1878 in Miller County....buried at Hite Cemetery in Saline Township........Sophronia was a granddaughter of Violet Wilkes Meador/ Meadows. In the census of 1880, Sophronia was one of 10 grandchildren living with Violet ! ! Actually she was listed in the census as "Frona Mulkey", age 2 years old.
---
RECORD OF BIRTHS FOR BLACK CHILDREN FROM 1883-1890 RECORDED IN THE OLD BOOK AT THE MILLER COUNTY COURTHOUSE........
BERRY, Cora Mae---dau. of Eva Ann Berry ( no dates given)
LAWLESS, Missouri---b. 5 Jul 1886........dau. of Hardy Lawless/Lollis age 52 b. KY and Bett Shell, age 27 b. ARK.........
PARKS, Anna Gertie--b. 25 Oct 1883...dau. of Miles Parks, age 28 B. Moniteau Co., MO and Harriett Clayborn, age 26, b. Cole Co., MO
ROBERTSON, William Erwin....b. 6 Feb 1890....son of Frank Robertson age 23 of Moniteau Co., MO & California Brockman age 26 of Cole Co., MO
SHELL, Ollie---b. 23 Jun 1886...dau. of John Lawless/Lollis age 25 Miller Co. & Frankey Shell, age ____of Miller County
WEBB, male---b. 30 Sep 1890---son of Riley Webb age 28 b. Dent Co., MO and Mary Ann Webb age 25 b. Cole Co., MO
THIS INFORMATION DOES NOT APPEAR IN THE BOOK AT THE COURTHOUSE BUT WAS FOUND IN AN OLD 1881 NEWSPAPER CALLED "THE MILLER COUNTY VINDICATOR" James L. Allen, a colored boy of 14 years, was drowned in the Tavern Creek about 2 miles east of Iberia (he died 15 May 1881). He is buried at Iberia Cemetery. He was a son of Josephus and Stephanna Allen of Iberia (former slaves of the Elias Allen family from Barren County, KY).