Surnames Beginning With 'T'
---
LAMONT TALLMAN
Lamont Tallman was born in Miller County 22 November 1876. He was a son of Robert Thomas Tallman and Jane (Brown) Tallman who were both natives of Lycoming County, Pennsylvania. The Tallman family lived in White Deer Valley near Williamsport before coming to the Big Richwoods of southern Miller County. The paternal grandparents of Lamont were William and Susan Tallman and his maternal grandparents were Matthew and Nancy Brown, all Pennsylvanians by birth.
I believe Lamont was the only child of Robert T. Tallman. In 1882, at the young age of 29 years, Jane Brown Tallman died and two years later Robert Tallman married Mary L. Miller in Miller County. I found no other children listed for Robert and his 2 wives except for Lamont who was born in 1876.
Lamont Tallman married Isabelle F. Allen in Miller County in August 1906. She was a daughter of Robert G. Allen and Mariah (Tallman). Lamont and Isabelle were third cousins. Isabelle was named for her grandmother, Isabella (Brown) Tallman, wife of Charles Tallman.
Lamont and Isabelle were parents of three children:
1. Carl Tallman 1907-1979
2. Robert A. Tallman 1911-1972
3. Mamie Tallman _________
Lamont, Belle, and their oldest son, Carl, were living in Crocker, Pulaski Co., MO during the 1910 census. According to the census report, Lamont was a retail salesman and I believe he was working at the James L. Hoops and Sons mercantile store in Crocker at that time. He worked for the Hoops' Store for 22 years before his death. After Belle died in 1913, Lamont and the 3 children lived in the home of William D. and Mary Anderson. William was a miller in Crocker during the early part of the 20th century.
Lamont became a member of the Crocker Christian Church and it was there his funeral services were held in April of 1931. He died at the age of 54 years and was laid to rest in the Crocker Cemetery beside his wife who had passed on 18 years earlier. His services were conducted by Rev. Charles Moneymaker and according to his obituary, "his was the largest funeral ever held in Crocker with approximately 800 persons attending".
---
DAVID PRESTON TAYLOR
The MILLER COUNTY AUTOGRAM, dated 25 Jun 1885, printed an interesting article entitled "Almost a Centenarian". This old newspaper, printed over 120 years ago featured a story about one of the oldest citizens in the Eldon area, David Preston Taylor. The following is a short account given about 'Grandpa Taylor'.
"Perhaps the oldest resident living in Miller County is David Preston Taylor, who resides northwest of here (Eldon). Grandpa Taylor is a native of Virginia; born 15 Dec 1791. He is now approaching his 94th birthday. He served in the War of 1812, being 21 years old when that war began, was a brave soldier, received an honorable discharge and is now a pensioner, one among the few survivors of that long-ago conflict.
He married Ms. Anna Moore in his native state on 17 June 1817. Grandpa Taylor moved to this county in 1832 and settled the farm which he yet owns. He was 41 years of age, well along in middle life, when he came here in 1832, 53 years ago! Miller County was not christened at that time but was included in Cole County which extended south to the Osage River. Although he almost 24 years ago passed the three score and ten allotted to man, Grandpa Taylor is remarkably well preserved and vigorous, as much as the ordinary man of 65 or 70 years. He walks about his son's farm daily; visits the neighbors and occasionally takes a ride on horseback. He is a man of remarkable intelligence. He has a good memory, well stored with the experiences and incidents, local, state, and national, reaching back almost ten decades.
Washington had served but two years as his first residential term at Grandpa's birth. At the election of John Adams, 6 years later, he was large enough to swing his cap and shout for his favorite candidate and we presume that was John Adams. He was 16 years of age when Fulton launched his first steamboat on the Hudson in 1807. He was a middle-aged man when railroads came into general use; was 53 when Morris operated his telegraph between Baltimore and Washington, and was a gray-haired man when the Mexican War broke out.
When he came to this county and for years afterward, there was no post office nearer than Jefferson City and, at 25 cents for a letter, the price of postage then, it took 2 or 3 bushels of corn, a days wages, or 20 pounds of pork to pay for a single letter! Grandpa Taylor has always been a temperate, moral, Christian man. He never indulged in strong drink and has never used tobacco, and has been a member of the Baptist Church from childhood. He has always been an industrious, frugal man and a quiet, law abiding citizen. He has 7 children now living, most of whom live in this county. What a hallowed joy, what a fullness of honor these words convey to one deserving them; and no one can be more truly said of than Grandpa Taylor."
There were so many wonderful, historical facts printed within the lines of that story so I decided to try to learn more about the old gentleman and his family........
David Preston Taylor was born in Virginia 15 Dec 1792 (the story say 1791 and his tombstone says 1792). In 1817, per the story, he married Anna Moore in Virginia. I believe Anna was a native of New Jersey, born there 12 Jun 1795. It appears the Taylor and Moore families traveled to central Missouri together in the same wagon train. Most families came west in large groups and settled in the same general regions. The early 1830s was the beginning of an influx of pioneers who came over the Allegheny Mountains of Maryland, Pennsylvania, West Virginia, and Virginia, and ventured westward to the new state of Missouri. The Taylors and Moores were among the county's earliest settlers and land buyers. The land they settled in the early 1830's, was Cole County since Miller County was not established until February 1837. Some early neighbors of these families were Alfred M. Houston, Edmund Wilkes, Richard Wilkes, Flemstead Adcock, Samuel Dresser, Louisa Nolen, Elijah Spence, James Hix, Robert Shipley, Wyatt Stubblefield, Ebenezer Vernon, Samuel Gilliland, Charles Swanson, Samuel Etter, Josiah Turner, and Esom B. Dooley. All were early settlers of Saline Township, most having patented their lands in the 1830s.
In the 1840 census of Miller County there were four families of the Taylor clan living near each other in Saline Township. Included were David P. Taylor, his wife Anna (Moore), 3 sons and 2 daughters.
The sons were Bailey W. Taylor & wife, Delilah, with their 2 sons and 2 daughters; Joseph D. Taylor & his wife, Judith (Adcock), 3 sons and one daughter; Joseph D. Taylor & wife Lemisy (Seat) with 2 sons and 1 daughter......I believe David, Joseph, and Bailey were brothers, all natives of Virginia. Living in the same general area of Saline Township was Melon/Melton Moore his wife Nancy, 3 sons and 6 daughters. Melon Moore was a native of New Jersey, born circa 1789. I think he was an older brother to Anna Moore Taylor because she named a son Melon M. Taylor.
The Taylor families were slave owners and brought several Negroes to Miller County from Virginia. In 1840, David Preston Taylor owned 8 slaves; Bailey W. Taylor had 7; and Joseph Taylor was enumerated with 2 slaves. When Bailey died in 1855, he owned 9 slaves and they were divided and sold from his estate. The courts awarded his widow, Delilah, 3 slaves for her dower. She received a 17-year old girl named Emily with a small child and a 9 year old boy named James. Their value, before the Civil War, was $1600, but by 1862, when the war was raging across the countryside, the value had dropped to $400. At the end of the Civil War, David Preston Taylor owned 4 slaves. I do not know if they remained in the area near the Taylor family or ventured elsewhere to establish a new life.
David and Anna (Moore) Taylor had at least 7 children and perhaps more. There were seven who survived their father when he died in 1890. The children were:
1. Peter Taylor b. c/1819 m. (1) Martha Shipley (2) Sarah Meador
2. Berry Taylor b. 1830 d. 1892 m. (1) Amanda Taylor (his cousin) (2) Julia ____________
3. Melon M. Taylor b. c/1825 m. Nancy E. Bliss
4. Temperance Taylor 1827-1895 (never married)
5. Nancy Taylor b. c/1829 m. (1) Joseph Allen (2) Uriah Dooley
6. David P. Taylor Jr. b. c/1832 m. Louisa Dooley
7. Virginia Taylor 1834-1891 (never married)
Anna (Moore) Taylor died 28 July 1858 and was buried on the family's farm in present-day Franklin Township. The cemetery was called the Taylor Family Cemetery and was located in Section 6, Township 41, Range 15 near the Morgan County line. Anna's daughter-in-law, Nancy Elizabeth Bliss-Taylor, wife of Melon M. Taylor, died 3 months before Anna in April 1858 and evidently was the first person buried in the family plot. There are several family members in this old cemetery including David Preston Taylor and his 2 wives (he married Jane P. Dooley in 1860); a son Berry Taylor; daughters Virginia and Temperance; daughters-in-law Amanda Martha, and Nancy Elizabeth and a grandson Thomas Taylor. According to an inventory taken of the old cemetery in the early 1970s, several field stones mark gravesites that, by legend, belong to several Taylor slaves.
On April 19, 1860, David Preston Taylor married a local widow, Jane P. Dooley, age 57. Temperance and Virginia, his two unmarried daughters, continued to live on the family farm. Jane died on 9 July 1880 and for 10 years he remained a widower until his death in January 1890. He was buried beside his two wives on the land he had homesteaded 58 years earlier in 1832. According to the newspaper story, he lived with his son, Berry Taylor, for some time before his death. But evidently he lived the majority of his golden years at his pioneer homestead on the rich prairies of northern Miller County.
---
MARY H. TAYLOR
Mary H. Taylor was born in Moniteau County, MO near Olean, on April 13, 1845. She was one of 8 children born to Richard W. Taylor and his wife, Lydia (Beard), both natives of Tennessee. They were early settlers in the Miller/Moniteau counties area. They came to central Missouri about 1831 from Tennessee and first settled in what is today Saline township of northern Miller County. After awhile they moved a short distance north into Moniteau County and their children were born there. Their children included: William Taylor, James Taylor, Louisa Taylor Sellers, David Taylor, Mary Taylor Hite, T. H. Taylor, Frances Taylor Hite, and E. D. Taylor. All the Taylor children were living in Miller and Moniteau counties in 1889 except for Louisa Taylor Sellers who was in Texas that year (per info found in GOODSPEED'S HISTORY OF 1889).
Mary H. Taylor married Edward Southwood Hite in Miller County in April 1864. He was a son of Edward S. Hite Sr. (1803-1857) and Mary R. Butler (1803-1881) both natives of Virginia. His parents married in Logan Co., Kentucky and Edward was born there on 14 March 1835. The Hites came to Miller County and settled a farm in the Olean area in 1855. I do not know for sure how many children were born to Edward and Mary Hite but the ones I have record of are: John D. Hite 1834-1914; Edward S. Hite 1835-1921; Samuel H. Hite 1837-1856 and Elizabeth Jane Hite (date of birth not known).
Shortly after coming to Miller County, Edward's father died and his mother continued to live on the family farm which they had settled in 1855. She had been given 2 slaves back in Kentucky by her Butler brothers and they helped to run the farm. By 1870, Mary was living with son, Edward and his wife, Mary (Taylor), on the Hite farmstead. She lived with them until her death in 1881.
Mary (Taylor) Hite and her husband, Edward, became parents of 6 children including:
1. Richard Taylor Hite b. 1865
2. James E. Hite b. 1868
3. Mettie Hite b. 1874
4. William B. Hite b. 1876
5. John D. Hite b. 1879
6. George E. Hite b. 1882
Over the years of the late 19th and early 20th centuries the Hite's nearest neighbors were the families of Gilleland, Scott, Lansdown, Atkins, Jones, Franklin, Starling, Proctor, Jobe, Miller, Burlingame, Roark, and Agee. Edward and Mary Hite were a prosperous farming family of Saline Township. He operated a family farm and also was a well-known stockman of the region. They were members of the Methodist Episcopal Church and Mr. Hite always voted the Republican ticket. During the Civil War he served in the Enrolled Missouri Militia and was at Jefferson City when Confederate General Sterling Price raided the area. I am sure he had many interesting stories to tell of that long-ago war and the times in which they lived and reared their family.
Mary Taylor Hite lived to the age of 75 years when she died on August 3, 1920. She and Edward had spent 56 years together on their Saline township farm and reared 6 children there. She was survived by her aged husband, five sons, one daughter, six grandchildren, and a sister, Frances/Fannie Taylor Hite of Olean. She was buried at the Olean Cemetery and when Edward Hite died one year later, on 15 August 1921, he was laid to rest beside Mary.
---
OBITUARY OF NETTIE MADDEN TEAVERBAUGH
Nettie Madden was a daughter of Thomas and Alice (Pickering) Madden. She was born in Miller County, Mo. on July 5, 1887 and died June 1, 1974. In November 1906, she married George O. Teaverbaugh in Miller Co. Her husband preceded her in death in 1951. Nettie Madden Teaverbaugh spent her entire life in Miller Co. She was a member of the Madden church, located in southern Richwoods Township and later transferred her membership to the Iberia Methodist Church. She was preceded in death by 2 infant sons, Dorsey and Clarence Teaverbaugh. She was survived by a daughter, Helen Teaverbaugh Reitz of Pasadena, Calif.; 3 sons: Spurgeon, Wayne, and Jean Teaverbaugh; 1 sister, Sarah Teaverbaugh Groves of Iberia; 1 grandson: Robert Reed; 1 granddaughter, Donna Walker; 2 half-brothers: John and Elda Woolery and 1 half sister: Clara Large. Nettie Madden Teaverbaugh was laid to rest in the Madden Cemetery situated on a hill overlooking the Big Tavern creek near the site when the Madden church once stood.
NOTE: Nettie Madden Teaverbaugh was the grandmother of Robert Reed, the television and movie star. He played the father of THE BRADY BUNCH on television for several seasons.
---
WILLIAM JASPER TEAVERBAUGH
William Jasper Teaverbaugh was born 7 Feb 1846 in Osage County, MO and passed away 15 July 1930 at the age of 84 years. I do not know who his parents were but in the 1900 census of Miller County, he stated his father was a native of Germany and his mother was born in Missouri.
At the age of 21, he married his first wife, a Miss Archer (first name not found) and they became parents of 5 children. Two of their children survived their father at his death in 1930---Pearl Teaverbaugh Barlow and Florence Teaverbaugh Shearer (per his obituary). William's first wife died at an early age and he then married Carrie M. Sickendick-Lloyd on 17 Dec 1884 in Laclede County, MO.
He and Carrie became parents of 5 children including:
William Jesse Teaverbaugh 1886-1918 m. Stella Meredith 1905
George O. Teaverbaugh b. Oct 1887 m. Nettie Madden 1906
Lillian May Teaverbaugh b. Jun 1889 m. Fred Greenwood 1906
Nellie M. Teaverbaugh 1891-1967 m. Robert Groves 1908
Georgia E. Teaverbaugh b. Jun 1893 m. Frank Keeth 1912
In 1900, the Teaverbaugh family was living in southern Richwoods Township in the Madden/Pleasant Hill community. Their neighbors included the families of Spearman, Adams, Whittle, Keeth, Thomas, and Allen.
Carrie Teaverbaugh, William's second wife, died in 1917 at the age of 66 years (born 1851) and William married his third wife, Elizabeth Lawson Sherrell, in 1920. She was the widow of William L. Sherrell. William had no children by his third wife.
At the age of 17 years, William Jasper Teaverbaugh enlisted in the Union Army during the Civil War and first served in Co. C of the Missouri Volunteers. He later served with Co. D of the 6th Missouri Volunteers and was mustered out of service at Benton Barracks, MO in 1865. After its organization in the 1880s, William became a member of Miles Carroll G.A.R. Post #11 at Iberia where he was a Junior Vice Commander.
William Jasper Teaverbaugh died 15 July 1930 and was buried at Pleasant Hill cemetery beside his second wife, Carrie. His funeral services were conducted by Rev. E. G. Giggy of the Methodist Church.
NOTE: Robert Reed, the late movie and TV actor (who played the father in "The Brady Bunch"), was a great-grandson of William Jasper Teaverbaugh and his second wife, Carrie (Sickendick-Lloyd).
---
HERMANN S. TELLMAN
Herman S. Tellman was born in Hanover, Germany on 31 May 1833. He was a son of Johannes Herman Tellman (1792-1881) and Susanna Tellman (1801-1876) both natives of Aschendorf, Germany and from the same Tellman ancestral family. Herman Sr. was a blacksmith and locksmith by trade. He also served in the German War under General Wellington and was at Waterloo where he fought against Napoleon Bonaparte. In the spring of 1837, Herman, Susanna, and their 6 children came to America on the Russian vessel, BRILLHUFF/BRAILOW and landed in New York harbor after sailing the Atlantic for 93 days. Three more children were born after they settled in Central Missouri. Back in their native Aschendorf, Johannes and Susanna left many of their ancestors peacefully at rest in the cemetery at St. Amandus Church.
The Tellmans vetured on westward, part way by canal, and stopped in St. Louis for a short stay. Herman went on to Jefferson City and entered a tract of land five miles south of the city near present-day Wardsville on Moreau creek. When he bought the land there was a small log cabin on the property which became his family's first home in America. In 1837, Jefferson City was a small place with only one brick house and two stores. Herman helped build the first state capitol and also helped in the construction of the city's first Catholic Church.
The children of Herman and Susanna Tellman were:
Anna Elizabeth Tellman b. 1824 m. Xavier Schwaller
Maria M. Tellman b. 1826 m. (l) Andreas Sachs (2) Bernard Richter
John E. Tellman b. 1828 m. Mary Ann Meyer
Elizabeth Tellman b. 1830 m. Charles Stockman
Herman S. Tellman b. 1833 m. Mary Ann Schwaller (sister to Xavier)
Gesina Tellman b. 1836
August Antone Tellman b. 1838 (killed in the Civil War)
Jane Tellman b. 1841 m. Paul Ihler
Euphemia/Fannie Tellman b. 1844 m. Phillip Helbrant
Johannes Herman and Susanna (Tellman) Tellman lived the remainder of their lives on their Cole County farm and were both buried at St. Stanilaus Cemetery in Wardsville. Susanna died in 1876 and Johannes Herman lived until 1881.
Herman S. Tellman, son of Johannes Herman and Susanna, was about 4 years old when his family came to America. He was reared on the family farm and received his education in the common schools of the county. As a man he had several occupations including barkeeper, guard at the state prison, constable for 2 terms and a farmer. During the Civil War he served in the Missouri Home Guards and the State Militia where he held the rank of 2nd Lt. and was in Price's raid. His brother, August Antone Tellman, also a member of the Home Guards, was killed during the war.
Herman married Mary Ann Schwaller 29 January 1856. She was born in Ohio 16 Aug 1836 and was of French descent. Mary was a daughter of George and Mary Ann (Risser) Schwaller, natives of Alsace, France.
Herman and Mary Ann were parents of 13 children including:
GEORGE S. TELLMAN
SUSAN TELLMAN
FRANCIS H. TELLMAN
FRANCIS X. TELLMAN (all deceased by 1889)
HERMAN TELLMAN b. 1864 m. Rosa Missouri Riggs
HENRY H. TELLMAN 1868-1953 m. Lena Angenandt
ANTHONY J. TELLMAN 1866-1888 m. Catherine Buechter
MARY ANN TELLMAN 1870-1894 m. Henry Sanning
JOHN B. TELLMAN 1872-1934 m. Mary Massman
CHARLES P. TELLMAN 1874-1952 m. Josephine Evers
DR. JOSEPH S. TELLMAN 1876-1943 m. Minnie Dickneite
GEORGE P. TELLMAN b. 1879 m. Mathilda Cremer
NOTE: As was common in German ancestral families, several of the children were given the same name: 2 Georges, 2 Hermans, and 2 Francis' in the Tellman family.
In March 1860, Herman and Mary Ann (Schwaller) Tellman moved to Miller County and bought a good Osage River farm in Equality Township, downriver from Tuscumbia, They purchased the farm from Wesley Hackney. The Tellmans accumulated over 500 acres of land and became prominent stock dealers. In 1900, the Tellman's nearest neighbors included John and Minnie Kallenbach, Joshua and Lucy Wells, Levi and Annie Hawken, Oliver Rush, and James Richardson. The Herman Tellman home was steeped in history. It was the original log cabin built by John Miller in the early 1830s. When Miller County was established as a Missouri county in February 1837, the first session of the county court was held within the walls of the Miller log cabin, later to become known as "the Tellman place". Herman added rooms to the original one-room cabin until it became a spacious farm home. Unfortunately the home burned to the ground in the early 1980s so no trace of the original cabin can be found today.
Mary Ann Schwaller-Tellman died at her home 3 Feb 1904 at the age of 68 and was buried at Marys Home Cemetery. Herman lived until 26 Oct 1911. At the age of 71 years, he was killed in a tragic accident when hit by a Rock Island train. He was laid to rest in Marys Home beside his wife with whom he had spent almost 50 years of married life.
NOTE: "The Tellman Family History", written in 1986 by Jean Tellman Ketterman, documents the family's history back to Bernard Tellemann and his wife, Anna Potts, of Herbrum, Prussia in the late 1600s. Both are buried in the churchyard of St. Amandus Church in Aschendorf, Germany.
---
OBITUARY OF ISABELLE TENNANT
Isabelle Tennant was born in Parkhead, Glasgow, Scotland on August 24, 1841. She married William C. Findlay in Glasgow, Scotland on May 15, 1866. Approx. in the year 1867, she and her husband came to America and eventually settled on Saline Creek in Miller County. They united with the Old Salem Church of Christ where the town of Eldon now stands in 1869. The Findlays had been Presbyterians when they resided in Scotland. William became a minister of the gospel and preached in central Missouri until his death on January 8, 1910. Isabelle and William had 7 children: Mrs. W.F. Birdsong, Wm. Findlay, Mrs. W.L. Sullens, Mrs. William Taylor, Mrs. John James, and James G. Findlay. She died at the age of 81 years on Jan. 16, 1923. Her services were conducted at Etterville Church and both she and her husband, William, are buried in the Spring Garden Cemetery.
NOTE: Isabelle and William Findlay were the parents of James G. Findlay, a graduate of Iberia Academy who went on into the world and became very successful. This marvelous man became an attorney in 1909 in the District of Columbia; moved on to the Supreme Court in 1912. In 1910, James was made a Special Agent of the Department of Justice and continued with this government agency for many years. He was assigned to the Los Angeles and San Francisco area with the Bureau of Investigation and was specially designated by President Herbert Hoover to conduct investigations during his term as resident. Later he was cited by F.B.I. Director, J. Edgar Hoover for outstanding contributions to that government agency.
FROM: The New Iberian, Iberia MO - dated: May 19, 1983 - by Peggy Smith Hake
---
CORNELIUS W. THOMAS
Cornelius W. Thomas (called Uncle Neal) was born in Camden County, MO on April 5, 1843. He was a son of John and Elizabeth Thomas who lived in Camden County in the 1840s. John Thomas died prior to 1850 and Elizabeth then married Samuel Brooks. She had a daughter by Sam Brooks (Eliza Brooks) who was a half-sister to Cornelius. Cornelius came to Miller County between the Civil War years and 1880. The first record of him in Miller County is the 1880 census of Richwoods Township.
In addition to his half-sister, Eliza Brooks, Cornelius also had 4 brothers including Harry Thomas b. c/1833; William R. Thomas 1835-1904 m. (1)____(2) Lucinda F. Keeth-Long; George Thomas b. c/1837 d. c/1865 m. Nancy Caroline Mace; and John Thomas b. c/1839 d. 1864. It is possible that John died in the Civil War since he served in Co. M of the 3rd Regiment Missouri Cavalry Volunteers from Camden County.
After the death of George, Cornelius married his sister-in-law, Nancy Caroline Mace-Thomas on March 18, 1866.
He and Nancy were parents of several children including:
WILLIAM CORNELIUS THOMAS 1866-1892
JOHN EDWARD THOMAS 1868-1947 m. Matilda Topping 1894
CROCKETT M. THOMAS b. 1870 m. Sarah Catherine Smith 1892
MARY ELLA THOMAS b. 1872 m. William R. Keeth 1888
CHARLES THOMAS 1874-1951 m. Myrtle Atwell 1897
H. FRANK THOMAS 1877-1948 m. (1) Rosetta Atwell 1898 (2) Sylvia L.______
JULIETTE THOMAS b. 1880 m. Nathaniel F. Thompson 1896
JENNETTE THOMAS b. 1880 m. J. Edward Barnett 1904
MARGARET THOMAS b. 1883 m. Lawrence Nelson 1901
FREDDIE C. THOMAS 1888-1894.
The Thomas family lived in the Hickory Point/Livingston Cemetery area of Miller County for awhile near the families of Watkins, McCubbin, Barlow, Casey, Bond and Bear. Later they moved into Iberia in the northern section of the town, which was once called 'Stringtown'. The house where they lived was near the old Baptist Church and was owned in the 1990s by Eunice Spearman (before her death). In the days of my youth, an old lady named Margaret Whittle Wallis lived in this little house. Later, Cornelius and his family moved to the house that is owned today by Mrs. Fern Pendleton. Some believe he built the house, but I believe it was already there when Cornelius moved his family into the old home.
Cornelius W. Thomas was a soldier of the Civil War and was one of the last remaining veterans of that long-ago war when he died in 1919 at the age of 76 years. Cornelius (Uncle Neal) was a private in Company F of the 13th Regiment of the Missouri Infantry Volunteers. He enrolled for service on 12 Jan 1863 at Linn Creek, Camden County, MO and was discharged 12 Jan 1865 at Little Rock, Arkansas. He fought in the Battle of Shiloh during his years as a Civil War soldier.
Cornelius died on April 24, 1917 and was buried at Iberia Cemetery beside his wife, Nancy Caroline, who had preceded him in death in September 1904 at the age of 62 years (born December 1842). A great granddaughter of Cornelius told me he married a lady named Clara Burks on April 19, 1906 after the death of Nancy. When Cornelius died in 1919, he was a resident of the Old Soldiers Home in St. James, MO. He was brought back to Iberia where his funeral services were conducted at the Methodist Church.
ADDENDUM:
William R. Thomas, a brother to Cornelius, also moved into Miller County with his family. I do not know the identity of his first wife and the mother of his children, but do know that his second wife was Lucinda F. Keeth-Long whom he married in Miller County in 1895. His children were: George Thomas b.1860; S. A. Thomas b. 1861; Cornelius W. Thomas b. 1868 m. Delilah Stone; Mary J. Thomas b. 1872 m. Andrew Jackson Keeth; Charles E. Thomas b. 1873 d. 1932; Ambrose Asbury Thomas b. 1876 m. Martha W. Whittle................
---
ELDER JACKSON DANIEL THOMPSON
Elder Jackson Daniel Thompson was born in Kentucky 30 Mar 1843, a son of William and Malinda Thompson, both natives of Kentucky. William, called 'Buck' (1807-1871) and Malinda (1805-1868) may have married and resided in central Kentucky, perhaps near the Barren and Edmonson county lines. They came to Miller County in the early 1840s. In the 1840 census of Barren Co, KY, William W. Thompson lived with his wife, 2 sons (under age 5 yrs.), and three daughters (between ages 5-15 yrs). This is most likely the same family who moved to Miller County about 1844......There is one record that states Elder J. D. Thompson was born in Edison Co., KY. Since there is no county in Kentucky with that name, there's the possibility it was Edmonson County, which lies directly north of Barren County. Many Miller County pioneer families came from that area of central Kentucky.
Jackson D. Thompson was one of several children born to William and Malinda.
Those I found record of were:
*1. Eliza Jane Thompson b. 1835 m. Thomas Owen Workman
2. John R. Thompson b. 1837 m. Eliza Jane Bilyeu
3. William A. Thompson (1839-1912) m. (1) Mary Jane____(2) Nancy____
4. Lucinda Catherine Thompson b. 1840 m. James Jefferson Cross
5. Jackson Daniel Thompson b. 1843 m. (1) Emily Bourne/Boren (2) Mary Jane Shelton-Duncan
6. Nathaniel Grant Thompson b. 1845 m. Narcissus Record
7. James C. Thompson (1850-1927) m. Nancy A. Rowland
*After the death of Eliza Jane, Thomas Owen Workman, a circuit-riding preacher, married a widow, Nancy Keeth-Whittle and had several children. Nancy Keeth-Whittle was my great, great grandmother (widow of John Levi Whittle, a casualty of the Civil War)....I am descended from Nancy and her first husband, Levi Whittle....(Peg Hake)
William and Malinda Thompson, the Kentucky pioneers who settled in eastern Richwoods Township, are buried at Billingsley Cemetery, located a short distance east of Iberia.
Jackson Daniel Thompson served in the Civil War, per his obituary, but it did not state whether he fought with the Northern or Southern forces.
At a very early age, when about 16 years old, he married Emily B. Bourne/Boren in Miller county on 10 Jan 1858 and before her death in the early 1890s, she had bore 17 children....only 9 survived including:
JAMES W. THOMPSON b. 1860
GILLIUM THOMPSON 1866
GEORGE RILEY THOMPSON 1868
SARAH ANNA THOMPSON 1870 m. Edward Allen
MARTHA THOMPSON 1872 m. Edward Shelton
CHARLES THOMPSON 1874
ANDREW THOMPSON 1876
ROBERT WESLEY THOMPSON 1878
NEWTON THOMPSON 1880
Elder J. D. Thompson, called 'Uncle Jack' by most who knew him, was ordained in 1868 as an early-day preacher in central Missouri. He helped to organize and pastored several churches in the Miller County area including Alder Springs and Pleasant Hill, both located in Richwoods Township. He may have been inspired to enter the ministry from his friendship with Joshua D. Cochran, another circuit-riding frontier preacher.
Emily Boren Thompson died in the early 1890s and in 1896 Elder Thompson married Mary Shelton-Duncan, a widow with 2 children. One daughter, Mrs. Lonnie Wall, was born to Elder Jack and his second wife. The Thompson continued to live in the Pleasant Hill area where he had served as pastor to the old church. He died at the age of 87 years on 8 Aug 1930 and was buried at Pleasant Hill cemetery beside his second wife who had died a year earlier in April 1929. Emily Boren Thompson was not found in any of Miller County's cemetery records, so at this time, I do not know when she died or where she is buried.
OBITUARY OF ELDER J. D. THOMPSON
Elder J.D. Thompson, called 'Uncle Jack', a veteran of the Civil War and one of the most widely known pioneer preachers of central Missouri, died on August 8, 1930. He was born in Edison County, Kentucky on March 30, 1843. About 1844, at the age of one year, he came to Miller Co. with his father, Buck Thompson. He grew to manhood on a farm where the Iberia Academy now stands. At the early age of 16 years, he married Emily Bowen and they became parents of 17 children...Nine of the 17 children survived their father including: James, Riley, Charley, Andrew, Gilliam, Wesley, Newton, Mrs. Edward Allen, and Mrs. Edward Shelton. After the death of his first wife, he married Mrs. Mary Jane (Shelton) Duncan. She and one child of their marriage, Mrs. Lonnie Wall, also survived. Elder Thompson was ordained to the ministry in 1868 and for many years was a prominent pioneer preacher of the Church of Christ. He helped to organize many of Miller County's early churches. He is buried at Pleasant Hill cemetery in southwestern Richwoods Township. His 2nd wife, Mary Jane, is buried beside him. The information on the large tombstone, located just inside the church gate is:
Elder J. D. Thompson 30 Mar 1843- 8 Aug 1930
Mary J. Thompson 5 Nov 1854- 8 Apr 1929
---
OBITUARY OF ELEVEN C. THOMPSON
Eleven/Lev Thompson was one of Brumley's most well known citizens when he died in April 1941 at the age of 83 years. He was born in Arkansas on Nov.10, 1857, a son of John C. and Sarah Thompson. They came to the Iberia area at the close of the Civil War. He lived in Iberia until he reached his early 20s. In 1884, he married Alice M. Groff of Iberia. They were the parents of 4 children: Dr. Preston Thompson, Elmer Thompson, Homer Thompson and Anna Thompson Moulder. He was also survived by a sister, Mrs. James (Della) Adams of Iberia. He had been a member of the Baptist church for 45 years at his death. In 1890, the Thompsons moved to Brumley and opened a mercantile business and continued until 1933. He also helped to organize the Bank of Brumley and was its President for many years. He and Judge James M. Hawkins organized the Brumley Milling Co. He also engaged in farming, owning several farms in Glaize Township. His services were held at the Brumley Baptist Church on April 22, 1941 with Rev. Jesse Brown of Richland and Rev. Bill Williams of Brumley officiating. He was buried at Hawkins Cemetery.
---
PEGGY THOMPSON LEARNER
Peggy Thompson Learner, 6530 Autumn Wodds Trail, Dallas,Texas 75232 is the granddaughter of Nathaniel Grant Thompson, born in Bowling Green, KY Oct. 16, 1864 and her great grandfather was William Thompson, born in 1806-1807 in KY. His wife was Malinda or Mary Williams, born in 1804 in KY. She is interested in filling in the blanks in her family line and would appreciate hearing from anyone who may be of assistance in her research of the THOMPSON family who later came to Miller County, Mo. after 1864 from KY. I might note here that her great grandfather, William Thompson was an Associate Judge from the District 2 in Miller County from 1893-1897.
Thank you one and all who have contacted me since I wrote the story about Joseph Jacob's homestead in Iberia and especially Wayne and Lennie Thompson. They are the new owners of the acre lot that adjoins their property where the Jacob's house once stood. I am so happy to learn that the Thompsons have purchased this parcel of land and to learn also of their plans for the property. In the future the charred debris and stone foundation will be removed; the ground tilled, seeded, and perhaps by summer, it will be a beautiful acre of bluegrass. The memories of that majestic home, which once stood on the knoll of a hilltop, will linger on in our minds when occasionally, in a fleeting moment, we remember the beauty of an early winter's morning and across the horizon, smoke from the old chimney could be seen drifting skyward. It is fitting that those memories should be buried under the rich earth and spring forward again through the roots of newborn grass.
---
IDA MAE THOMSON ADCOCK
Ida Mae Thomson was born in Miller County 12 January 1873, the oldest child of Daniel Frazier Thomson and Eliza Catherine Melton. Her Thomson ancestors were natives of Scotland and came to America in the mid 1600s, settling in Maryland. The next few generations migrated on south and westward to Tennessee and eventually reached Mid-Missouri before the Civil War.
The children of Daniel Frazier Thomson (26 Apr 1850-31 Dec 1924) and Eliza Catherine Melton (28 Dec 1856-3 Jan 1918) were the following:
1. Ida Mae Thomson b. 12 Jan 1873 m. John William Adcock 1899
2. Nellie Lee Thomson b. 1 Jul 1875 m. James Edward Skinner 1895
3. Rathgar Downing Thomson b. 13 Oct 1878 m. John Milton Kallenbach
4. Eliza Kerenhappuch Thomson b. 26 Jan 1881 m. George Gilson Sullivan 1899
5. Thomson Frazier Thomson b. 23 Aug 1883 m. Anna S. Bethke 1907
Ida Mae and Nellie Lee were born in Missouri; Rathgar, Eliza, and Thomas were born in Arkansas.
Daniel Frazier Thomson was a well-known newspaper editor during the years of the late 19th and early 20th centuries. He owned newspapers in central Missouri and then moved his family to Hot Springs, Arkansas and operated a newspaper there for several years.
Ida Mae Thomson attended school in Arkansas and then came back to Missouri to attend the Teacher's Institute at Spring Garden in Miller County. She took her teacher's exam and entered her teaching career. She first taught in a country school in Jim Henry Township near present-day St. Elizabeth and later taught in the Tuscumbia school system.
On May 28, 1899, Ida married John William Adcock, a son of James Henry and Amanda Minerva (Starling) Adcock of Miller County. When they married John was a captain of the steamboat, J.R.WELLS, which plied the waters of the Osage River. Early in their married lives, they built a new home in Tuscumbia on the hill near the school (later called the Stillwell house). Later, they built a two-story home in the Flatwoods community and registered it as "White Haven Farm". One of Ida's ancestors had a farm named White Haven in early-day Dorchester County, Maryland. How interesting to know the name was carried forward into a future generation and reborn in the Miller County countryside.......
Ida (Thomson) and John Adcock were parents of three children, all born in the Tuscumbia area including:
1. Hilary Thomson Adcock b. 18 Dec 1901 m. Herbert Ray Dunnaway
2. Helen Starling Adcock b. 1 Apr 1904 d. 19 Mar 1919 (of influenza)
3. John Folk Adcock b. 26 Jan 1907 m. (1) Lenora Weirich (2) Lois James Mayfield (3) Edith E. Shebeck
Ida Mae Thomson Adcock lived until September 22, 1936 when she died of a cerebral hemorrhage at the age of 63 years. She was survived by her husband, John; son John Folk; daughter, Hilary Dunnaway; 1 brother, Dr. Thomas Frazier Thomson; and 2 sisters, Eliza (Mrs. George Sullivan) and Rathgar (called Dixie) (Mrs. Milton Kallenbach). She was buried at Tuscumbia cemetery and her husband, John Adcock, was buried beside her after his death on July 22, 1961.
NOTE: In 1979, a fine book was written by Ida's daughter, Hilary Adcock Dunnaway, which documented the Thomson family for the early 1600s in Scotland to 20th century Missouri.................(At times, in various publications, the surname was spelled Thompson)
---
THE THORNSBERRY FAMILY
The Thornsberry family of Miller County are descendants of the Thornbrough family who originated in Ireland and emigrated to America in the early 1700s. At first they settled in Pennsylvania and were members of the Society of Friends (Quakers). Members of this family continued their trek across the country and went to North Carolina about 1755....then onward into Tennessee for a short stay.....and finally settled in southern Glaize Township of Miller County. Their journey from Pennsylvania to Missouri took about 100 years. As they changed places of residence, they also had name changes along the way. In Ireland they were known as Thornbrough....later changed to Thornburgh.....Thornbury....and finally Thornsberry after they came to Missouri.
John Thornbrough, son of Joseph Thornbrough and Rachel Brown, was born in Guilford County, North Carolina in 1784.
He married Christiana Ann Beals (b. 1784) in North Carolina and they became parents of 8 children:
1. Lewis Thornbrough b. 1811 NC m. no record
2. Peter Thornbrough b. 1813 NC m. Mary___________
3. William Thomas Thornbrough b. 1816 NC m. 1-Martha A. Steen 2-Mary McCrory
4. Perth Thornbrough b. 1818 NC m. no record
5. John Thornbrough b. 1821 NC m. 1-Martha A. Perkins
6. Nancy E. Thornbrough b. 1824 NC m. no record
7. August Thornbrough b. 1830 TN m. Sarah Ann Kuykendall
8. Elizabeth Thornbrough b. 1832 TN m. no record
John and Christiana came to Miller County in the early 1840s from Tennessee and settled in southern Glaize Township near the families of Winfrey, Pemberton, Dean, and Wiseman. John died about 1850 and Christiana lived the remainder of her life with some of their children.
In 1842, William Thomas Thornsberry (their name had changed by the early 1840s), the third son of John and Christiana, married Martha Ann Steen and over the years they produced twelve children including:
1. Marion T. Thornsberry 1843-1861
2. John A. Thornsberry b. 1846 m. Samantha Kuykendall 1864
3. James Washington Thornsberry b. 1847 m. no record
4. Mary/Mariah Thornsberry b. 1848 m. James H. McComb 1865
5. Judy Caroline Thornsberry b. 1849 m. William W. Bryant 1867
6. Sarah E. Thornsberry b. 1851 m. Seth Bradshaw 1871
7. Nancy E. Thornsberry b. 1853 m. Samuel C. Plemmons 1871
8. George Thornsberry b. 1855
9. Stephen Thornsberry b. 1856
10. Zachariah Thornsberry b. 1858
11. Amanda Thornsberry b. 1859-died young
12. Leander A. Thornsberry b. 1860 m. Amanda V. Martin 1879
Martha Ann (Steen) Thornsberry died c/1860 and William Thomas married Mary Bozarth-McCrory on July 11, 1861. She was the daughter of Israel and Mary Bozarth of Kentucky. When she married William, she was a widow with two sons and one daughter from her first marriage. She and William had a son, Franklin Thornsberry, born in 1862. Shortly after the birth of his 13th child, William Thomas Thornsberry died in 1863 and left Mary with the care of several of his younger children. In the 1870 census, she was the head of household with 8 children in her home, as well as her mother, Mary Bozarth, and her mother-in-law, Christiana Thornsberry.
Leander A. Thornsberry, the youngest son of William and his first wife, Martha Ann (Steen), was born on the family's Glaize township farm on November 14, 1860. His mother may have died in childbirth when he was born because it was about this time that her death occurred. At the age of 18 years, he married Amanda V. Martin on 8 August 1870. Amanda was a daughter of Thomas W. Martin and was born in Miller County in May 1861.
She and Leander were parents of 7 children:
1. Alzena Thornsberry 1880-1962 m. Lee Ottie Warren
2. Almon Thornsberry 1883-1943 m. Ollie Belle McComb
3. William Edmond Thornsberry 1884-1952 m. Lena C. Hawkins
4. Parthenia Thornsberry 1887-1978 m. Harry Ballenger
5. Bert Thornsberry 1890-1967
6. Bernece Thornsberry 1893-1961 m. Maude Rainwater
7. Lora Thorsnberry 1901-1977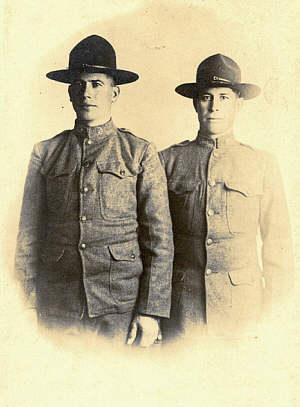 Bert Thornsberry, Otto Wall
There are many descendants of the Thornsberry family living in Central Missouri today. Another branch of this family went to Boone County, Arkansas. The Thornsberry name is numerous in the northwestern section of that state as well. A book has been written about the Thornsberry family called "Thornsberry Roots and Branches" written by a lady named Jean Thornsberry LeBeau who is a descendant of the Arkansas Thornsberry family.
---
ISAAC W. TINSLEY
Isaac W. Tinsley was born in Miller County in 1861, a son of Isaac Smith Tinsley and his first wife, Mary J._____. After the death of his first wife, Issac Sr. married Louisa C. Holeyfield in Miller County on June 12, 1884. The best I can determine, Isaac Tinsley Sr. was the father of 13 children by his two wives.
They were:
1. Hiram H. Tinsley 1852-1924 m. no record found
2. Lucy J. Tinsley 1855-1907 m. James Palmer 1876
3. William Compton Tinsley 1857-1926 m. (1) Emma E. Hart (2) Elta Spearman
4. Preston A.Tinsley b. c/1860 m. Martha E. Woolsey
5. Isaac W. Tinsley 1861-1954 m. no record found
6. John L. Tinsley 1867-1950 m. no record found
7. Gilderoy M. Tinsley 1869-1909 m. no record found
8. Jacob Frank Tinsley 1871-1961 m. Ida Jane Maher
9. Joseph Burtley Tinsley 1872-1943 m. no record found
10. Estella M. Tinsley 1875- m. Daniel Robinett
11. Junvetta Tinsley 1886-1886
Note: Two children died before the Tinsleys came to Miller County which makes 13 children born to Isaac and his wives.
In the census of 1880, the Tinsleys were living in Glaize Township near the families of Graham, Plemmons, McClain, Hickman, DeVore, Cooper, and Horton.
There is no record of a marriage for Isaac W. Tinsley "Little Ike", so one would presume he remained a bachelor. According to an obituary found in a 1954 Miller County newspaper, it stated that Isaac 'Little Ike" Tinsley had a vault built at the Gott cemetery several years before his death and he took great pleasure in showing his 'future home", as he called it, to his friends on Memorial Day each year. It was built by Virgil Smith of the Brumley area. Isaac W. Tinsley was buried in the vault on Friday, September 10, 1954.
There is some confusion about who is buried in the 'stone home' in Gott Cemetery because according to cemetery records it states that the following is engraved on the stone burial vault, "Isaac Smith Tinsley, born near Rocky Mount, Franklin County, Virginia on May 10, 1832 and died March 9, 1909". According to a biographer of the Tinsley/Gott families of Glaize Township, the author wrote in her book the following:
"One of the unusual items in Gott Graveyard is the mausoleum in which "Little Ike's" body was entombed. He apparently had no money to pay for any engraving on the outside. A lady, who was interviewed, said she remembers when he died. He planned this burial place, saying he would neither be put in the ground nor would he be cremated. So, he hired Virgil Smith to build the 'little house', as it is described in Tombstone Inscriptions of Glaize Township. The inference in this publication is that this is the resting place of Ike Tinsley Sr., but this is where his son, Ike Jr., was interred."
---
TOPPING - MUSICK
Dora B. Topping was born in Miller County near Brumley on 15 Aug 1886. She was a daughter of John C. Topping and Rhoda M. Davidson who married in 1875. Dora's paternal grandparents were Gilbert and Ruth (Witt) Topping; her maternal grandparents were Jonathan and Mahala (Lawson-Carr) Davidson.
The children of John and Rhoda (Davidson) Topping were:
1. Matilda Topping b. c/1876 m. John E. Thomas 1894
2. Wm. Frank Topping b. Oct 1807 m. Gertrude Wright 1903
3. Caldona M. Topping b. May 1880 m.________Jarrett
4. Elizabeth Topping b. Oct 1881 m. _______Morrison
5. Effie Lee Topping b. Aug 1884 m. W. F. Gott 1906
6. Dora B. Topping b. Aug 1886 m. Perry F. MUSICK 1907
7. Willis E. Topping b. June 1888 m._______
8. Willard E. Topping b. June 1888 m________(twin to Willis)
9. Homer G. Topping b. Jun 1893 m._______
The Topping family lived close to the boundary line of Equality-Glaize townships, south of Tuscumbia. Some of their neighbors included the families of Wyrick, Patterson, Dobson, Davidson, Williams, Witt, Coker, and McAnally. Dora's Topping ancestors were from Virginia while her Witt ancestral lines came out of Tennessee.
The Davidson family was early settlers in Miller County. Her grandfather, John Davidson, and her great grandfather, Jesse Davidson, were both enumerated in the 1840 census living side by side in Equality Township near the families of Salisbury, Earp, Challis, Bowlin, Barnhart, Loveall, Cotton, McComb, Barr, and Roberts.
On April 30, 1907, Dora B. Topping married Perry F. MUSICK (1886-1966). He was a son of John A. MUSICK and Martha Brumley of Osage Township.
Perry Musick was one of 6 children born to John and Martha (Brumley) Musick including:
1. Stella A. Musick 1880-1923 m. Columbus Setser
2. Dora Musick b. c/1881 m. Charles B. Thompson
3. Margaret L. Musick b. 1884 m. Bennett F. Steen
4. Perry F. Musick b. 1886 m. Dora Topping
5. Leeta Musick b. 1893 m.______________
6. Olman Musick b. 1899 m.______________
NOTE: In the 1900 census of Miller County (Richwoods Township), Martha Brumley Musick was a widow with six children in her home. They lived near the families of Bond, Pilkington, Nelson, Livingston, and Waite.
Dora Topping Musick was a member of the Brumley Christian Church at the time of her death in 1976. Perry Musick preceded her in death 10 years earlier. Both are buried at Hawkins Cemetery, east of Brumley on Hwy. 42. She was survived by 2 children: Truman Musick of East St. Louis, Illinois and Lucille Musick Duke of Alabama. One son, Jennings Musick, died during World War II.